PHOTO BY STEVE E. MILLER
COUNT ON IT : Chipotle's menu lists the calory total for every dish served.
When I lived in San Francisco in the '90s, I always wanted to write a guide to finding the best cheap places to eat. Not one of the many good eateries I frequented was part of a fast-food chain, but each provided a fine meal for five dollars (not including drinks). Ranking among the best were the excellent taqueria's in the city's Mission District. One favorite, El Toro, made burritos so huge, I couldn't finish one. The good choice of salsas—as much as you could eat—were free. And on top of it all they threw in a giant handful of freshly-fried tortilla chips.
I never dreamed I'd write about a chain restaurant for Cuisine but the Chipotle's Mexican Grill chain is different; impressively so. Honestly, I wouldn't have dined there at all had I not learned that its founder, Steve Ells, is dedicated to serving, "food with integrity." I've been sold on Chipotle since my first visit.
As I stepped up to the counter to order a burrito, I was surprised. I turned to my husband Dan and said: This reminds me of San Francisco's taqueria's. Once I tasted the quality of those delicious foods I couldn't wait to spread the news.
For our first taste test we decided to try early dinner to avoid the queue of customers that winds around the table area and out the door. Good idea: Almost as soon as we sat down to eat, the queue had formed. I had heard that Chipotle was drawing record crowds since the day it opened. While doing my research, I learned that's been typical of this chain since Ells opened the original in Denver, Colorado, in July 1993. I especially appreciate the calorie count and nutrition facts listed on the menu that cover every food served.
Dan and I shared a bag of fresh tortilla chips with a really good guacamole, $2.40, 720 calories. I ordered a burrito with the works: cilantro-lime rice; black beans; pork carnitas; grated cheese; medium-spicy, green tomatillo salsa; sautéed but still crunchy bell peppers and onions; and guacamole; $5.95 plus $1.60 extra for the guacamole, 450-930 calories. I'm sure my fully-loaded burrito hit the highest calorie count. Dan, acting far more health conscious, ordered the salad with his choices: chipotle adobo-marinated chicken: black beans; cheese; roasted chili-corn salsa; chopped romaine lettuce; and chipotle-honey vinaigrette, $5.95, 170- 780 calories. We thoroughly enjoyed it all, and ate up every bite.
When I returned a week later, I ordered the burrito again, but chose a different meat; the tender, addictive barbacoa, also $5.95, $1.60 for the extra guacamole. I thought I'll just eat half and save the rest. But as I came close to devouring it, I saved myself 145 extra calories by not eating the other half of the flour tortilla. Then I scarfed up all of the filling—I had lost all control. That's how much I like Chipotle's delicious Mexican foods.

FIND IT HERE: Chipotle Mexican Grill


853 Higuera St.

SLO, 782-9014
I'm also covering it to let locals know that Chipotle's, contrary to the popular belief that it's owned by McDonald's, has always been owned and operated by Steve Ells. A graduate of the Culinary Institute of America in New York, he's a professional chef who's dedicated to providing high-quality, healthy foods at fast-food prices. He started out at one of San Francisco's greatest restaurants, Stars, co-owned and managed by superstar chef, Jeremiah Tower. I dined there regularly. The experience motivated Ells to open his own "fancy restaurant;" he created the first Chipotle as the cash cow to build that dream. Inspired by the taquerias he frequented in San Francisco's Mission District, he decided to build a newer version but this chef's eatery would have better quality foods.
Ells' father, a pharmaceutical executive, invested in the first few Chipotle's and helped create the board of directors. Ells needed a partner to invest in expansion, and followed the board's suggestion to contact McDonald's. Within weeks Ells was doing business with them. He explained that McDonald's gave him autonomy so he could build his unique brand. Over a seven-year period they tripled their investment, but are no longer involved, according to a blog written by Ells.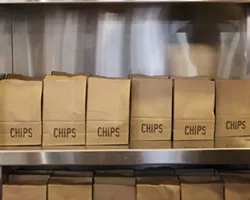 Many people will recognize Chipotle's general manager Ben Debilzan, formerly at Lido in Dolphin Bay Resort and Palazzo Giuseppe's. Like Ells, his upscale restaurant experience inspired him to open the restaurant he dreamed of owning. But with a wife and newborn son, Debilzan needed a job that provided benefits and the potential to rise within its ranks. He knew he could get that security at Chipotle's. "I've always worked for people with integrity who want to do the best they can in everything they do," he explained. "We hired 30 employees and they're all locals. Here, people can work their way up to become general managers or district managers." He also noted that many people from the Bay Area who were already fans of this chain keep telling him how happy they are that Chipotle's finally built an eatery here.
Chipotle's philosophy, food with integrity, is all about serving the freshest ingredients that are sustainably grown and naturally raised. They never serve meat that has been given hormones or antibiotics. Debilzan pointed out that naturally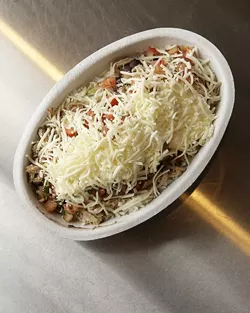 raised beef and poultry is not only less fatty, it simply tastes better. "We support local farms as much as possible," Debilzan noted. "I go to the Farmer's Market every Thursday night and Saturday morning to buy fresh local produce. We buy everything we can that's in season." From the romaine lettuce and cilantro to the jalapenos and Haas avocados, it's local whenever it's possible to get it. In fact, the latter are the only variety they buy and they are working with Cal Poly's farm to supply them with Haas avocados.
These are the reasons I totally support this chain restaurant. Not only do they respect the animals, the land and the farmers, they respect the people who spend their hard-earned money for a good meal here. It's not just about food that's good for your health; it's about food that is delicious to eat.
You can reach New Times' Cuisine columnist at khardesty@newtimesslo.com