Cruising to wine country along rural Highway 227, it's hard to miss quaint Old Edna alongside the road unless you happen to sneeze as you speed past it. From the busy roadway, the ancient, flat-roofed building looks like just another antique shop on a dusty country road. But this old schoolhouse, once the township of Edna, managed to maintain her character and charm despite aging 100 years. Still, there's one thing she never had until now: a deli/cafe worth driving 10 minutes from San Luis Obispo or Pismo Beach for a delicious lunch or a tasty coffee break
Old Edna previously had another deli, but there never seemed to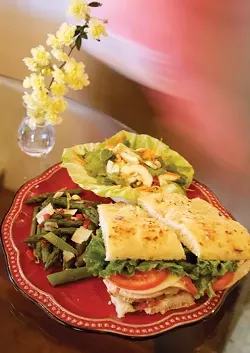 PHOTO BY JESSE ACOSTA
HELLO, DELI! : Stop in at Old Edna for a grizelda with a side of asparagus and spicy Thai.
# be anyone behind the counter who cared about the guests. I was once served a burnt ham and cheese panini. Had I not been the guest of someone I didn't want to embarrass, I would've asked for a refund. Instead, I unceremoniously buried it under my napkin and never returned. Recently, I heard the Edna Valley wine region finally has what it's needed for years: a talented chef in the heart of wine country who's making this deli a destination for gourmets.
Chef Kim Frederick says she's making foods for her guests that she enjoys with fine wines exactly what I wanted to hear. Although still a deli, the cold case is now filled with tasty-looking sandwiches and cheeses, and cute baskets display snack-sized packages of gourmet dried apricots and pear, nuts, and Powerbars the perfect size for a cyclist's fanny-pack. Frederick says she never makes her sandwiches before 10 a.m. and they're conveniently ready for take-out meals. Throughout the day, she continually replaces them with freshly made sandwiches.
Frederick's salads are equally tasty. I loved her fresh fruit salad with luscious, ripe pineapple, Mandarin orange segments, and perky blueberries and blackberries. Her spicy Thai salad is the worth the trip alone.
"Because everyone else makes Chinese chicken salad,' Frederick said, "I make it my way: Thai style with chicken, shredded cabbage, carrots, cucumbers and peanuts."
I first enjoyed Frederick's impressively fresh menu with my friend Laura Ward, a local wine distributor, who admitted that she doesn't like spicy-hot dishes but found the Thai salad just right. Another delicious and filling offering is Frederick's pasta salad of cheese tortellini, Kalamata olives, and feta cheese with tomato-Balsamic vinaigrette.
Frederick says she started cooking as a child when she was given her first Easy-Bake Oven. She didn't like its recipes so she turned to Betty's Crocker's Cookbook for Kids.
"By the time I was in the fourth grade, I started cooking for my family," she recalled, noting that her mom encouraged her because her mom hated cooking. "My mom taught me to look at the newspaper grocery store ads to plan meals. Then she'd take me out to buy anything I wanted to make."
After feeding six kids in the family and foster kids at home, it's no wonder she earned her first job cooking at Cal Poly at 17.
Frederick lived in the Hawaiian Islands, where she cooked professionally for eight years and met her Canadian-born husband. While living on Kona, she worked for the popular television chef Graham Kerr, dubbed the "Galloping Gourmet," whom she admitted wasn't as funny as he'd been on TV after he quit drinking wine.
"Graham was in his healthy stage, so I learned 20 ways to make lentils," she said with a laugh.
After returning stateside, she was hired at Chef Rick's in Orcutt where she worked for 14 years, the last four as catering manager. She's also worked for chef Maegen Loring of the Park Restaurant, who caters many winery events. Catering is far more demanding than working in a restaurant's kitchen, which few consumers realize. Frederick came to the point where she wanted something more fulfilling. A winemaker friend named Mike Sinor of Sinor-LaVallee in Edna Valley introduced her to the owner of Old Edna, who offered her a job. No honest story about Old Edna can ignore its "mayor," Pattea Torrence, who purchased the site in 2000.
A passionate woman who puts her heart and soul into this special place, Torrence is as charming as the antiques that adorn buildings in her small town. The earlier deli owner only rented from her, but Torrence strives to make everything at Old Edna picture perfect. She bought the business from the previous owners and searched for someone to take over. Torrence found a chef who cares as much about food as she cares about the hometown she created for herself. And that's how she brought harmony to her oasis.
Old Edna is the perfect respite for wine country visitors. After starting at tasting rooms at 11 a.m. when most open their doors to the public by 1 p.m. they're ready for refreshments, especially lunch. The patio and garden setting is serene and you can bring along wine to enjoy with Frederick's satisfying menu that's truly wine friendly. But don't forget to bring your own wineglasses as the deli doesn't have a liquor license for selling or serving any alcoholic beverages. They also don't charge the standard corkage fee you'll pay at most restaurants.
I already encourage friends to stop in for refreshments anytime they're near the area, such as when they're bicycling on the back roads. Frederick makes everything fresh daily, including focaccia for sandwiches, cookies, muffins, and desserts (but not the baguettes and bagels). They're wonderful with the outstanding Illy espresso served here.
"I love sharing peaceful Edna with people, and people walk in saying 'I love this place,'" said Pattea, explaining that local tasting rooms recommend Old Edna to their guests and she recommends wineries to people who are looking for certain varietals, like Pinot Noir or Riesling. "I feel like I'm working on the Love Boat."
SIDEBAR: Eat for a good cause
Coined "Sideways in San Luis," this exclusive dinner party on Saturday, May 16, features the talented chef Evan Treadwell of Lido at Dolphin Bay Resort in Shell Beach preparing appetizers and a three-course dinner with extraordinary Pinot Noirs from Domaine Alfred, Edna Valley Vineyards, Talley Vineyard, and Wedell Cellars. The evening the sixth annual Enhancement Inc. Spring Fundraiser at Edna Valley Vineyard includes a live auction by Sheriff Jim Gardner who will auction off posh donated lots, like a golf and dinner package at Clint Eastwood's private Tehama Golf Club in Carmel. While hardly affordable for everyone at $175 per person (after April 15 it'll be $225) it's certainly a worthy cause. This nonprofit foundation for breast cancer survivors helps women improve their lives with funding for healing retreats, aid for those who can't afford prostheses or treatment supplies, and therapeutic exercise videos. The dinner's limited to 80 guests. Reserve your seat by contacting Enhancement at 771-8640 or www.enhancementinc.org.
You can contact New Time's Cuisine columnist at Kathy@GrapevineRadio.net.