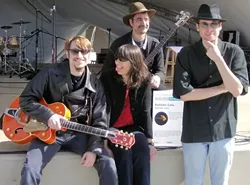 PHOTO COURTESY OF BALLISTIC CATS
WARMING IT UP : The Ballistic Cats will be blazing at Mother's Tavern on Dec. 23, performing for a special benefit concert to raise money to help poor and elderly folks pay their heating bills.
# With winter heating bills blazing through the roof this year, some folks on a fixed income can't afford the price of a comfortably warm home. The image of chattering teeth and frostbitten toes in living rooms around the country is a disturbing one to Cadillac Angels frontman Tony Balbinot, and he's ready to do something about it.
He and Cal Poly math professor Matthew White of Ballistic Cats fame are putting together a benefit concert to help raise money to keep people warm--and that's good news for local music fans with a heart.
Your chance to help out comes in the afternoon on Sunday, Dec. 23, at Mother's Tavern in downtown SLO. Five bucks is the suggested donation, but if all you've got is a dollar, you can come on in anyway.
"This is a huge issue," Balbinot said in a phone interview from his Santa Barbara home.

"We've got plenty of cold people on fixed incomes on the Central Coast. Propane is quite expensive now, and so are gas and electricity. Your donations will go to keep somebody warm. And it's gonna be a fun time!" he said.
Mother's Tavern is donating the space--great dance floor and all--and the sound system, and various musicians are donating their time and talents for the cause.
The Cadillac Angels are always a lively bunch, and they'll be heating up the dance floor with their energetic mix of rock 'n' roll, rockabilly, surf, blues, and country tunes. If you can sit still while these guys play, you might want to check your pulse!
Hang on for a wild ride with the Ballistic Cats. This is rockin' Americana at its best, an eclectic blend of early rock 'n' roll, swing, surf, blues, and rockabilly. Matthew White is lead guitarist and band leader, and the rest of the musicians in the band are coming to SLO from their homes in the San Francisco Bay Area.
Local favorite Red Eye Junction rounds out the line-up for this worthwhile benefit concert, titled "Turnin' Up the Heat." The fun begins at 3 p.m., a perfect time for a break from holiday shopping.
Tax-deductible donations--cash or checks--will go to the Salvation Army's Reach Plus utility assistance program for people who are elderly and on fixed incomes.
"I'm proud to be part of this effort and the potential good it can do, but I'll tell you something and you can quote me if you like. Raising money for winter heat costs is imperative at this time, but with major oil companies like Exxon and Chevron all showing record profits this year, what's even more imperative is real legislation that protects the poor and the elderly all over the world from these fucking barracudas!" Balbinot fumed.
Meanwhile, the benefit concert is a good start.
"It's good American music for a good American cause," he said. "Plus there's an energy in the air around Christmas. When you do things like this, it really helps."
Party like you're Irish
The days become almost imperceptibly longer once we're past the winter solstice, and that alone is a reason for a party in my book. It's a festive season all around, with plenty to celebrate--and who can party as hard as the Irish?
PHOTO COURTESY OF MOLLY'S REVENGE
JUMPING FOR JOY : Acclaimed Celtic band Molly's Revenge joins vocalist Moira Smiley and the Rosemary Turco Irish dancers for the Celtic Christmas Celebration on Dec. 23 at the Los Osos Community Center.
# Celtic music fans are in for an Irish-flavored treat, when the Celtic Christmas Celebration takes center stage at the Los Osos Community Center (2180 Palisades Ave.) on Sunday, Dec. 23, at 4 p.m.
International Celtic touring band Molly's Revenge--complete with bagpipes, fiddle, whistles, guitar, bouzouki, and mandola--is joined by acclaimed vocalist Moira Smiley, the Rosemary Turco Irish dancers, and special guests. You'll hear Christmas songs both old and new, with an exciting Celtic twist. And you're invited to join in the singing! Start practicing your best Irish accent.
Molly's Revenge will dish out some tunes from their new, still-unreleased recording, which is being produced by John Doyle, former member of Irish supergroup Solas. Featured soloist Moira Smiley is an internationally known composer and vocalist who travels the world to perform. She's a student of old-style Irish singing known as Irish Sean Nos, and competed in the All Ireland Singing Championships after winning the West Coast USA branch of that competition. When she's not singing with Molly's Revenge, she tours and performs with her group Voco.
Tickets for the Celtic Christmas Celebration are $20 at the door, or $18 in advance, from Boo Boo Records in San Luis Obispo, or online at www.mollysrevenge.com.
Become a friend of David Lynch
David Lynch and Friends have just released their new, locally recorded CD, Dozen, featuring 12 catchy, well-worth-a-listen tunes.
PHOTO COURTESY OF DAVID LYNCH
MAKING A CONNECTION : Los Osos musician and sound professional David Lynch is celebrating the release of his new CD, Dozen, which features his characteristically honest songwriting and upbeat instrumental accompaniment by Frank Duncan and Mark Travis.
# Los Osos guitarist/singer/songwriter Lynch has been writing music since he was a youngster, and has been a finalist in nearly every songwriting contest he's entered. Now he's teamed up with a fantastic local dobro player, Frank Duncan, who built the instruments he plays on the new recording. Mandolinist Mark Travis, who also made his own instrument, adds a mischievous twist to the music.
Lynch's songwriting style isn't really commercial, it's more heartfelt.
"I don't have the typical verse-chorus-bridge structure," Lynch explained in an interview. "I use whatever structure the song calls for."
He also uses different guitar tunings to add a distinctive edge to his one-of-a-kind sound.
"I'm an absolute freak for songwriting," he explained. "I always carry a notebook, I always have a song in my head. Guitars are hanging all over the house. It never turns off for me."

Even when he's cooking pancakes for his kids' breakfast, he's thinking of how to make the words fit: "I enjoy the creation aspect of songwriting. For me, that means writing about what I do every day"--even if it's making pancakes. Check out his new song, "Griddle Master."
Other tunes have a more spiritual base, such as "Mahatma," a plea to the guru of nonviolence for inspiration in trying times.
"It's an honest, real approach. That's what's in the music, and that's what people hear," he said. "I like recordings that sound as if the wheels are about to fall off."
All sorts of people feel a connection to his songs, he said: "I know I've affected black-haired nose-ring Goths, middle-aged people with kids, and kids as well. It makes it hard to do niche marketing!"
In addition to his unique songwriting skills, Lynch is also a talented sound editor. He's won an Emmy, and is a two-time Golden Reel award-winner. By the way, his dad was also named David Lynch, and in case you're interested, he says he holds "no animosity whatsoever" for anyone else in the film or music business with the same name.
Dozen is available at Boo Boo Records, along with Lynch's previous releases, Good Wood and his self-titled debut CD. You can also find them online at CD Baby. But be warned--you may have a hard time listening to anything else for a while!
Check out his music for yourself at www.davidlynchmusic.com or www.myspace.com/davidlynchfriends.
David Lynch and Friends will present a free concert at the Sea Pines Gold Resort in Los Osos on Thursday, Dec. 27, at 6 p.m. You can also catch their performance at Art After Dark on Friday, Jan. 4, at Linnaea's Cafe (1110 Garden St., SLO), during a reception for Cambria artist Jan Allenspach.
Get on the peace train!
The man who's considered the only peace candidate for U.S. president, Dennis Kucinich, is coming to SLO Town, and enlightened local musicians are falling all over themselves to play for him.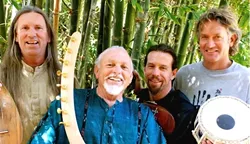 PHOTO COURTESY OF CALINAMBE
PLAYING FOR PEACE : Timo Beckwith and Calinambe will provide energetic dance music for fans of Democratic presidential candidate Dennis Kucinich at a Dec. 22 benefit at the Odd Fellows Hall in SLO, along with the Mighty Croon Dogs and Up in the Air.
# Kucinich, his inspiring wife Elizabeth, and a trainload of supporters are arriving on the Kucinich Peace Train on Saturday, Dec. 22, at 3:20 p.m. or whenever the characteristically late train pulls in to the SLO train station. He and his supporters will walk to Mitchell Park, where he'll say a few words.
Then it's on to the Odd Fellows Hall on Dana Street for a party, and you're invited! The campaign would like to see a $25 donation, which includes a spaghetti feast starting at 5 p.m., followed by lively music and dancing till 10 p.m.
As of press time, local musicians who plan to donate their talents include the Mighty Croon Dogs, Calinambe with Timo Beckwith, Johnee Gahngee, and Rob Strom, Abner Malady and the Village Idiots, and Up In the Air.

Advance tickets are available at the Kucinich booth at the SLO Farmers' Market, Bali Isle in downtown SLO, and Information Press, and tickets will also be sold at the door. Find out more at 544-5135.
More music
Legendary folk singer Glenn Yarbrough was the singing mainstay
PHOTO COURTESY OF CADILLAC ANGELS
ROCKIN' ROCKABILLY : There'll be no rest for the dancers when the Cadillac Angels take the stage at Mother's Tavern for a Dec. 23 benefit show called "Turnin' Up the Heat."
# of the Limeliters before embarking on a long solo career that's seen its share of hits, including "Baby, the Rain Must Fall" and "Seven Daffodils." Every December, he puts aside his guitar and narrates The Forgotten Carols, a touching story that brings tears and laughter to his audiences. It's a Christmas story written by Michael McLean and told through songs and narration. Yarbrough's warm, expressive voice makes the rich world of The Forgotten Carols come to life. Accompanied by a choir of local singers, Yarbrough brings his uplifting performance to the Clark Center in Arroyo Grande (487 Fair Oaks Ave.) on Friday, Dec. 21, at 8 p.m. Tickets are $20 to $40, available at the box office at 489-9444 or
www.clarkcenter.org
.
SLO Town's original favorite coffee house, Linnaea's Cafe (1110 Garden St., 541-5888), keeps the music coming, and music lover Steve Key is booking the shows these days. All ages are welcome, there's no cover charge, and the musicians are gifted and inspiring. Check them out for yourself at these 8 p.m. shows: Quality Fridge Buzz on Friday, Dec. 21 Life, the Universe and Everything and Recycle Your Pets on Saturday, Dec. 22. If you prefer to play yourself, show up for the 7 p.m. old time jam on Thursday, Dec. 20.
The Uncommonne Carolers perform "Christmas in the Mission," a benefit for foster and high-needs children and families presented by the Family Care Network of San Luis Obispo and Thalia Productions, on Sunday, Dec. 23, at 3 p.m. at the Old Mission Church in downtown SLO. This a capella group has been singing together since 1991, performing in three quartets. You may have heard them in previous years singing in grocery stores, shopping centers, or Hearst Castle, dressed as always in their full Victorian costumes. Tickets for this performance are $15 for preferred seating, or $10 general admission, available at the door or by calling the Family Care Network at 781-3535.
Azz High As the Sky Promotions presents a free Yuletide hip-hop show at SLO's downtown Farmers' Market on Thursday, Dec. 27, on Garden Street. The show includes a special performance by R&B act One Voice One Vision, rock band Ragg, and even Middle Eastern dancing--plus, of course, DJs. Want to know more? Call Patrick Germany at 238-2299.
Mark your calendar for New Year's Eve, when Dave Aguallo plays at the Custom House in Avila Beach beginning at 9 p.m. on Sunday, Dec. 31. Aguallo's sounds of country, rock 'n' roll, and oldies rocked the stands at the Midstate Fair this past summer. His latest recording, Nashville and Then Some, was recorded with some of the best session players on the country scene. For tickets, call 595-7555.
If a '60s rock 'n' roll New Year's Eve is more your style, get ready to catch Unfinished Business on Sunday, Dec. 31, at St. Patrick's School Event Center in Arroyo Grande (900 W. Branch). The band is celebrating a Grammy nomination for keyboardist Terry Lawless, who also plays with U2--he's featured on two of U2's Grammy-nominated tunes. Tickets for the New Year's Eve bash, including dinner and dancing, are $60, available in advance only at 929-5211 or www.unfinishedbusiness.org. Bring your own wine if you like, and the $10 corkage fee will go to the San Luis Obispo Law Enforcement Assistance Foundation. Maybe they'll give you a bumper sticker to keep the law enforcement at bay on your way home!
And here's a heads-up for all you open mike fans. Pete's Pierside Cafe, at the end of the pier at Port San Luis, is planning to resume those popular Thursday open mike sessions, from 4 to 7 p.m. during the winter months. And don't worry, you won't get wet even if it's raining--a brand new rainproof roof is nearly complete! And part of that picturesque deck is still open to the sunshine, so what could be better than that?
CD REVIEWS
Woelv--Tout Seul Dans La ForÕt En Plein Jour, Avez-Vous Peur?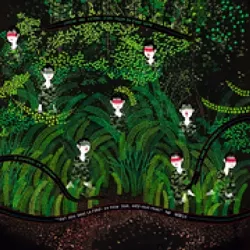 # An illustrator who sings or a vocalist who draws--either way, Genevieve Castree put pencil to pad and out flowed her uncomfortable sizing of the world. Departing the cocoon of her native Quebec, she was transplanted to the United States in 2005, to be rankled by the nature of its war and its misgivings. With questions to ask (her French title translates to "Alone in the Forest in the Middle of the Day, Are You Scared?"), Castree tackles heavyweight issues--rape, starvation, tyranny--with little more than her double-tracked voice and the sparse, intimate studio arrangements of Phil Elvrum (Microphones). Sung entirely in French (translations and beautiful graphical embellishments exist within the liner notes), Castree's songs can be viscerally compelling as the galloping drum beat surges behind her outcry on "Drapeau Blanc" (White Flag) or emotionally compassionate as she coos out the "softest love" on "L'Homme Qui Vient De Marcher Sur Une Mine" (The Man Who Has Just Stepped onto a Landmine).
Talib Kweli--Ear Drum
# Since his impressive debut album with Mos Def under the Black Star moniker, Talib Kweli has been fighting for attention. Though critically acknowledged, commercial success hasn't followed pace. Ear Drum may finally change all that. Coupling his intricately laced rhymes with knowledge-of-self lyrics, Kweli hires an all-star cast of the beat-making maestros (Kanye West, will.i.am, Pete Rock, Just Blaze, Madlib, and Hi-Tek) and crafts a one-two punch that can't be ducked. Whether he's displaying his panache for swift lyrical tongue-twisting on his ode to fellow emcees ("Country Cousins") or soft-stepping with the lovey-dovey Norah Jones duet "Soon The New Day," Kweli shows off various moods, all of which are interlaced with conscious rhetoric varying from unifying solidarity to anti-misogynistic respectfulness. Twenty tracks dense, you may feel worn thin by its righteous end--or think you've made the best investment since tossing dollars in the Sunday collection plate. Talib Kweli has the hit album he deserves.
-Malik Miko Thorne, of Boo Boo Records and KCBX's Night Train


---
New Times contributor Kathy Johnston has warmed up plenty of local dance floors. Ask her for a spin at
kjohnston@newtimesslo.com
.