In this day and age there isn't a whole lot that makes a selfie unique—just another person in front of their cellphone that you scroll past in your Facebook feed. Fortunately, these photos don't have to be a total waste of phone storage.
Samuel Tomasello, a studio arts major at Cuesta College, creates etchings of his friend snapping pictures of himself. One such etching of Tomasello's friend taking a selfie on a bicycle just won first place in the printmaking category of the annual Juried Student Art Exhibition at Cuesta. Tomasello is currently working on an entire series of selfie etchings.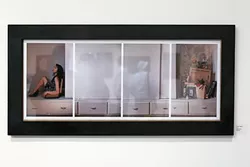 PHOTO BY DYLAN HONEA-BAUMANN
WISTFUL: Cristal Tappan said she had to run back and forth several times to take No. 4, a self-portrait of herself, since she did not have a remote.
"Everybody projects how they want to look in a selfie, and now they're giving me the trust to manipulate that," Tomasello said.
This is the third year that Tomasello's art was accepted into the annual exhibit, but it's the first year that one of his non-sculpture pieces was selected.
"It's all about being a well-rounded artist," Tomasello said. "The theme of my selfie series is to explore the self and see how people perceive themselves."
Tomasello's piece, along with a melange of other student works are currently hanging against the white walls of the Harold J. Miossi Art Gallery on campus. These pieces were hand selected by Robbie Conal, a Los Osos resident and one of the most prominent satirical street poster artists in the country. Conal's work, which scrutinizes political figures like George W. Bush and Arnold Schwarzenegger, graced the same walls earlier this year.
Each year, student artists have an opportunity to submit their best works. This year, 86 students submitted 183 works of art for consideration according to gallery officials, but only 51 pieces of art from 43 different students are currently on display at the gallery. Works showcased include ceramics, digital art, drawing, graphic design, mixed media, painting, and photography.
PHOTO BY DYLAN HONEA-BAUMANN
COLOR ME SURPRISED: Jamaica Hines uses ink markers in her detailed piece 'Linx' to create a magical creature.
"This art show is a good starting point to get art students to open up and get you out there," said Cristal Tappan, an art student at Cuesta who received an honorable mention for photography.
Her self-portrait is a series of four images with one of her sitting inside an old suitcase with pensive eyes focused toward the ceiling.
Tappan resisted a major in art for quite some time to avoid the classic starving-artist syndrome, but she's finally given in to what she enjoys most.
"The art teachers at Cuesta push you to do better," Tappan said. "They really helped me find my niche."
Tappan's second piece in the exhibit is a sci-fi acrylic painting of a human-like figure with a flower head and several limbs pointing up and down.
Another award went to student artist Jamaica Hines for her colorful and detailed portrait of a lynx, which won first place for mixed media. While Hines plans to become a pilot in the future, she doesn't view her art major as a waste of time.
NOT SO AMATEUR : The Harold J. Miossi Art Gallery presents Cuesta's annual Juried Student Art Exhibition, located in room 7170, on the San Luis Obispo campus of Cuesta College. The exhibit of student art will be on display until May 13. The gallery is open Monday to Friday from noon to 4 p.m. as well as the first and third Sunday of each month from noon to 4 p.m. Admission is free. For more information, call 546-3202 or visit

cuesta.edu

.
"I chose to focus my academic endeavors on art because I feel like creativity is the cornerstone of being," Hines said. "As our species makes technological advances and automates everything, I didn't know how relevant or valuable being an airplane pilot would be in 10 or 20 years."
New Times intern Kat Schuster is currently working on her own art project—coloring inside the lines of her coloring book. Send comments to New Times Arts Editor Ryah Cooley at rcooley@newtimesslo.com.