You probably don't notice, but when you're watching your favorite TV show, those songs you hear in the background come from someone, and if your favorite shows include Grey's Anatomy, One Tree Hill, or Californication, you've probably already heard the music of John Elliott.
PHOTO COURTESY OF JOHN ELLIOTT
AS HEARD ON TV! : John Elliott, whose songs have appeared on several TV shows, headlines Steve Key's Songwriters at Play showcase on July 14 at The Porch.
The singer-songwriter may be unknown to many Central Coast residents, but he's played nearly every venue in Los Angeles, including a residency and regular shows at the famous Hotel Café. As front man to his band The Hereafter, he can definitely rock out, but he'll be playing an intimate solo acoustic set when he headlines Steve Key's Songwriters at Play showcase on Thursday, July 4, at The Porch.
"He has been described as a masterful songwriter—compared to Leonard Cohen and Bob Dylan," said showcase co-producer Bonnie Nelson.
The show runs from 6:30 to 9:30 p.m., is all ages, and is a pass-the-hat affair that features several other performers playing four-song sets.
Songwriters at Play continues on Sunday, July 17, with headliners Valerie Johnson and Al B Blue at Sculpterra Winery (1 p.m.; all ages; pass-the-hat). The Nipomo-based blues, jazz, and gospel duo is making an encore appearance, delivering "music that walks right into your heart and shakes hands with your soul."
Valerie, a Bay Area native, toured Europe with the Bitburg Gospel Messengers and sang gospel and blues in the Far East. In 1998, she also sang lead on tour with the band made famous by Janis Joplin: Big Brother and the Holding Company. She's also sung with "boogie woogie piano queen" Deanna Bogart, and the award-winning blues/gospel group, The Holmes Brothers.
Al, a classically trained pianist, formed a street corner doo-wop group in Camden, N.J., back in the '50s, giving him his first taste of radio airplay. In California, he picked up the guitar, paid his dues, and eventually joined Big Black & The Congregation, an Afro-funk band, then toured the West Coast with Curtis Mayfield.
Don't miss this one!
As a special celebration of what would have been Woody Guthrie's 99th birthday, Songwriters at Play is coming to The Spot in the Village of Arroyo Grande on Monday, July 18, at 7 p.m. ($10). Come hear tunes made famous by the writer of "This Land is Your Land" when host Steve Key, young string band Hayburner, father-son duo Young Ireland, Ted Waterhouse, Randall Lamb, Kelly Wildowsky, Regina Bartlett, and Don Lampson perform more than 20 Guthrie classics.
Finally, on Tuesday, July 19, That Evening Sun headlines the showcase at Kreuzberg (6:30 p.m.; all ages; pass-the-hat). According to co-producer Bonnie Nelson, That Evening Sun is her favorite new band: "When Paul Silva and Steve Kindel of The Woolies met up with Honeyguide's Shannon Savage and Ben Erchul, a dynamic new band emerged. That Evening Sun features three-part harmonies, three alternating lead singers, three distinctive writers, with three guitars, Ben's jazz-rock bass, occasional mandolin, banjo, or bouzouki added to the mix. Often they're joined by blues harmonica ace Debra Windsong."
Get connected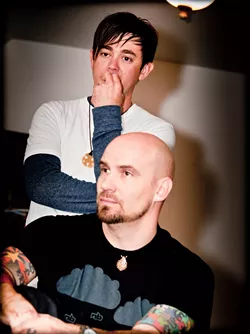 PHOTO COURTESY OF THE CONNECTION
CONNECT! : L.A.-based rockers The Connection are coming to The Pour House on July 15.
L.A.-based rockers The Connection are coming to The Pour House on Friday, July 15, from 8 to 11 p.m., with special guest singer-songwriter Andy Chanley opening.
The Connection features three—count 'em three!—native Paso Roblans: Mike Wright-Brady, Billy Thompson, and Todd Andrew! The band also features producer-drummer Christian James Hand, who's toured with Peter Gabriel and PM Dawn. He's also the producer behind the bands Tainstick and Death! Death! Die!
Joining them on bass is Matt DiPanni of the band The Mowgli's, and together this energetic quintet has a "sound that mixes the hopeful storytelling of artists like The Gaslight Anthem and Bruce Springsteen with the rock beats of Tom Petty and The Cars."
Let the good times roll again!
Months ago, Bon Temps Creole Café experienced a devastating fire, which made it real hard for me to get my blackened pork sausage patties breakfast fix, my muffalettas lunch fix, and my jambalaya with shrimp and andouille dinner fix!
Well praise the lord, because proprietor Phil Lang has finally got his restaurant up and running again, and he's planning a daylong grand reopening bash from 10 a.m. to 10 p.m. on Saturday, July 16.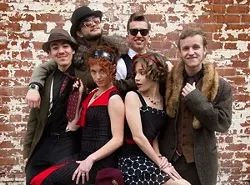 PHOTO COURTESY OF RED SKUNK JIPZEE SWING BAND
GOOD TIMES : Bon Temps Creole Café is celebrating its grand reopening with all-day music by a half dozen acts, including the Red Skunk Jipzee Swing Band, on July 16.
Appropriately dubbed "The Tardi Gras Party," the event features live music all day long from the likes of Billy & Charlie Foppiano, Valerie Johnson & Al B Blue, Karen Tyler, the Creole Syncopators, Cliff "Crawdaddy" Stepp, and Red Skunk Jipzee Swing Band.
Spicy music, spicy food, and spicy folks!
YouTube sensation
Nearly 10 million YouTube viewers can't be wrong, right? Because that's how many people have watched Obadiah Parker's version of Outkast's "Hey Ya." He's also sold half a million songs on iTunes, was featured on Howard Stern, and was an answer to a question on Jeopardy! And that's not even his proudest achievement.
"It's the little things in life like an 8-year-old who can sing along at Obadiah's shows and know every word that feel like his biggest accomplishments," says his bio. "While his family knows him as Mat Weddle, the Phoenix native has been playing music under the name Obadiah Parker for six years and proving that no matter what you call him he is a force to be reckoned with.
"My voice is my gift," he says. "Songwriting is my craft. Performing is my purpose."
Obadiah Parker is now on tour in support of The Siren and the Saint, his fourth independent release and first full-length studio album. See him Saturday, July 16, at Linnaea's Café (8 p.m.; all ages; pass-the-hat).
Check out this performer who "aims for honest, universal songwriting that people can connect to the artist with and share a common experience."
Beach pop!
PHOTO COURTESY OF PAPER CITY
THREE'S A CROWD : Vocalist and ukulele player Marisa Predisik will lead her band Paper City through its paces on July 18 at Kreuzberg.
"This summer, I'll be the only girl with two dudes in a van for two months, going across the country, playing shows, and crashing on people's couches (and staying in the occasional hotel room)," said Paper City front woman Marisa Predisik. "Shenanigans to ensue? Absolutely."
The Long Beach-based indie-pop act will deliver an evening of their breezy tunes at Kreuzberg on Monday, July 18, at 7 p.m. Featuring Predisik (vocals-ukulele), Ben Swenson (bass), and Dave Waterman (drums), the trio says their sound is "reminiscent of '60s beach pop resurrected in modern time."
The unsigned act has two full-length albums and two EPs, and they continue to spend a lot of time in the studio recording their quirky, charming tunes. They're currently on a 23-state tour to promote Popular Talk, their newest. They've also been working on videos for their singles "Then You Arrive" and "Holiday," and they covered the Nick Lowe song "Rollers Show" for a promotional video for the Long Beach Roller Derby Girls.
This is an act that promises to charm the pants right off you!
More music …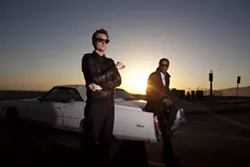 PHOTO COURTESY OF OSLO
POST PUNKS : Oslo comes to Frog and Peach on July 14.
Grammy winner Louie Ortega and local singer-songwriter Lance Robison team up every Thursday—yes, that includes Thursday, July 14—to play McLintock's in Paso, from 6:30 to 8:30 p.m. Grab some grub or grog, settle in, and remind yourself what terrific performers these two guys are.
Oslo plays Frog and Peach on Thursday, July 14, as part of their seven-date West Coast tour. "Back after a few year hiatus, they have two mini-albums scheduled for release for this year," said their publicist Tim Broun. "They have the contemporary punch of bands like Arctic Monkeys, Muse, and Placebo, while recalling various UK post punk bands like the Comsat Angels, the Sound, and the Cure … with a pinch of Alice In Chains!"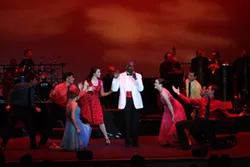 PHOTO COURTESY OF VIVA LA DIVA!
GOTTA SING, GOTTA DANCE : A live orchestra, more than 20 dancers, and 10 singers will perform during Viva la Diva!, a musical review at the Clark Center running July 15 to 31.
Fans of Mary Meserve-Miller's Legends series may have lamented their disappearance from the SLO Little Theater, but you can't keep a good legend down. She's constructed a new show, Viva La Diva!, which chronicles music from Ethel Merman to Jimi Hendrix and everything in between! Past Legends shows generally focused on the biography and career of one performer, but this new show is more of a cabaret that features a live orchestra, more than 20 dancers, 10 singers, and eight mini-videos. This FUNdraiser for Nipomo High School's Drama Fund opens Friday, July 15, and runs through Sunday, July 31, at the Clark Center. Call 489-9444 or visit ClarkCenter.org for ticket information.
PHOTO COURTESY OF THE US COAST GUARD BAND
AMERICA, EFF YEAH!: The U.S. Coast Guard Band performs a free concert of American music Saturday, July 16, in the PAC.
The U.S. Coast Guard Band performs a free concert of American music Saturday, July 16, at 8 p.m. in Harman Hall of the Performing Arts Center's Christopher Cohan Center. In addition to John Philip Sousa marches, expect other patriotic and classical works including a wind ensemble arrangement of Aaron Copland's aria "The Promise of Living," Alfred Reed's "Armenian Dances," Morton Gould's "Santa Fe Saga," and Frank Ticheli's "Wild Nights." Also, soprano soloist musician 1st Class Megan Weikleenget will sing Samuel Augustus Ward's poignant "America the Beautiful," with other surprises. The concert is free and open to the public. Tickets, however, are required; call 756-2787.
San Diego-based reggae and rock act Jet West hits Frog and Peach on Friday, July 15, from 10:30 p.m. to 1:30 a.m. The band says its music is "inspired by the tan girls, good waves, and great weather of SoCal." Hell yeah!
The Atascadero Main Street program continues on Saturday, July 16, with Bremen Town from 7 to 10 p.m. in the historic downtown Colony District. "The music is one more way we work to entice locals and visitors into downtown Atascadero in the summer," said Main Street manager Steve Martin, who noted that the concerts are free. I've never heard of Bremen Town, the band, but their name comes from a Brothers Grimm folktale about a donkey, dog, cat, and rooster who leave their respective farms, decide to travel to Bremen, Germany, to become musicians, but instead upset some robbers ransacking a cottage, where the animals eventually take refuge and live out their days in peace.
If you find yourself up near Ragged Point Resort on Sunday, July 17, between 1 and 4 p.m., I highly recommend stopping in to catch the Don Lampson Outfit at work. Featuring Don Lampson's gritty voice and sparkling fret work, Charlie Kleemann's slap happy standup bass, and multi-instrumentalist Eric Brittain's utter virtuosity, this is a trio that really delivers the goods. The show is free!
On Sunday, July 17, the Cadillac Angels will bring their rootsy, rockabilly, surf sounds to Grover Beach's Sizzlin' Summer Concert Series from 3 to 6 p.m. in Ramona Garden Park. This band's got more than a dozen albums under its belt and features seriously awesome guitar work from front man Tony Ridge, who uses vintage guitars, amps, and FX.
PHOTO COURTESY OF SLOW TRUCKS
MOTHER TRUCKERS! : San Francisco-based Slow Trucks returns to the Frog and Peach on July 17.
San Francisco-based Slow Trucks return to the Frog and Peach at 9 p.m. on Sunday, July 17, joined by local band, smAlls. Slow Trucks is currently touring in support of Hard, their debut on 20 Sided Records, a sweet collection of jangly alt-pop tunes, some of which veer off into punk goofiness, like on "Steve the Belly": "Hello/ My name is Steve/I am a big belly/And I'm feeling very hungry/So won't you please feed me?" If you're a fan of The Dead Milkmen, King Missile, or Ween, you'll find something to enjoy here.
In case you missed TED at Last Stage West the other day, fear not, for the Long Beach act returns to the area with a 10 p.m. show on Monday, July 18, at Frog and Peach. Featuring Tom, Evan, and Don (TED, get it?), the group features Tom Harmon (guitar), Evan Anderson (mandolin), and Don Rowan (upright bass) producing crowd-pleasing acoustic Americana and bluegrass.
Keep up with Glen Starkey via twitter at twitter.com/glenstarkey, friend him at Myspace.com/glenstarkey, or contact him at gstarkey@newtimesslo.com.