There are a few things you need to know about Patrick Hayes. One: Twang N Bang—the all-day love fest of local music that kicks off each Labor Day weekend—is his baby. Dirty, flawed, and loud as a cat in heat, it's an ugly baby to be sure, but he's proud, and he should be (what else could bring together roaring guitar and country picking so harmoniously year after year?). Two: Don't ever thank him when you're on stage. Just don't do it. Rumor has it, when Hayes blushes, he goes into some kind of full-body spasm. Not pretty. And three: Never, under any circumstances, play, "Wagon Wheel." You will be hoisted off the Frog and Peach stage and promptly deposited onto the street where you belong.
PHOTO COURTESY OF MIKE BLANCHARD AND THE CALIFORNIOS
TWANGIN': Sacramento's Mike Blanchard and the Californios (pictured) will return to Frog and Peach for Twang N Bang X this Sept. 6. A handful of talented out-of-town groups will perform alongside local acts like Red Eye Junction, HOT TINA, and Creston Line for the all-day affair.
See, Hayes—like many Central Coast musicians—remembers the dark days when people thumbed their noses at country music. The pang of hurt lingers. Nearly 10 years ago, when local bands like Hayes' alt country group Pennyjar, bluegrass troupe Cuesta Ridge, and honky tonk heroes Red Eye Junction were fresh on the scene, country wasn't just hated, despised, or spat on in SLO. It was completely ignored. In 2009, Hayes was mad as hell and had a good mind to do something about it.
"That was before the Avett Brothers and Mumford and Sons thing, before every fucking band in skinny jeans had a banjo in their hand," Hayes said. "It started as a protest fest, the 'twang' aspect of it. But lately, the last couple years have been 'bang' heavy."
Don't I know it. I came into the fest in 2011, with my first-ever bluegrass group (yes, I had a banjo in my hand, sans skinny jeans). Since then, I've bonded with the stage, which always smells so appetizingly of sweat and spilled beer. Whether my passion de jour be punk rock or country, I always feel like I belong. Every musician I've talked to this past week has echoed that feeling about Twang N Bang: It's truly "come as you are."
This year's Sunday, Sept. 6, Twang N Bang X (2 p.m. to 2 a.m.; 21 and up; no cover) will offer up a momentous patchwork of eclectic sounds encompassing more than 13 local and regional acts. Grungy dust-kickers American Dirt will collide with the pure rock fervor of HOT TINA and Riot Grrrl ethos of Bearcat. The Turkey Buzzards will ride the thermals with their mellow Americana, peppered by Chasing Rainbows' '60s psychedelic pop. Other Houses (Morgan Enos' melancholic acoustic project) edges up against Red Eye Junction, which will make its triumphant return to the Twang N Bang stage in full nasal-twang glory (full disclosure: This is my husband's baby).
Once I put down my own guitar (Hayley and the Crushers will make its Twang debut), you can bet I'll be two-stepping to Santa Barbara heavyweights The Mutineers (melodious country-tinged pub rock) as well as Sacramento's sledge-hammer-to-the-gut rockers 50-Watt Heavy. True blue country and western pickers Hay will also venture out from Sactown, bringing a few cowboy hats to the mix. Oh, and that's not all, folks. M Lockwood Porter of Oklahoma will throw his harmonica and pared-down folk into that ring, but not before SLO County all-stars Creston Line rhyme "baby" with "Chevrolet."
HOT TINA bass player Alexandra Wenzl is doing her best to make Hayes blush, and I fully support her mission. We caught up over coffee and she regaled me with stories of Arroyo Grande's The Thrash House, where the best underage shows happened back in the early '90s. After a stint playing in Portland punk bands as a youngster, she returned to SLO. When she popped out her last kid, she took a break from music.
"Pat would not take that for an answer. Every time I saw him, he would ask me when I'd be playing again," Wenzl said. "He's always been so intensely supportive—to the point of almost being pushy. But it's awesome. So few men in this music scene really care whether or not they have a diverse community of artists. It's so homogenous for the most part. You have to have shaggy hair and wear a flannel. That's never been me, but Pat's always supported what I do."
Just for kicks, I think I'm going to bust out a flannel jumpsuit on Sunday. If Lawrence Rengert II of Chasing Rainbows has taught me anything, it's to let your freak flag fly. The SLO-turned-SoCal performer will return to the Frog stage for a second year with his groovy rhythms.
"It's fun to see these SLO musicians come back and bring that energy," Rengert said. "Also, it's cool to see younger people forming bands—the fest is really a mix of ages. The fact that someone in SLO is doing their own record label/fest is pretty cool to see."
That's right. If you didn't already know, Twang N Bang is also a label, helping produce American Dirt's latest record, Sunken Gardens as well as Dead Volts' latest, We Are Already Dead, among others (Dead Volts is Hayes' latest band, now seeking a lead guitarist).
PHOTO COURTESY OF TURKEY BUZZARDS
SUNDAY FUNDAY: Morro Bay Americana duo The Turkey Buzzards will join a dozen other local and regional acts for Twang N Bang X kicking off this Sunday, Sept. 6, from 2 p.m. to 2 a.m. The mix of rock, country, and everything in-between will roll on all day long at Frog and Peach Pub.
In 2009, I had just returned to my hometown of Atascadero from LA with a vague idea of starting a band. With my fledgling music zine under my arm, I began tumbling down the rabbit hole. Hayes immediately asked if I wanted to help put out an all-local compilation. This is the kind of inclusivity that permeates our little community. It's an all-hands-on-deck situation. No band lives in a vacuum.
"It's good for people to say, 'Wow, we really do have a local music scene,'" Hayes said. "We all complain about it, but in five years—once we take a step back—we'll probably be saying, 'Hey. We had it good then.'"
Maybe that's true. All I know is that these bands are out there every weekend pouring their souls on the stage. Just ask Americana two-piece The Turkey Buzzards of Morro Bay, who have been gigging nonstop for the past few years (they'll be at Beaverstock in a few weeks). Their new live album was just mastered and will hit the street soon.
"I remember a time when venues would say, 'You can play anything but country," bass player Eric Patterson said.
His music partner/guitar player Dylan Nicholson likened the Twang N Bang experience to being part of a family. And like any family function, it takes a lot of cat herding to make it happen.
"It's amazing that it can even be pulled off, with so many bands on time all day. It's a giant feat in itself," Nicholson said.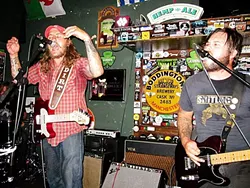 PHOTO COURTESY OF DAN KELLER
HANK WILLIAMS DIED IN A CADILLAC: American Dirt "is gonna die in a Ford." See what else these poetic alt country rockers sing about at this year's Twang N Bang fest this Sept. 6 at Frog and Peach Pub.
Each band gets about 20 minutes, and it's a frantic yet beautiful dance to orchestrate. Hayes said Twang N Bang day is almost like putting on a wedding. There's quite a lot of love and yelling involved, anyway.
Sometimes it takes an outside perspective to see the SLO scene clearly. Mutineers guitarist Brian Mathusek and drummer Merry Young have played the fest for at least the past three years, through momentous occasions—their marriage—to terrible tragedy—the untimely death of their friend and bandmate.
Through it all, the group has made Twang N Bang more than a priority. It's a tradition. Hayes and members of American Dirt discovered the band while playing in Santa Barbara around 2010. Now bands from both areas are flowing back and forth, gigging together and spreading the word farther than any one band ever could.
"Twang N Bang is this vortex, where all of these great partnerships have grown out of," Mathusek said. "Every year, somebody just stands out, and it's cool to see that."
Mathusek recalled the first time he saw Sacramento's Grubdog and the Amazing Sweethearts play their crowd-participation song on the Frog stage. The band (already with three guitar players on stage) passed out a few extra into the crowd. The result? Way too many guitarists ripping it up on a too-small stage while the crowd raised their beers to the sky.
"After that, we were just smiling like idiots," Mathusek said.
I say, if you can't laugh with your lineup, what's the point of playing together? It takes a village to raise a healthy music scene.
"The bands that are successful and keep continuing through life are the ones who have a community of musicians around them," Mathusek added. "You can't do it by yourself. Twang N Bang is the annual meeting of people who are still grinding it."
Pre-Twang tunes
Pre-game gigs will kick off Friday, Sept. 4, at Dunbar Brewing and on Saturday, Sept. 5, at Camozzi's Saloon and Libertine Pub. For lineup and info, go to the event page on Facebook.
That retro show!
PHOTO COURTESY OF MARSHALL TUCKER BAND
THE '70S ARE BACK: The Marshall Tucker Band (pictured), Canned Heat, and Commander Cody and His Modern Day Airmen will be headed to Pozo Saloon on Sept. 6 for the venue's annual Labor Day Boogie.
The Marshall Tucker Band, Canned Heat, and Commander Cody and His Modern Day Airmen will be headed to Pozo Saloon on Sept. 6 for the venue's annual Labor Day Boogie. (Box office opens at 11 a.m.; gates open at noon. Tickets are available at Boo Boo Records and at pozosaloon.com.)
One of the major Southern rock bands of the 1970s, the Marshall Tucker Band was formed in Spartanburg, S.C., in 1971 and is still going strong. Emerging in 1966, Canned Heat was founded by blues historians and record collectors Alan "Blind Owl" Wilson and Bob "The Bear" Hite. Commander Cody and His Lost Planet Airmen formed in 1967 in Ann Arbor, Mich., with founder George Frayne "Commander Cody," who mixed country, rock 'n' roll, Western swing, rockabilly, and jump blues together on a foundation of boogie-woogie piano.
That's right. Three dance-worthy vintage bands in one locale! Beer and food trucks will round out the retro romp.
Weird noises at SLO Brew
What's that strange sound? Good Medicine and Numbskull presents !!! (pronounced chk chk chk) this Sept. 4 at SLO Brew (8 p.m.; all ages; $14 presale or $17 at the door). Since 1996 this Sacramento-born dance-punk band has been taking the rules and chucking them out the window. The band's name was inspired by the subtitles of the movie The Gods Must Be Crazy, in which the clicking sounds of the Bushmen's Khoisan language were represented as "!" However, as the band members themselves say, !!! is pronounced by repeating thrice any monosyllabic sound. Chk Chk Chk is the most common pronunciation, but they could just as easily be called Pow Pow Pow, Bam Bam Bam, Uh Uh Uh, etc. How's that for a bit of cocktail party knowledge?
This Sept. 5, Glam Cobra will take over the SLO Brew stage (8 p.m.; 21 and up; $8 presale or $19 at the door). Voted most bitchin' '80s cover band by the International Organization of Music Lovers (no, that's not really a thing), you know you'll be tempted to bust out your best running man dance moves.
On Sept. 7, Eligh will play SLO Brew (8 p.m.; all ages; $15 presale or $17 at the door) as part of The Crow Fall 2015 80 HRTZ Tour. His love of music started early: In first grade, at a friend's birthday party, Eligh and the rest of the kids watched a movie called Beat Street. The movie made quite an impression and inspired Eligh to make a trip to his local record store where he picked up LL Cool J's I'm Bad. After one listen, he knew what he wanted to do. The rest is history! SLO funk rockers Wordsauce will open the show, and I think it's safe to say they're growing into their sound.
Wordsauce's first release dropped in 2010, recorded in a single session at Cuesta College's recording studio. Since then, the band has played all over the state of California, in backyards, bars, benefit shows, and outdoor festivals. Wordsauce's newest EP, The Leak, was released in the summer of 2014. They followed this with their first ever tour, playing more than 20 shows up and down the coast of California and Oregon. Wordsauce is now back in the studio working on their first full-length album, along with a new single and music video. They grow up so fast, don't they?
More music …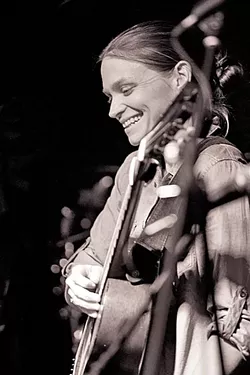 PHOTO BY REN NICKSON
PICKER AND GRINNER: Amber Cross of Austin, Texas, will raise the roof of the Los Osos Red Barn this Sept. 5.
Groove to the smooth sounds of Damon Castillo at Tooth & Nail Winery on Sept. 4 (5 to 9 p.m.; no cover) and be sure to check out New Orleans blues artist Johnny Azari at the Otter Rock this Sept. 5 (8:30 to 11:30 p.m.) for a fun date night of dancing and romancing by the water.
Austin-based singer/songwriter Amber Cross will raise the roof as part of the Red Barn Community Music Series in cooperation with KCBX and the Live Oak Music Festival ($15 at the door; 2180 Palisades Ave., Los Osos) this Sept. 5. Fold it good! Seattle folk-alternative rockers Origami Ghosts will haunt Frog and Peach Pub this Sept. 9 (10 p.m. to 12:30 a.m.; no cover). Frankie Bourne, an Americana mover and shaker will rattle through Linnaea's on Sept. 9 in support of his new album Californicana.
Soak in the end-of-summer fun on Sept. 7, as The Inciters and The Drive-In Romeos rock The Cliffs Resort (noon to 5 p.m.; all ages; no cover) hosted by Good Medicine Presents, Numbskull, and Barrelhouse Brewing Co. Talk about a Monday funday!
The Cuesta Jazz Singers, led by John Knutson, will perform at the Sept. 4 Noontime Downtown Brown Bag Concert at San Luis Obispo's First Presbyterian Church. The free concert begins at noon in Wilson Hall, corner of Marsh and Morro. Fair trade coffee and chocolate will be available (call 543-5451 for more information). Soak up a "magical afternoon" with organist Katya Gotsdiner-McMahan as she brings to life the works of J.S. Bach, Andrew Carter, Leo Sowerby, Georgi Mushel, and Sigrid Karg-Elert's Symphonic Choral "Jesus, Priceless Treasure" this Sept. 4 ($15 at the door; 981 Marsh St., SLO).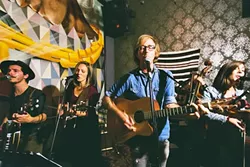 PHOTO COURTESY OF SHAWN CLARK
TOP-NOTCH TUNES: SLO's Shawn Clark Family Band recently released a killer new country record, Tumbleweed.
Have you checked out Shawn Clark Family Band's new full-length album, Tumbleweed? No self-respecting country fan should miss this soulful release (go now to shawnclarkfamilyband.com). It's filled with wailing pedal steel, sincere country crooning, and enough Western imagery to fill the side of a sweet Winnebago (coyotes, prairie dogs, and rattle snakes included). The masterfully recorded album details Clark's wayward travels, which have taken him from the dramatic cliffs of Colorado to the serene New Mexico desert and every honky tonk and gas station in between. The SLO singer/songwriter/multi-instrumentalist will take a break from roasting beans at Kreuzberg for a two-week tour this October. This new adventure will take him back onto that lively, lonely, mesmerizing road he holds so dear, and we sure do wish him luck.
Hayley Thomas takes a kissin' and keeps on pissin'. Contact her at hthomas@newtimesslo.com.