After 29 years of creating unforgettable Central Coast Wine Classic (CCWC) events, founder and executive director Archie McLaren remains as ardent as he's ever been in his mission to honor the Central Coast's outstanding artists. That's certainly the reason this popular charity wine event continues to attract so many people year to year, from across the states and beyond.
THE SIXTH ANNUAL CENTRAL COAST VODKA MARTINI SHAKEDOWN: If you love martinis, you won't want to miss this year's exotic Vodka Martini Shakedown at Rosa's Italian Restaurant in Pismo Beach, set for Sunday, May 19. The good times run noon to 3 p.m., with bartenders from local restaurants battling for first place by creating the most unique, delicious cocktail. Chef Doug MacMillan invites eight professional drinkers (like me) to judge the cocktails, and the guests vote for their favorite martini to earn the people's choice award. Chef Doug always prepares a generous buffet of his delicious Italian foods to enjoy with the cocktails—an excellent idea when you're going to taste nine martinis. There's a raffle of cool prizes (iPad, TV, and much more), and a silent auction with lifestyle lots and collectible wines. Three Martini Lunch will perform throughout the event. You're sure to find your favorite bartender here from these popular restaurants: Alex's BBQ, Ciopinot, F. McLintocks, Mongo's, Novo, SeaVenture Spyglass, Steamer's, and Upper Crust. The event is sponsored by Absolut Vodka, and all proceeds benefit the Arroyo Grande High School Culinary Arts Program and the Ada "Rosa" MacMillan Memorial Scholarship Fund for the Culinary Arts. Entry is only $65 per ticket, which can be purchased in advance at Rosa's Italian Restaurant. For details, write to chefdoug@rosasrestaurant.com or visit rosasrestaurant.com.
Yet McLaren's focus has never been strictly about promoting fine wine and good eats; his event features every genre of the arts. Over the last nine years, the CCWC Rare & Fine Wine & Lifestyle auction has raised far more than $2 million for 103 individual nonprofit charities. During a time of "economic uncertainties," as McLaren said of the last few years, that's one impressive track record.
"Who would have thought that a modest tasting and auction in Avila Beach 29 years ago would have become one of the nation's most well-respected and most sought-after charity food and wine events?" McLaren asked with earned pride in this year's CCWC announcement.
Most years, Wine Spectator has named the event among its top 10 list of charity wine auctions in America.
"The most gratifying aspect of our proceedings was its consistency," McLaren said. "Our statewide and nationwide demographic audience is extraordinary, and they generously and altruistically rose to the occasion."
McLaren provides those much-needed funds to many local nonprofit charities in the healing, studio, and performing arts. My first column in June 1996 announced that year's upcoming CCWC, and though I've written about each one since, the lineup of symposia, winemakers' dinners, and grand tastings never fails to intrigue and attract me, as it does all devotees of the CCWC. I continue to promote this event early because attractions like the Hearst Castle dinner, amazing past cooking classes with chefs Emeril Lagasse and Gary Danko, and the informative wine symposia always sold out well in advance.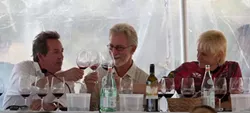 PHOTOS COURTESY OF THE CENTRAL COAST WINE CLASSIC
CHAMPAGNE SYMPOSIUM : Archie McLaren toasted Fabrice Rosset from Champagne Deutz in France during the Deutz Champagne Symposium.
People who can't afford to attend every event during CCWC can pick and choose from anything within its lineup of events if they do so soon enough. Choose from the barrel tasting at Avila Lighthouse Suites featuring awesome Central Coast wineries ($30); SLO County chardonnay symposium ($50); "The venerable, the relatively new and the new" cabernet sauvignon symposium ($65); and the Santa Barbara County syrah symposium ($50).
"Santa Barbara's focus has been pinot noir for many years," McLaren explained. "Syrah is a grape that produces remarkable wines from that terroir, and there are a number of relatively new producers who deserve to be showcased."
The epicurean Hearst Castle dinner features chefs from Monterey, Big Sur, Yosemite, and Santa Barbara ($1,250, patron sponsorship required). There's also a repeat of the popular dinner featuring Justin Vineyards at Lido Restaurant at Dolphin Bay Resort ($95); an alfresco VIP winery dinner dance and paulée (the French term for a dinner party where every guest brings wine to share) in Avila Beach Golf Resort by Lido chef Maegen Loring paired with wines from SLO, Santa Barbara, and Monterey counties, and Napa Valley ($95); and the fabulous wine and lifestyle auction where chef Rick Manson's multi-course gourmet luncheon ($125) keeps bidders sated.
"The Central Coast Wine Classic's mission of promoting wines and tourism on the Central Coast, of supporting nonprofits in SLO and Santa Barbara counties, and of making people aware of the symbiotic relationship between fine cuisine and fine wine and the rational and appropriate use of each, have to a large extent been accomplished," McLaren said. "We want to continue to accomplish them and celebrate our past, our present, and our future in 2014 during our 30th annual celebratory event."

THE 29TH ANNUAL CENTRAL COAST WINE CLASSIC: This educational and entertaining four-day event—Thursday through Sunday, July 11 through 14—is as relevant to wine novices as it is to wine connoisseurs. Since it's comprised of educational symposia and amazing, perfectly matched meals, guests can't help but walk away with a better understanding of the intricacies of wine appreciation, one-of-a-kind tastings, and a deepening appreciation for local music and art. Considered one of the top 10 charity auctions in America by Wine Spectator magazine, the classic provides something that's affordable for anyone, should they care to attend the Reserve Wine Tasting or dine at Hearst Castle. Check out the full schedule and event details, find the list of participating wineries and restaurants, and get tickets and/or reservations at centralcoastwineclassic.org, or contact founder and director Archie McLaren at 544-1285 or archie@slonet.org.
You will find there's only one other wine charity event this awesome in breadth, and it takes place in Napa Valley. But there is this one unfortunate fact: Napa doesn't have a castle! ∆
Contact Cuisine columnist Kathy Marcks Hardesty at khardesty@newtimesslo.com.