Awash in a purple and green fluorescent glow,
Stark walls that stand tall in the low-hanging dark of an October night.
White faces that flicker inside,
Mouths pulsating with LED candlelight.
A semblance of something I can't quite decipher.
Just flashes of creatures who know how to hide.
She rides back and forth, back and forth.
Her horse hidden and hollow.
Photo By Camillia Lanham
PUMPKIN OVERLORD A face you will never forget welcomes costumed revelers to the Halloween Ball.
Eyes flashing red, she jerks forward.
It's a little unnerving, a little perverse.
Cobwebs and shadows.
Phosphorescent glimmers.
Skulls, spiders, ghosts.
Skeletons that have never been thinner.
Beauty and The Beast twirl and twerk.
Cinderella stands listless, hiking her skirt.
Wigs, dark eyes, fake blood.
Blacklight dances off bare backs, painted skin.
A party at the castle for those who are in
A mood to revel and writhe with goblins, demons, and fiends.
And yes please!
Photo By Camillia Lanham
TREE OF HORROR Ghosts swing from trees at Tooth and Nail's Halloween wine club pickup party on Oct. 27.
I will absolutely take some wine with that cheese.
I wander Tooth and Nail, up the stairs, outside.
Then back down I stride to find more at the bar.
What comes next, I don't quite understand.
A leather jacket with strands, bleached jeans,
A hairy chest with no tan.
Dark glasses, a cowboy hat, a glass of wine in his hand.
All of a sudden, it's time to move on,
Last call, and now, they're playing that song.
Grab one final pour.
But get out.
Summon that Uber.
Head to the next place you can shout.
Greeted beyond the Paso Event Center's metal gate,
A pumpkin is perched 10-feet in the air,
Eyes gleaming orange, vengeful with hate.
But first came the pink wigs and blush-colored feathers.
A pair of twins in fishnet stockings and ears.
Photo By Camillia Lanham
WTF? A weird jar full of face sits on the bar at Tooth and Nail winery.
The stretch of rosy corsets pulled tight above their rears.
Through tall pumpkin-head legs, we enter
And who do we see?
A mummy, a witch, the Rocketeer, and creepy Alice.
Drinks to the left, dance floor in the center;
A medieval stretcher, electric chair, and the gallows
It's finally time to stretch my legs in the hallows
To cavort and wiggle
With others who frolic and jiggle.
Bunny hop, boogie down, cut a rug
Spin, tango, and jitterbug
Contort my arms and my legs
With a clatter, a hustle, a tug
I pull my friends toward the stage
We let loose and rage.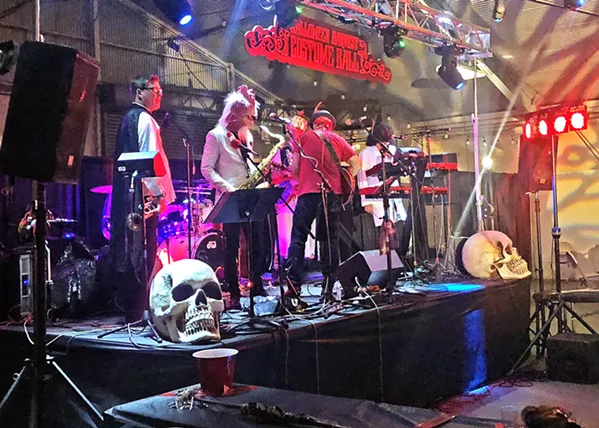 Photo By Alex Zuniga
THAT FUNKY MUSIC Burning James and the Funky Flames plays the Halloween Ball on Oct. 26 at the Paso Events Center.
As the night closes
We quickly strike poses.
Pumpkin head hovering above
We laugh, we make plans,
This year we get two chances to primp, preen, and pretend
That we can be something different than we normally are
Halloween comes twice
When Oct. 31 hits a Wednesday,
A weekend on both sides to get down and play. Δ
Editor Camillia Lanham kind of loves Halloween. Send comments to clanham@newtimesslo.com.