Ed. note: For his Christmas present, New Times allowed sports enthusiast Kai Beech to set aside the mask of objectivity and write this following brief exactly the way he wanted to.
San Luis Obispo hometown hero and former Ultimate Fighting Championship light heavyweight champion Chuck "The Iceman" Liddell is taking part in what many experts consider the most anticipated mixed-martial arts fight in the history of the sport when he squares off against Wanderlei "The Axe Murder" Silva at UFC 79 on Dec. 29 at the Mandalay Bay Events Center in Las Vegas.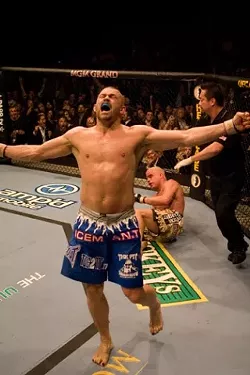 PHOTO COURTESY OF UFC/JOSH HEDGES
THE ICEMAN ROARETH : Ultimate Fighter Chuck Liddell, seen here in a previous fight, faces Wanderlei "The Axe Murder" Silva at UFC 79 on Dec. 29 at the Mandalay Bay Events Center in Las Vegas.
# MMA fans across the globe--and in SLO County--consider this fight a dream match up between two of the sport's most recognizable and feared fighters.
"It's the fight of the world," said local MMA fanatic Trevor Salman. "It's two of the best fighters ever, and they're both fighting for their careers. They're both stand up fighters that attack. It's going to come down to a knockout."
For Liddell, 38, and Silva, 31, this will be the most important match of their well-storied careers as both fighters are trying to rebound from consecutive losses. Liddell (20-5), a Santa Barbara native who held a three-year reign as the 205-pound UFC champion, lost his title to Quinton "Rampage" Jackson in May and suffered a split decision loss to Keith Jardine in September. Silva (31-7-1), a former PRIDE middleweight champion, lost his last two fights via knockout to Dan Henderson and Mirko Filipovic, respectively.
Despite the back-to-back losses, both fighters are still held in regard in the fighting community.
Liddell is known for his devastating punches and strong take down defense--a skill he honed while competing on the Cal Poly wrestling team. After graduating with a business/accounting degree in 1995, the skills he learned as a Mustang athlete have proven vital to his fight game more than a decade after competing.
"I need the wrestling skills I got at Poly to be the fighter I am today," he said at a UFC media conference in Las Vegas. "They still help me train."
Silva, who's known for his ultra aggressive style, is making his return to the UFC after a seven-year stint with the Japan-based PRIDE fighting organization.
Liddell plans on making his return a rude one.
"I'm coming after this guy and I'm going to knock him out," he said.