All I need to know about the philosophy, passion, and soul of Bruce "Utah" Phillips (May 15, 1935 – May 23, 2008) can be summed up in one of his statements: "The state can't give you freedom, and the state can't take it away. You're born with it, like your eyes, like your ears. Freedom is something you assume, then you wait for someone to try to take it away. The degree to which you resist is the degree to which you are free."
PHOTO COURTESY OF BRUCE "UTAH" PHILLIPS
AGITATOR DELUXE!: The music, stories, and life of Utah Phillips (1935-2008) will be celebrated Jan. 15 at a Santa Margarita house concert and Jan. 16 at Los Osos' St. Benedict's Episcopal Church.
Like Woody Guthrie or Phil Ochs, Utah Phillips was an iconoclastic artist and activist whose very life was an act of dissent against repression and a celebration of freedom. He's a true American hero, and he's certainly worthy of celebration, which is why for the second year in a row, Utah's son Duncan Phillips and SLO County's own Erin Inglish will embark on a tour to spread the songs, stories, and ideas of this quintessential American thinker.
The Long Memory 2015 Winter Tour will take the two performers through Arizona, California, Oregon, Washington, and Canada, including two shows this week in SLO County: Thursday, Jan. 15, at a Santa Margarita house concert (seating is very limited; call 748-2998 or email erin.inglish@gmail.com to see if tickets are available; 7:30 p.m.; $20); or Friday, Jan. 16, in Los Osos at St. Benedict's Episcopal Church (8 p.m.; $10, with proceeds going to the documentary about Utah).
"'The Long Memory' is the idea that no one human being is capable of learning and fostering such knowledge and wisdom in a humble lifetime as will be needed for us as humans to make the positive change we hope to see in the world," explained Inglish. "Only as a collective, and only through continuous sharing of wisdom from one generation to the next in real-time can we expect to better understand and participate in the world we live in. There is no shortage of information in our modern time, but there is arguably a shortage of meaningful implementation and execution of activities using this knowledge. History has many lessons for us, and Utah spent his life crisscrossing our country, scouring the land and its people for enlightenment, and then shared his findings with his audiences. This is a perfect example of implementation of The Long Memory. We are all part of it, but it is up to us to be active in expanding its reach, width, and depth in our culture. There are many ways to participate, but as another great guru of our time, Pete Seeger, said, 'Participation is key.' For me personally, a small group of people together in one room sharing and listening to songs and stories in the spirit of Utah is a consummate example of participation. And the most beautiful part, it is wrapped into a joyful evening of music that brings community together."
NEW TIMES How did a banjo-playing gal from Santa Margarita wind up partnering with one of Utah's sons?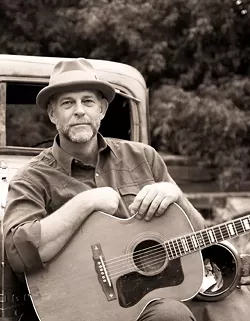 PHOTO COURTESY OF DUNCAN PHILLIPS
REMEMBERING HIS POPS: Duncan Phillips, son of Utah, will roll through town this weekend during a multi-state and Canadian tour.
INGLISH I met Duncan Phillips in Fall of 2013 while traveling through Salt Lake City on tour. Through serendipity (my favorite muse!) I was introduced to him via a mutual acquaintance on … Facebook. She set up a gig for me playing for a music series Duncan runs at a neat little bar called The Garage. It turned out to be one of my most enjoyable shows of the tour—a listening audience on a beautiful summer evening. After the show, Duncan said he liked my music, felt that it resonated with that of him and his father, and invited me to join him on his next tour (January 2014). This winter 2015 tour will be my second time out on the road with Duncan.
NEW TIMES Do you play separately? Together? Cover Utah's songs? Tell his stories or stories about him?
INGLISH The Long Memory—and Duncan himself as a musician—are truly unique and inspired by his father and his efforts. Like Utah, Duncan organizes each show with one or more collaborators and conducts the concert in a 'songwriter in the round' style. Each artist sits on stage and takes turns telling stories and sharing songs, often backing each other up. The theme of the show is Utah—his music, his musings—and each artist covers some of his songs and shares some of their own as well. As Duncan likes to say, 'My dad would be put off if you didn't perform some of your own material.' Utah had expressed hope that his songs could become a part of the folk fabric—woven into households, schools, and communities, sung by children and their grandparents together, recognized for their merit and not who wrote them. The Long Memory Tour aims to help facilitate the continuity between Utah's time and our modern time through an amalgamation of artists, stories, sentiments, and songs.
PHOTO COURTESY OF ERIN INGLISH
UTAH ACOLYTE: SLO County's own Erin Inglish will play both local Utah Phillips tribute shows and accompany Duncan on The Long Memory 2015 Winter Tour.
NEW TIMES What's your favorite Utah song and why?
INGLISH This is a very tough question. Which Utah song is my favorite? This is kind of like asking which body part I prefer. Each one of Utah's songs is so incredibly, distinctly unique in its message and purpose. He wrote a song for each occasion, as the occasion called for it. He wrote about mining, love, real people and their stories, poverty, wealth, war, Woody Guthrie, natural resource management, growing old, traveling as a Hobo, having children, mental handicap, personal plight, Joe Hill, Rockefeller's takeover of NPR, the skid rows of Denver, and the list goes on. In essence, to me, Utah's music is one big song with many chapters. But if I had to choose as a favorite, I would choose "The Telling Takes Me Home," a song that truly embodies The Long Memory as a concept. The song begins, "Let me sing to you the old songs I know … ." Each verse presents a poignant snapshot of the West—the Cadillac desert, indentured immigrants working their Eden, the pursuit of the American Dream, etc.—and each verse ends with 'It's sad, but the telling takes me home.' It is sad; it is a sad song. But it is so honest and eloquent, and believe it or not, singing it fills me with joy and hope for the future.

Utah Phillips deserves to be remembered, but I think more importantly, his message must be remembered.
"Time is an enormous, long river, and I'm standing in it, just as you're standing in it," Utah said. "My elders are the tributaries, and everything they thought and every struggle they went through and everything they gave their lives to, and every song they created, and every poem that they laid down flows down to me – and if I take the time to ask, and if I take the time to see, and if I take the time to reach out, I can build that bridge between my world and theirs. I can reach down into that river and take out what I need to get through this world."
Amen, Utah. Amen.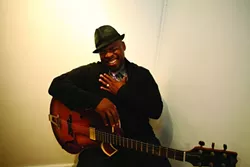 PHOTO COURTESY OF TERRENCE BREWER
JAZZMAN: The SLO County Jazz Federation brings award-winning guitarist Terrence Brewer to Unity Concert Hall on Jan. 17.
Bay Area jazzman
The SLO County Jazz Federation continues to bring renowned jazz to our area, as they will this Saturday, Jan. 17 when the Jazz Fed presents the annual Marilyn Greenberg concert featuring award-winning guitarist Terrence Brewer and his trio at Unity Concert Hall (7:30 p.m.; all ages; $20 general admission, $15 for Jazz Fed members, or $10 for students, available at Boo Boo Records and Brown Bag Paper Tickets online).
Brewer is a winner of the SF Weekly Music Award for Best Jazz Artist and the Oakland Chamber Of Commerce Artist of the Year Award, and this concert marks his first appearance in San Luis Obispo.
According to Jesse Varela, program director at KCSM, "Brewer has the soul of Grant Green and the technical ability of any of today's contemporary players."
Brewer will be joined by Grammy winning bassist Robb Fisher (Cal Tjader, Art Pepper, Anita O'Day) and drummer Greg Wyser-Pratte (Bobby Broom, Von Freeman, Rene Marie).
Brewer will also be conducting a free jazz workshop/clinic on the Cal Poly campus at 1:15 p.m., the Saturday afternoon of the concert. For those interested in attending, it will be held in the Music Building, 45-216, next to the PAC. All are invited.
Blasters from the Past
Dave and Phil Alvin, formerly of The Blasters (which Phil still helms but from which Dave departed acrimoniously many years ago), have reunited in the last couple years to spread their shared love for Big Bill Broonzy (1893-1958), an African-American blues singer, songwriter, and guitarist who copyrighted more than 300 songs in his lifetime.
PHOTO COURTESY OF DAVE AND PHIL ALVIN
BROTHERLY LOVE: Famously contentious brothers Dave and Phil Alvin, formerly of The Blasters, reunite for their shared love of Big Bill Broonzy, on Jan. 21 at SLO Brew.
The brothers' album, Common Ground: Dave Alvin & Phil Alvin Play and Sing the Songs of Big Bill Broonzy, was officially released last June and contains their engaging covers of a dozen classic Broonzy country blues songs featuring the earthy, rustic Alvin voices.
I'm glad the Alvins decided life is too short to remain at odds with one another, because they're truly great together. I saw them play last year's Live Oak Music Festival and they were incredible.
"We argue sometimes, but we never argue about Big Bill Broonzy," said Dave in press materials when explaining why he and brother Phil, who haven't made an album together in 30 years, were inspired to record the new album. The brothers have shared a fascination with Broonzy since childhood.
"Phil died and was brought back to life over in Spain," Dave said of his brother's 2012 health scare. "That was a real wake-up call to me. We hadn't made a full album together since 1985, but as you get older, you realize you're not immortal and you've only got so much time."
"They resolved to return to the studio and pay tribute to the blues legend," according to press materials. "Common Ground includes 12 songs that capture a 30-year cross section of Broonzy's canon, performed by the Alvins in their signature style of rollicking roots and stomping country blues."
"I first remember seeing Big Bill's picture on an album cover that I bought when I was 14 or 15," Phil said. "I didn't really know who he was and came home and played it and was overwhelmed by him."
These are some great songs that clearly helped shape the Alvin brothers into the artists they've become.
You can see Dave Alvin and Phil Alvin and The Guilty Ones this Wednesday, Jan. 21 at SLO Brew (6:30 p.m.; 21-and-older; $17 presale or $20 at the door).
There's a heap of other good music at the Brew this week, including the Randy Rogers Band on Friday, Jan. 16 (7 p.m.; 21-and-older; sold-out!), The Budos Band on Saturday, Jan. 17 (7:30 p.m.; 21-and-older; $16 presale or $18 at the door), Bears Among Men on Sunday, Jan. 18 (6:30 p.m.; all ages; $10 presale or $12 at the door), Cody Canada and the Departed on Tuesday, Jan. 20 (7:30 p.m.; 21-and-older; $14 presale or $16 at the door), and finally Kim Simmonds and Savoy Brown on Thursday, Jan. 22 (7 p.m.; 21-and-older; $20 presale or $25 at the door). Visit slobrewingco.com for more info and to see videos of this week's acts.
More music…
If you're in the mood for "original sketches, monologues, and songs that explore the hilarious, sometimes cringe-worthy moments that take place on sidelines of soccer fields, behind closed doors at parent-teacher conferences, and within our own living rooms," check out We're Canceling Cable! (and other empty threats) written by Michael Kaplan with original music by Mark Pietri play Fridays (9:30 p.m.), Saturdays (9:30 p.m.), and Sundays (7 p.m.), Jan. 16 through 25, at the SLO Little Theatre. "Not exactly appropriate for children," warns organizers, "but why would you bring them? This is your time."
PHOTO BY LINDSEY RALLO
HARP STEREO: The Painted Sky Concert series present an evening of stunning Celtic music with Lisa Lynne and Aryeh Frankfurter on Jan. 17.
The Painted Sky Concert series present a evening of stunning Celtic music with Lisa Lynne and Aryeh Frankfurter this Saturday, Jan. 17 (7:30 p.m.; all ages; $18 at Cambria Music Box Shoppe, Boo Boo Records, or by calling 927-8330). Expect to hear Celtic Harps, Swedish Nyckelharpa, Ukrainian Bandura, Bouzouki, Cittern, and more from these multi-instrumentalists.
Música Del Río House Concerts has lined up another great show for this Saturday, Jan. 17 (7:30 p.m.; all ages; $20; phone 466-6941 for reservations and directions). All hail the third return of Claudia Russell with Bruce Kaplan! "You may have heard Claudia and Bruce on Song Town at KCBX Public Radio or during their last visit to our territory," said concert organizer Fred Munroe. "Either way, we know you will be very glad they found their way to the Central Coast once again. Claudia has as expressive voice that is as much at home on a whispery folk ballad as a full-tilt Buddy Holly styled romp. She plays a style all her own: eclectic folk music with traces of all her musical loves—blues, western swing, rock, and county."
This Saturday, Jan. 17, Camozzi's in A-Town hosts Slow Season (8 p.m.; 21-and-older; free), which promoter Brian Duncan describes as "on the verge of making it big. Very Led Zeppelinesque. The show starts at 9 p.m. Also playing the show are two popular local metal groups, Facinorous and NeuTrad Archon. We're trying to keep live music alive in the North County and have really the only stage in Atascadero." Slow Season describes itself as "a hard-hitting, fuzzily psychedelic rock'n'roll band from Visalia," whose goal on their last record was "for people to wonder if this record is actually from 1969. We wanted to capture that spirit. That was the goal."
PHOTO COURTESY OF SLOW SEASON
ZEPPELINESQUE!: On Jan. 17, Camozzi's in A-Town hosts fuzzily psychedelic rock'n'roll Slow Season.
I admittedly don't know a lot of AC/DC tribute bands, but my very favorite is High Voltage because a) they're super cool dudes, b) they sound fucking great, and c) every time I see them I can't find my socks because they've been rocked clean off. "We're playing a one-off concert at Harry's on Saturday, Jan. 17 (9 p.m.; 21-and-older; free)," said drummer Ray Rocha. "We've been together over four years now, and with the new ownership and a positive environment for local acts, we're pleased to be playing Harry's. Our Mid State Fair Concerts last year were over the top, and sold out." The current members include Todd Wynn on vocals, Josh Blodgett (as Angus) on lead guitar, Alex Lacerda (as Malcolm) on rhythm guitar, Andy Shellcross (as Cliff Williams) on bass, Ray on the drums, and Paul Dunn on bagpipes (yes, they go there!). "We'll be bringing our Rosie Doll to this show!" added Ray.
Metallica guitarist Kirk Hammett has called '70s rock legend Pat Travers one of his favorite guitarists, which seems like pretty high praise to me! The Pat Travers Band is in the middle of a tour that's taking it to big clubs and major theaters from California to Nevada to Florida, with one stop in Grover Beach at Mongo's on Tuesday, Jan. 20! This is huge! Travers has put out more than 30 recordings, and his 1979 live album Live! Go For What You Know is positively iconic in the rock world. Call Mongo's (459-3639) for ticket info. MGB and Afterall will open this show guaranteed to rock you.

Keep up with Glen Starkey via twitter at twitter.com/glenstarkey, friend him at facebook.com/glenstarkey or myspace.com/glenstarkey, or contact him at gstarkey@newtimesslo.com.