Just one week after his older brother was sentenced to serve a lengthy prison term for the gang-related assault of a community college student, 20-year-old Javier Chang was sentenced to probation for the same crime.
SLO Superior Court Judge John Trice sentenced Chang Dec. 6 to five years of probation for the 2014 assault. The previous week, Trice sentenced Chang's older brother, 24-year-old Noe Chang Leon Jr., to nine years in prison.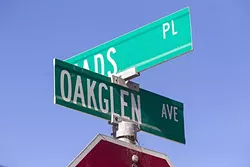 PHOTO BY JAYSON MELLOM
GANG ASSAULT: Two brothers were convicted of taking part in the beating of an Allan Hancock College student on this Nipomo Street in 2014. This week one brother was sentenced to nine years in prison, the other got five years of probation.
Both men were convicted by a jury of severely beating and injuring an Allan Hancock College student during an altercation on a residential street in Nipomo. The brothers, along with two other men, attacked the student with fists, feet, and beer bottles. After their conviction, both brothers pleaded guilty to gang enhancement charges, conceding to allegations that the crime was committed in association with the Nipomo 13 criminal street gang.
While Trice characterized the attack as "street terrorism at it worst" the previous week, he agreed to the recommendation by SLO County's probation department to sentence Chang to probation. Trice indicated "extensive" letters from community members in support of Chang, as well as a letter of apology Chang wrote to his victim, influenced his decision.
"It's one of the more difficult decisions I've made in a long time," he said.
SLO County Prosecutor Greg Devitt disagreed with Trice's decision. He noted that Chang started the confrontation when he poured beer on the victim's car.
"I believe that [Chang] was the principal instigator of the event," Devitt said.
He asked Trice to sentence Chang to 10 years in prison.
"I think they were similarly situated and should have gotten the same sentence," he said.
The differing sentences reflect the two different personalities of the brothers as described by their father Noe Chang Leon Sr., during their trial. In his testimony, Leon senior described Chang as "quiet" and Leon Jr. as "happy-go-lucky."
"Noe plays around a lot. He's like a child, … I think he hasn't grown up," Leon Sr. said, speaking through a translator. "Javier thinks more. He's more mature."
As part of his probation, Chang will have to refrain from drinking and using drugs, and is barred from any contact with his victim. Trice warned Chang that if he violates the terms of his parole, he would be automatically sentenced to eight years in prison.
"The only reason this is happening to you is because of the people in the community standing up for you," Trice said. "You have eight years of prison hanging over your head for the next five years … I don't want to send you where I sent your brother."