For an actor of the melodrama, there's nothing worse than coming off stage without a whole lot of boos and hisses to show for it.
That is, if you're a melodrama actor playing the villain.
If you're the hero, you're probably looking to incite as many cheers and hoorays as possible. Either way, the truth is clear: At The Great American Melodrama, the audience is as much a part of the production as the set, lighting, and costumes.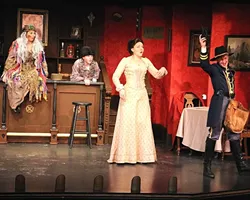 PHOTO BY MARK JOHNSON
MO' MONEY, MO' PROBLEMS: From left, The Swamp Crone (Emily Wold), Lazlo (Joel White), and Polly Montclair (Andrea J. Love) react with surprise when Lt. Alan Wexstad (Mike Lee) reveals he has retrieved the lost money case containing Polly's inheritance in the melodrama spoof La Rue's Return, now playing at The Great American Melodrama in Oceano.
"You haven't worked in theater until the day you walk off stage bemoaning the fact that you did not get booed," said longtime Great American Melodrama Director Eric Hoit. "It doesn't get old. It's always new. Suddenly, there's a brand new character in the theater every night. That character is the audience."
The Oceano-based theater has released two new shows for the summer, one's a 1970s melodrama spoof; the other's a 1900s melodrama classic. La Rue's Return, or How's A Bayou? is the former, a zany production set in New Orleans and spiced with Cajun characters like The Swamp Crone. Yes, she's exactly what you'd imagined: a grizzled old hag covered in swamp debris.
The show's followed by The 40th Anniversary Vaudeville Revue … Part Two!, featuring favorite songs, dances, and sketches from the theatre's past. Highlights include the Melodrama's famous Waterglass Orchestra, a medley of TV Theme Songs from the 1960s, and a dance in rubber boots. The show debuted on June 18 and runs through Sept. 18.
On July 16, A Four Legged Fortune opens on a more classic note. This melodrama harkens back to theatre tradition of the late 19th century. With crooked card games, duels, and a horse played by an elaborate puppet, this show is both authentic melodrama and totally comical.
"Both of the shows are fun, and everything we do here is always family friendly," Hoit said. "At these shows, the audience is booing the villain and cheering the hero. Both require a lot of audience participation, which is fun during the summer months when we have so many visitors coming through."
The Great American Melodrama is not located in a "choice area" for theater. However, it's continued to flourish since its beginnings back in the 1970s.
"When The Melodrama first opened in 1975, it was thought that it would be a summer tour thing. They opened for the summer, then shut down," Hoit said. "The next summer they opened back up again, and after their second year, have kept it in continuous operation. They came to realize that there were lots of local people willing to support the theater."
OH, THE DRAMA!: 'La Rue's Return' and the '40th Anniversary Vaudeville Revue … Part Two!' is open now and runs through Sept. 19. Beginning July 16, 'La Rue's Return' will run in repertory with the Melodrama's next offering, 'A Four Legged Fortune.' Tickets are $19 to $25, with discounts available for groups, seniors, students, active military, and children. For more information about specific times and dates or to purchase tickets, call the Melodrama box office at 489-2499, or visit their website at americanmelodrama.com. The Great American Melodrama is located at 1863 Front St. in Oceano.
The theater is 3 miles from Pismo Beach, located on Highway 1 across the street from a vegetable packing shed and train tracks. Season pass holders from as far away as Bakersfield continue to make the trek to the little theater with sawdust on the floors.
"It's amazing to me the geographical distance people will go to see the Melodrama. The biggest thing I hear is that people are amazed at the quality of what's happening in Oceano," Hoit said. "They can't believe a theater of this quality is here. We are not exactly downtown SLO."
Actors are hired from throughout the country, and this year showcases a slew of fresh faces. As always, each show aims to be both funny and clever—never pandering for a cheap guffaw.
"We work hard to maintain that trust so people can know that whenever they come here, they'll have a fun time," Hoit said.
The outgoing director and veteran of the business came to the Melodrama as an actor in 1981.
"The area was certainly less populated than it is now; the eastside of the 101 was nothing but a few houses," Hoit said. "Now we have traffic jams on the 101. However, the feel of the people here hasn't changed."
You can still get a pitcher of beer and a hot dog before cozying up for a show chock full of song and dance. Not a "theater person?" Don't write yourself off too soon. Yes, even your flip-flops and T-shirt are welcomed here.
"It's not just retired people with money who come see the shows; it's families with little children, college kids, people on a date night, young married couples, seniors—all age groups and income levels," Hoit said. "It's so open and welcoming, and that's why people just love to come here. That's why we've continued to be successful."

Hayley Thomas is ready for a hot dog and a beer at hthomas@newtimesslo.com.