Despite being born in Germany and spending part of his childhood in Bavaria, surrounded by sparkling lakes, dramatic hills, misty forests, and of course the majestic Alps, artist Karl Dempwolf and his family weren't particularly outdoorsy. That changed when his father moved the family to California when Dempwolf was a teen.
PHOTO COURTESY OF STUDIOS ON THE PARK
PLEIN AIR: German-born and California-based artist Karl Dempwolf paints outdoors whenever possible.
His family would pile up in their 1949 Caddy and regularly head to scenic spots like the sequoias.
"They spent a lot of time taking us into nature," the now Sherman Oaks-based Dempwolf said. "And that could have been the impetus for loving the landscape."
Fast forward to present day and the artist who started out replicating images from postcards for his mom now paints favorite spots like Yosemite, Point Lobos, and the High Sierra. Dempwolf will be honored with the Lifetime Achievement Award later this year at the National Plein Air Convention and Expo. And recently one of Dempwolf's dreamy, impressionistic landscape paintings was presented to German Chancellor Angela Merkel by President Obama.
The German-born artist's take on the landscape is currently side by side at Studios on the Park with the work of Brazilian-born artist Deladier Almeida, who now also resides in California.
Sasha Irving, director at Studios on the Park, said Dempwolf and Almeida are two of the most renowned artists to show their work at the gallery. After the gallery announced in February that Paso Arts Fest, an art festival that's been prominent in the local arts scene for the past eight years, wouldn't happen this year, Irving felt compelled to look for other creative offerings, like the work of Dempwolf and Almeida, to bring to the community.
PHOTO COURTESY OF STUDIOS ON THE PARK
DETAILS: Brazilian-born and California-based artist Deladier Almeida has a background in architecture and industrial design, which lends a geometric sensitivity to his work.
"When I started to dig deeper I saw that they both have an immigrant story," Irving said. "It's an honor to have artists at their level engaging with the community. They're really in a league of their own."
Like Dempwolf, the now Davis-based Almeida grew up with a love of the landscape and primarily works with oils. He left his native country of Brazil to study art at UC Davis after working as an illustrator. His work takes an aerial view of the landscape (which he gets just right by flying over parts of California in helicopters), bringing a geometric focus on shapes from Almeida's time spent studying architecture in Brazil.
"I came here as an adult and went to school here and sort of reinvented myself as a new person," Almeida said. "I'm always trying to make things that are a reflection of the world we live in."
Ultimately Dempwolf hopes that viewers of his work get the same simple satisfaction that he does when he's out and about in nature, trying to capture the scene before him.

MEET THE ARTISTS : The Deladier Almeida and Karl Dempwolf exhibit will be on display at Studios on the Park in Paso Robles through March 27. Meet the artists in person at an artist's talk and wine tasting on March 2 at 6 p.m. at Cass Winery or at Art After Dark on March 4 at the gallery from 6 to 9 p.m. Visit studiosonthepark.org for more details and information.
"Hopefully they'll get that uplift, that same feeling of looking at something beautiful," Dempwolf said.
Ryah Cooley is admiring the view at rcooley@newtimesslo.com.
IMAGE COURTESY OF STUDIOS ON THE PARK
A LIFETIME OF PAINTING: Later this year, artist Karl Dempwolf, creator of landscape paintings like Salinas River, will be honored with the Lifetime Achievement Award at the National Plein Air Convention and Expo.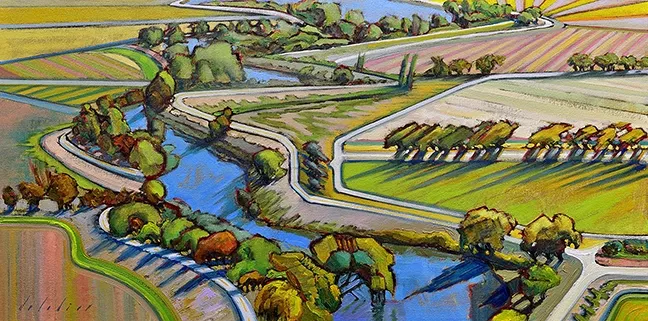 IMAGE COURTESY OF STUDIOS ON THE PARK
BIRD'S EYE VIEW: Pieces like 'Bowing' by artist Deladier Almeida capture the sense of traveling over the earth.