Here are three things I didn't think people needed: a tiny revolver with a mini-bayonet attached, a 30-round banana clip for an AR-15, and a Nazi uniform.
It's a couple weeks before Christmas when New Times photographer Steve E. Miller and I pull into the parking lot across from the Mid-State Fairgrounds, parking next to a huge circus tent filled with Christmas trees. We're not here for the trees. We're here for our first-ever gun show—the Central Coast Gun Show to be exact.
Miller's not even sure if he's allowed to bring his camera in. Neither of us know what to expect, being gun show virgins and all.
Tickets are $9 each, which we pony up, and then we get stamps and are informed our admission is good for the whole weekend, in case, you know, we need to keep coming back to the gun show for some reason I can't even begin to fathom. I mean, once you've seen all the guns once … .
Anyway, one of the first things I notice, aside from rack after rack of guns, and case after case of handguns, and table after table of knives and ammo and accessories is … babies! Babies in cribs inside booths filled with guns and ammo. Gotta admit, I wasn't expecting babies. Miller and I begin to mill about, looking at all the firepower. Occasionally Steve snaps a quick photo, sort of waiting for someone to come up and tell him that's forbidden, but no one ever does.
We look at shotguns, rifles, revolvers, semi-auto pistols, gun parts, uniforms, hunting wear, and boxes of cartridges in every size you can think of. This is truly a subculture, and even though I happened to own a few guns myself, it's never one I've seen first hand.
My favorite guns to look at are the ancient ones. There are old black powder 1851 Navy revolvers, old muskets, lots of World War II surplus rifles, and my favorite, an old Winchester Model 1873 repeater adorned with brass tacks in the stock and the fore-end wrapped with some kind of animal hide. The sign near it says, "Possibly a plains Indian gun." Holy crap! Maybe this gun shot Custer?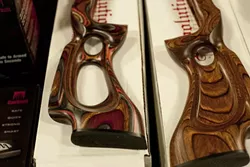 In some ways, a gun show is like a swap meet for weapons nuts. Like a regular swap meet, some people sell new stuff, which accounts for all the wicked-looking AR-15s and accessories to make them look even more like a military issue M-4. I'm not exactly sure why someone would spend $700 or more on a .22 and hundreds of dollars extra to make it look like a machine gun, except of course a sad case of arrested development.
At one point my attention is drawn to shouts of "Fuck you!" And I turn to see two guys arguing about something and someone else reminding the two guys there are "children around here!" For some reason, surrounded by all these weapons, even a simple shouting match takes on sinister overtones.
Eventually Miller and I have soaked in all the guns, all the gun culture, and all the Nazi uniforms (I count three different vendors selling Nazi paraphernalia), so we head out to Miller's truck.
"Hey Steve," I say, "I'm gonna grab a Christmas tree. 'Tis the season, after all."
I pick out a nice six-footer and we head back to SLO armed with some peace on Earth and good will toward men.

Glen Starkey takes a beating and keeps on bleating. Keep up with him via twitter at twitter.com/glenstarkey, friend him at Myspace.com/glenstarkey, or contact him at gstarkey@newtimesslo.com.