GO SEE SOMETHING NEW: Films screen each Thursday at dark (around 8:00-8:30 p.m.) through Aug. 27. Season finale starts at 7:30 p.m. on Sunday Aug. 30. Bring a sweater or blanket! For more information on the Big Sur Short Film Screening Series call (831) 667-2574 or visit henrymiller.org.
Camping, hiking, pristine beaches, and psychedelic sunsets are all things that come to mind about Big Sur. What might not be on your list of things to do is the annual summer Big Sur Short Film Screening Series, running weekly on Thursdays at nightfall through Aug. 30. This event is hosted outdoors on the lawn of the Henry Miller Library on Highway 1. The series is in its fourth year and boasts 850 entries from 35 countries. Magnus Torén, library director and screening series director, reports that each week the screening attracts approximately 150 people, a mix of 40 percent locals and
60 percent visitors.


PHOTO COURTESY OF MAGNUS TORÉN
A VENUE TUCKED BETWEEN THE OCEAN AND THE TREES : The Henry Miller Library sells novels but it also hosts an eclectic array of concerts and workshops.
At the library on film nights rows of chairs flank two enormous tapestry rugs. Strings of twinkle lights gently illuminate the casual and unpretentious venue. Some people sit at tables or in the rows of chairs while others lounge on the rugs with wine and food as they picnic. On a recent evening as the twilight deepened to dark, a Simpsons episode kept the audience amused before the main feature. The vibe is happy, with a giddy sense of anticipation in the air, as the audience awaits the films to be projected on the huge screen.

PHOTO COURTESY OF MAGNUS TORÉN
The projector used here is also the impetus for the creation of this event. Torén found the projector on e-Bay in 2002 and purchased it for $4,000. He remembers "feeling … incredibly motivated" as he got to know some filmmakers and became involved in some of their productions. Looking back he cannot believe his daring in spending his own money on this venture. This year four films screen each Thursday, for a total of 44 competitors. There is no stringent list of limitations and rules that filmmakers must follow to enter. As the website says, "There is no particular theme; we are interested in drama, comedy, and documentary films that are bold and uncensored, invite us into your world, tell a compelling story and make us cry and laugh."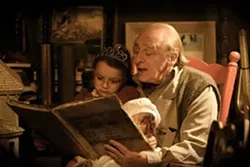 PHOTOS COURTESY OF MAGNUS TORÉN
SNEAK PEEK : These images are from films showing at the Henry Miller Library this summer. From left, David Uloth's La Lili à Gilles (Gilles' Lily), Noel Kearns's The Cleaner and Laurent Denis's Les Doigts de Pied (The Toes).
This year's films have been seen by some famous eyes; judges include Laurie Anderson (performance artist/composer), Philip Glass (composer), Woody Harrelson (film actor), Susan Littenberg (film editor), Vilmos Zsigmond (cinematographer), and Lawrence Inglee (film producer). The world's best freshly popped popcorn can be found here, made with care by Torén's wife, Mary Lu. Hot beverages are also available. Delicious as these treats may be, they will fade into the background when the fledgling films light up the screen.
PHOTOS COURTESY OF MAGNUS TORÉN
The four films I saw on July 23 were chosen for different reasons, but all contain "moments that are especially lovely, serendipitous, interesting, candid, or moving." Short films are defined as 40 minutes or less. For the sake of time, two longer films were paired with two shorter ones. The first film I saw was titled Afterville, submitted by Italian directors Fabio Guaglione and Fabio Resinaro. Set in 2058, the film focuses on an issue that has always captivated humanity: the last day of the world. Alien rocks that have fallen to Earth are emitting a signal that is counting down to the end. Two lovers grapple with the idea that the world is ending and struggle to find each other to spend their final moments together. The filmmakers communicate the universal fear and desperation that all humans experience when confronted with their mortality. The second film was titled Oui, Peut-Etre (Yes, Maybe) from French director Marilyne Canto. A female fan approaches an actor she is obsessed with in the street and tries to entice him to come home with her. The highlight of this short is the five-minute single shot scene of the two actors walking down the street and conversing. He parts ways with her after a quick kiss by saying maybe they will get together again. The third film was called The Cleaner, from British director Noel Kearns. A janitor in an English hospital is asked to interpret for a stabbing victim who turns out to be the janitor's war enemy. Instead of helping to save his life, the interpreter torments him and kills him. Lastly, the fourth film was called A Real Doozy, from American director John Burish. After drinking way too much at an office party, the male character struggles to reconstruct the events of the night before, including why he woke up in a strange bed with a co-worker.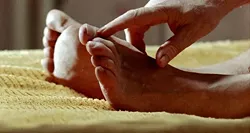 PHOTOS COURTESY OF MAGNUS TORÉN
While watching the films, the audience was instructed to judge them for the viewer Redwood Awards. On a scale of one (worst) to five (best), we graded each short on three categories: screenplay, sound/score, and direction. I thought that this helped the audience focus in on the key elements of the films that are intrinsic to creating a meaningful story that will impact the viewer. The results from each week's Redwood Awards are announced at the following week's screening so repeat viewers can hear them. We all can look forward to seeing the finalists and overall winner of this year's lot on Aug. 30, at the season finale. Starting at 7:30 p.m., this event will present the judges' best of the series as well as winners of the Redwood Awards. Attendees can enjoy pizza, champagne, wine, and chocolate while viewing four to five of the finest films from the series.
Asked what he thinks Henry Miller would say about the films, Torén says, "He would love them … he would write about the ambience, setting, and about people getting together." The film screening encourages the audience to experience cultures and viewpoints of filmmakers that are vastly different from their own, in a refreshing venue, no less. With nature all around you, it is easy to under why Henry Miller proclaimed, "It was here in Big Sur that I first learned to say "Amen!"

Arielle Perez, arts intern, loves popcorn and a movie any day of the week. Send kernels to Arts Editor Ashley Schwellenbach at aschwellenbach@newtimesslo.com.