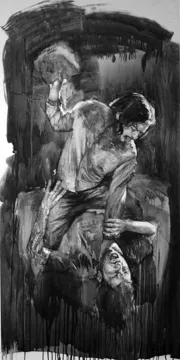 IMAGE BY SHAY BREDIMUS
EAST OF EDEN :
Shay Bredimus' pieces are not paintings; in fact, no paint actually crosses the tip of his brush. And his canvases aren't the traditional expanses of fabric stretched across a wood frame. The Los Angeles resident instead creates his brush drawings by applying the unlikely combination of tattoo ink and wax or conté crayons to drafting film. The resulting portraits are at once gritty, ethereal, poignant, and tender. His most recent works, all created within the last year, are on display at the SLO Art Center through May 31.

The drawings are grounded in seeming dichotomies—Bredimus' classical artistic training at such institutions as Mesa Community College, San Francisco's Academy of Art, Vancouver's Emily Carr University, and Laguna College of Art and Design (where he acquired his MFA in painting last year) might seem incongruous with his profession as a tattoo artist at Black Wave in Los Angeles. While he admits that his personal art tends to be impulsive and less restrained than client-based work as a tattooist, his influences and inspiration remain the same.

"These are all heavily influenced by Japanese print and western portraiture—all my favorite things about art," he explained, gesturing to his large-scale pieces ranging between 52 inches by 40 inches and 84 
inches by 40 inches. He draws from a live model, specifically friends and acquaint-ances, insisting that knowing his subject's personal history lends greater empathy and emotional appeal to his work.

Despite having already achieved several career benchmarks, including represent-ation by the Koplin Del Rio Gallery in Culver City, Bredimus has only been working in his chosen medium for a few years. As an art student he enjoyed working with newsprint, but because it was non-archival he was forced to search for a different kind of canvas altogether. What he discovered was semi-translucent, frosted drafting paper, which is similar to newsprint but made from a plastic that's slightly heavier and capable of enduring more abuse. The tattoo ink was specially chosen as well, for its warm quality, and the fact that it consistently dries matte.

Thus far, the artist hasn't encountered anyone else working with the same combination of materials, but it's just a matter of time. Bredimus acknowledges that he's protective of the artistic voice that he has worked to cultivate, but he's not naïve; "good artists borrow, great artists steal," he quotes Picasso.


CORPORAL: "Shay Bredimus: The rhetorical body" will be on display at the SLO Art Center April 10 through May 31. An opening reception will take place during Art After Dark on May 1 from 6 to 9 p.m. The Art Center is located at 1010 Broad Street. For more information visit sloartcenter.org or call 543-8562. For more information about Shay Bredimus visit shaybredimus.com or koplindelrio.com.
The narrow vertical shape of the film lends itself to single-figure portraiture reminiscent of Japanese scroll art. For an artist who jokingly refers to himself as "a bit of a head hunter" and fills sketchbooks with friendly faces, the medium is a perfect match.
Trails of ink cross the length of each piece, somehow giving the impression of purpose and control, while hinting at chaos. In "East of Eden" ink paths seep mortality from the two subjects, engaged in violent struggle. The large, dripping brushstrokes suggest that it is the medium that directs the artist. The process isn't contrived or labored, but rather a natural flow of honest emotion.
"It seems to do the work itself," Bredimus said. "I just kind of direct it a little bit, kind of like a jazz musician improv-ising. I want my images to be evocative, compelling, and emotional. The most important thing is that it evokes something from me while I'm doing it. I think the more personal things are, the more universal they are."
And Bredimus takes his art into astonishingly personal waters; the body of work he created for his thesis exhibit was directly based on an accident he survived as a 10-year-old. He was struck by a car while walking his bicycle through a school crosswalk, the bike's handlebar lodging in his brain. He nearly died, and when he awoke he had to re-learn such basic functions as walking and talking. His thesis work was directly based on the incident, featuring an image of the young boy revealing a large, round wound on his forehead and his brother pulling him from the street. And though the accident is not the central subject of his more recent work, Bredimus acknowledges that the event shaped him as a person and will, therefore, always be present in his art. However horrific, Bredimus credits the incident with transforming visual expression into his primary language.
IMAGE BY SHAY BREDIMUS
CHANTAL MENARD:
While preparing his thesis work, Bredimus had plenty of time to evaluate the meaning embedded within his method. Not surprisingly, much of it related to the accident that is now nearly two decades past. His pieces are monochromatic, shades of black and white, not because he doesn't appreciate a more varied color palette but to heighten the immediacy and power of the drawing's impact. The color scale is meant to function as a metaphor for life and death, the transparency of his plastic canvas references the hospital atmosphere and x-rays that dominated his recovery process. If this assessment sounds clinical, Bredimus' brushstroke drawings are anything but.
It begins with a photograph of his subject, fleshing out the composition of his model. He doesn't paint celebrities, but wouldn't necessarily rule out the possibility if one took the time to sit down and talk with him. What Bredimus is looking to capture is the rich spectrum of human experience—loss, violence, passion, and fear—and in order to do that he must be familiar with the history that each model brings to the canvas. From this photo, he creates a thumbnail image, testing the composition. Then, usually, the figure emerges quickly in anywhere from one to three eight-hour painting sessions.
"I also like the pieces where I struggle and I have to dig deeper," admitted Bredimus. "Either way I'm creating and I feel like that's what I was meant to do." ∆

Arts Editor Ashley Schwellenbach has hands that seem constantly to be stained with ink. Send Clorox to aschwellenbach@newtimesslo.com.