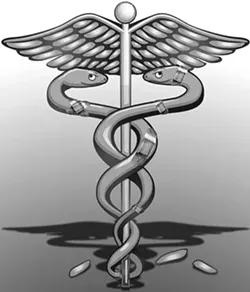 Congress is close to voting on a bill that potentially would enable all Americans to afford health care: legislation that could have great repercussions in San Luis Obispo County, where many residents have no health insurance.

According to the most recent figures from the U.S. Census' Small Area Health Insurance Estimates, which were released in August and compiled from 2006 data, San Luis Obispo County has a high rate of uninsured residents: It's among the worst third of counties in the state. More than 46,000 people under age 65—22.2 percent of the county's total population—reported being uninsured.

Medi-Cal enrollment is on the rise in Santa Barbara and San Luis Obispo counties, where between 85,000 and 90,000 are currently on state insurance, according to CenCal Health's Deputy CEO Bob Freeman.

The program is a tonic for the poor, providing medical care at almost no out-of-pocket cost to users, but eligibility hinges on a host of physical and income requirements.

For those making too much money to qualify for Medi-Cal but too little to afford individual health-care coverage, times are tougher, insurance agents say. Rising health-care costs and a growing number of employers offering plans with higher out-of-pocket fees have combined to put the squeeze on the working poor.

Underinsured patients—those with jobs and insurance, but still burdened with massive medical bills—are increasingly more commonplace at Central Coast hospitals, according to Kerry Dolan, director of Patient Financial Services for CHW Central Coast.

At French Hospital Medical Center, where patients generally have some type of health-care coverage, charity care has nearly doubled at over the past four years, from $5.2 million in 2005 to $10.4 million in the 2009 fiscal year.

Even for those who can afford insurance, when it comes to choosing a health-care plan, Dolan said, many opt for plans with lower monthly premiums. Then, when they do end up in the hospital, they're shocked to find that even after their insurance pays up, they're still stuck with a sizeable bill.

With county unemployment currently at 9.3 percent, according to the California Employment Development Department, the question on a growing number of minds is: What happens to my medical coverage if I lose my job?

For the recently laid off, the federal Consolidated Omnibus Budget Reconciliation Act (COBRA) and its state counterpart, Cal-COBRA, can provide medical coverage. But COBRA is expensive, and if a business goes belly-up, it isn't available to the unemployed
at all.

Teri Summers, a Blue Cross insurance broker for 22 years, calls the situation "absolutely shameful."

"I have clients in their 40s and 50s who are laid off and cannot afford COBRA," Summers said. "These are people who own their own homes and have been working for their whole lives, but because they have pre-existing conditions, I can't underwrite them any insurance."

Whether by force or choice, Summers said, too many are simply foregoing coverage.

For those who've lost their insurance through their jobs or can't afford health care, the county's Public Health system is designed to be their safety net. A patient's community clinic visit, laboratory work, and prescriptions are billed to MediCal and Medicare, and the costs to the patient are determined on a sliding scale. If income is low enough, the patient may not have to pay a dime.

People who have lost their jobs and insurance can also apply for the department's Medically Indigent (uninsured) Adult program. It's not particularly well-known; most patients don't find out about it until they have an emergency and are referred to it by the hospital.

According to the Organization for Economic Cooperation and Development, Americans spend a greater portion of their income on health care than any other industrialized nation on the planet—and costs keep rising every year.

Buying health care isn't like making other large purchases, and most people don't worry about how much their care costs until their medical problems are already solved, according to Blue Cross insurance agent David Stockdale. That attitude helps drive bills higher because it makes patients more likely to request unnecessary services and diagnostics.

"When people have full insurance they have a tendency to over-utilize," Stockdale said. "There's no economic incentive to not do that."

As the debate on a government-run health care nears its zenith, supporters on both sides can agree on one thing: There's no silver bullet solution.

For insurance agents like Stockdale, whose job security could depend on the outcome of a public option vote, the government's latest attempt at universal health care is dubious.

"The track record of the federal government is to not pay its fair share of health care costs," Stockdale said. "If they went with a public option, you could be assured the same thing will happen."

The purpose of health insurance is to keep people from getting a huge bill, Stockdale said, and it can do that if people would make smarter decisions regarding their coverage.

A better approach by Congress, he said, would be targeting groups who have played by the rules but are medically unable to work, thereby keeping the current infrastructure in place.

"If they pass the law the way it is now, with very minimal fines on people who don't buy insurance, but require insurance companies to take all-comers, that's the end for the private insurance industry," he said.

Most health-care agents and providers share that stance, according to Blue Cross agent Summers. However, she supports the plan, especially if pre-existing conditions are included in coverage.

"I don't really care if the public option and everything puts me out of business," Summers said. "If they have to cut commissions to us agents and they have to cut salaries, fine. Wouldn't it be worth it to have a nation where everyone was covered?"

Summers said a public option would prevent the cost of insurance from spiraling out of control and help people who have had to spend an inordinate amount of their income on medical bills.

"They're not going to go out of business, they're going to figure out something," Summers said. "I'm not worried about the health of the health-care companies, or the agents—including me."

Jeremy Thomas writes for New Times' sister paper, the Santa Maria Sun. He can be reached at jthomas@santamariasun.com.