When? 2012-13 | What's it rated? NR | Where's it available? Streaming on Free Form, purchase on iTunes.
Sometimes it's hard to let go of the cherished world that a show maker has crafted with painstaking care. Such was the case in 2007 when Amy Sherman-Palladino's beloved series Gilmore Girls with its fast-talking leading ladies, quirky town, and pop-culture references galore came to an end. So when Sherman-Palladino came back in 2012 with Bunheads, fans rejoiced, but their merriment only lasted a single season.
As a lover of all things Gilmore Girls, I somehow only recently stumbled across Bunheads. The show's premise, similar to its predecessor, also centers on a young woman whose life is at a crossroads and then goes into crisis mode. Enter Michelle Simms, played by Broadway darling Sutton Foster. Michelle, a formerly successful ballet dancer with the American Ballet Academy, somehow got stuck in a rut as a showgirl in Las Vegas, unable to get auditions for real dancing parts. After a director won't even let her audition for a part in Chicago, she hits an all-time low. In swoops Hubbell (Alan Ruck), a nice but awkward traveling businessman who's been low-key stalking Michelle for a year, coming to her show and bringing gifts despite no interest on the lady's end.
But Hubbell convinces Michelle to go out with him on a date following the Chicago fiasco. She's spilling her heart out to him and spills all the alcoholic beverages down her throat. When she wakes up, Michelle has a substantial rock on her finger and is driving back with Hubbell to his hometown of Paradise, Calif. (Marrying someone when they're too drunk to know what's going on is so problematic, but that's another column for another day.) Aha! There's the premise. Hahahaha. Oh no, dear reader, the full premise of Bunheads isn't really revealed until three to five episodes in, which isn't what you want for a new show at all.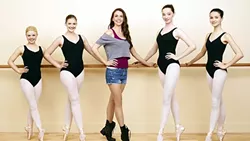 PHOTO COURTESY OF FREE FORM
JUST DANCE: Despite having a following, Amy Sherman-Palladino's show Bunheads only lasted one season that spanned from 2012 to 2013.
Without giving too much away, because there are oh so many plot twists in this show, Michelle ends up teaching dance in the quirky town of Paradise with her eccentric mother-in-law Fanny (Kelly Bishop). Lets see, we've got a weird town, an overbearing mother-type played by Bishop, and even a freaking gazebo and lots of fast-talking witty banter. It doesn't help that Sherman-Palladino is a little incestuous with casting; so many Gilmore Girls actors return for Bunheads. What was loved about one show can feel a little overdone the second time around.
But while Gilmore Girls essentially revolves around one teenage girl, Bunheads has a group of four ballerina BFFs at its core: Sasha (Julia Goldani Telles), Boo (Kaitlyn Jenkins), Melanie (Emma Dumont), and Ginny (Bailey Buntain). At first, storylines spent on the group feels like time wasted, but as each of the girls begins to bond and interact with Michelle, we see that this is the real heart of the show after all. Bonus: All of the actors playing dancers are actually trained, professional dancers, so there's never any stunt doubles or tricky camera work, just fantastic dancing.
While Bunheads is slow to start and has its issues, by the end of the season you're left wanting more time with the characters Sherman-Palladino created. (18 45-minute episodes.)