This is Atascadero.
Downtown, the streets are lined with exquisite little shops, interspersed only occasionally by crusty little dives that seem to have survived the city's makeover. From the main drag, you can see the freeway. The constant rush of cars gives the sleepy town a feeling of always being outpaced, passed by. Walking alone on a balmy weekday, you become aware of not having seen anyone else walking on your street, or, for that matter, the one before it. Perhaps all of the people are asleep, you catch yourself thinking. No: Perhaps you have wandered onto a movie set, perfectly crafted to evoke an idyllic American town. You see your first human, a man arranging a display of cowboy boots. Perhaps the film is a Western. The air smells sweet, like hay.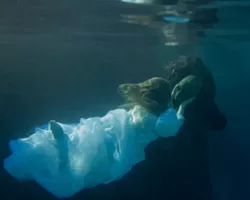 PHOTO BY DENNIS JACKSON
THE UNSEEN:
This nostalgic little town doesn't seem like the kind of place where one might accidentally wander into an exhibit of nude photography. But that began to change when four photographers got together, called themselves the Pre-Raphaelite Society, and began shooting a series of gorgeous nudes in outdoor settings, often bathed in angelic light. Last September, Kabe Russell, Michael V. Messina, Dennis Jackson, and his wife, Alison Watt Jackson, presented their group exhibit "Reciprocity" at Atascadero's Olive Tree Fine Arts Gallery.
Now the group is back with "H20 (Just Add Water)," a show of underwater figurative photography. And while the human body isn't as starkly portrayed in this series—most models here are clothed, though their gauzy dresses aren't so much worn as allowed to float delicately around the body—the Pre-Raphaelite Society has found plenty of other ways to create surprising and provocative works of art.
PHOTO BY ALISON WATT JACKSON
HIDDEN:
One of these ways is by using digital manipulation techniques to construct impossible worlds. It's easy for manipulated images to feel oddly fake and computery (remember discovering that effect that makes any photo look like a Monet?), but "H20" is too sophisticated to fall into that trap. Of the four, however, Russell is clearly the most comfortable creating entire compositions in Photoshop, using photographs like ingredients. His best works often suggest a slight warp in time and space, as seen in the vertiginous waves enveloping a model in Story Time. Russell's pieces are at once natural and totally impossible, but we can't always find the seam where those two opposites were stitched together. His whimsical photomontage The Princess depicts a model in a satin dress, her train held aloft by two tropical fish, their scales mirroring the aquamarine shimmer of her gown. Collective Unconscious is a piece that takes time to reveal its layers: We see an old-fashioned study, full of furniture and books, which appears to be at the bottom of the ocean. Two eyes peek through a window, and we realize they're connected to a figure, lightly superimposed onto the space like a spirit.
FISH OUT OF WATER: "H20 (Just Add Water)," the underwater photography of Alison Watt Jackson, Dennis Jackson, Kabe Russell, and Michael V. Messina, is on view at Olive Tree Fine Arts Gallery, 5850 Traffic Way in Atascadero, through June 30. Hours of operation are Tuesday through Saturday from noon to 5 p.m.
The other three photographers use digital manipulation techniques as well, though never to such surreal effect. Messina uses superimposition techniques to heighten the appearance of momentum in Without Words, which depicts two women gracefully encircling one another like mermaids. He conjures an underwater civilization in Descent into Atlantis and Atlantis Playground.
In both subject matter and style, Messina seems to have most retained the Pre-Raphaelite feeling so present in "Reciprocity." His Guardian of Excalibur (a woman in a gold-lined gown, a sworn drawn in front of her face, cutting the composition in two) and Captured (a mermaid about to be caught in a fishing net) may as well be oil paintings.
Watt Jackson seems to have done less post-production in her work, and instead uses props to great effect. Her photograph Joy Ride is simple yet strange. One figure pulls another in a red Radio Flyer wagon at the bottom of a pool, both of them leaning in much further than would ever have been possible on land.
Watt Jackson has also included four black-and-white photos of a single woman creating a variety of intriguing shapes with a sheer cloth under the water. Selected from an underwater series titled "Behind Her Cloth," the pieces—titled Emotive, Hidden, Full Circle, and Invisible—are a representation of "one woman's journey through life as seen through a piece of simple white fabric," an artist's statement explains.
"Metaphorically speaking," it reads, "the cloth has become a medium and 'screen' for this woman who desperately needs to release her emotions."
When the woman presses her face into the cloth, her features make little points in the material.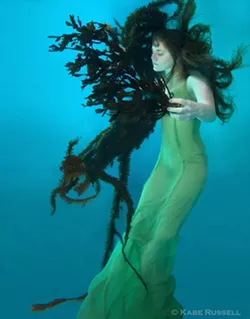 PHOTO BY KABE RUSSELL
TANGLED UP IN BLUE:
Watt Jackson's husband, Dennis Jackson, has given his wonderfully eerie Searching a kind of lo-fi effect, which makes it feel somehow like a memory. A pale, nude woman swims through the foreground, while in the distance a decapitated doll's head bobs on the surface.
All of this photographic diversity manages to fit into one corner of the exhibit's venue, making for a rather condensed viewing experience. In fact, the sheer density of work at Olive Tree Fine Arts makes the space feel less like a gallery and more like a store that happens to sell good artwork—not that that's necessarily bad.
The incongruity of the place hits you once you step outside. Again, you hear the cars rushing on the freeway. North, to culture! South, to success! You sit at a bench, delaying your return to the office, counting the pickup trucks. What is this town? Not a movie set. Not an idyll, but something undetermined. It's whatever it needs to be, I guess.
Arts Editor Anna Weltner can be whatever she needs to be. She can also be reached at aweltner@newtimesslo.com.