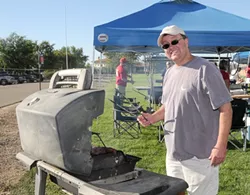 PHOTO COURTESY OF PASO ROBLES ROTARY
GRILL MASTERS : Winemakers cook up their best for the Paso Robles Winemakers' Cook-Off, coming up Aug. 8. Rich Hartenberger of Midnight Cellars is pictured.
I never saw it coming, not at all, after judging some pretty bad chili competitions over the past decade where the ground beef tasted like something the USDA should have recalled. So imagine my shock when I judged the Paso Robles Rotary Winemakers' Cook-Off last year, and tasted through an amazing array of gourmet dishes. I fully expected the ubiquitous Santa Maria style tri-tip, blackened chicken, and overdone cheeseburgers. But I wasn't served anything close to those sad dishes.



THE 11TH ANNUAL PASO ROBLES ROTARY WINEMAKERS' COOK-OFF: Saturday, August 8
The good times take place from 6 to 9 p.m. at River Oaks Hot Springs, 800 Clubhouse Dr., Paso Robles (behind Martin-Weyrich tasting room off Hwy. 46 East). Ticket sales are limited and this fabulous tasting always sells out. For tickets and information call 877-686-8564 (toll free), or purchase tickets online at winemakerscookoff.com. Tickets are $75 per person or for $650 you can reserve a table of eight. You can arrange to have tickets mailed to you or held at the will-call booth.
What I tasted was amazing: shamelessly doused shrimp tacos by Angela Mitchell, co-owner of Mitchella Vineyard, which won first place by the professional judges. And we loved the fabulous beef Wellington with a mushroom-Port reduction sauce by winemakers Rich Hartenberger and Hal Schmitt at Midnight Cellars, which earned the people's choice for first place. If you're a foodie, like me, you'll love this cook-off.
TOMATILLO GUACAMOLE: 1 1/2 lb. tomatillos, halved and roasted
1 T. lime juice
6 cloves garlic, minced
1 T. cilantro
1/4 cup onion, minced
1 T. mayonnaise
2 avocados, halved and diced
1 serrano chile, minced
Roast the tomatillos in 425° oven for about 30 minutes until soft and brown. Place tomatillos and chile in food processor or blender, process until a coarse puree forms. Pour puree into medium bowl. Mix in all remaining ingredients. Season with salt and pepper to taste. Cover and chill, can be made 24 hours ahead. Makes approx. 2 1/2 cups.
"I was so excited when I won the first time. I'm hoping to win for the third time this year then I can relax and make hot dogs," Mitchell laughed. She earned first place with the celebrity judges in 2007 for her mini petite sirloin burgers, her first time entering the cook-off. Before the event, she not only practices, she taste-tests her recipes on her friends and wine club members. Hartenberger and Schmitt had the entire winery crew helping them prepare for it. Hartenberger noted: "I've been doing this for nine years and it's gotten more sophisticated over the years. We're playing to win again this year with our filet-wrapped bacon." He's not telling the secret to their unique creation, yet, so you'll just have to go there to taste it.

MITCHELLA WINERY'S SHAMELESSLY SOUSED SHRIMP TACOS: (3 recipes, serves 10-15 people)
2 lb. shrimp 21/25 bag (approx. 42)
8 corn tortillas cut in 1/2" slices, fried
1 cup Mitchella Viognier
5 cloves garlic, minced
1 medium jicama
1/4 head Napa cabbage, grated
1 lemon
1 lime
1 T. ground black pepper
1 T. cumin
1 T. ground oregano
1 T. brown sugar
Clean shrimp, butterfly, and marinate in the mixture of zest and juice from the lemon and lime with wine, garlic, black pepper, cumin, oregano, and brown sugar for 8-24 hours. Save the marinade for basting while barbecuing. Thinly slice jicama with mandolin or slicer into 22 pieces. Grill the shrimp, basting frequently, three minutes each side until opaque. Arrange two shrimp on a slice of jicama, top with a bit of cabbage, 1 T. guacamole, 1/2 T. relish, top with three tortilla strips.
Last year was my first time judging at this event and I found many of Paso Robles' best wineries were serving up gourmet food like you would see TV celebrity chef Bobby Flay grilling up on his show, and all of it beautifully prepared. This event is quite competitive as these winemakers and vintners vie to beat their peers. As for the excellent wines, it's impossible to taste through them all. This event by the Paso Robles Rotary is self-described as Paso Robles wine country's most popular event.
PHOTO COURTESY OF PASO ROBLES ROTARY
TONGS IN HAND : Bill Sheffer of Halter Ranch Vineyard and Robin Zazueta of Vina Robles dish up some tasty fare, to raise money for the Rotary Club's scholarship fund.
By the time I finished judging the samples with four other wine and food writers, I could honestly say their ads are correct. I'm thrilled that I was invited back to judge again this year. The difficult part is trying to only take a bite of each so I could make it through 30 different dishes. Nearly every one of them was so tasty, half the time we judges couldn't resist taking another bite. Although we didn't have wine paired with each dish (honestly, that would be too much), occasionally winemakers would wisely bring us something good to taste occasionally so we were happy.

MANGO RELISH: 1 mango, seeded and chopped
1/2 cup red onion, chopped
1 red tomato, seeded and chopped
1/2 cup red bell pepper, chopped
1/4 cup cilantro, chopped
1 tsp. red chili flakes
1 T. honey
juice of 1 lime
Mix all ingredients together, season to taste with salt and pepper. Red chili flakes can be substituted with 1 T. fresh chili paste. Cover and chill, can be made 24 hours ahead. Makes approx. 1 cup.
Gary Eberle was president of the Rotary Club when he and his best friend Tobin "Toby" James Shumrick started the cook-off. "We were looking for a way to make more money for the scholarship program for Paso Robles High School, which really needed it. This is the Rotary's biggest fundraiser: 100 percent of the proceeds are deposited in the Rotary Club's Harlow Ford Scholarship Foundation, which provided $33,000 last year. Our goal is to give $50,000 every year," Eberle explained. "Toby and I always used to argue who was the better cook. He beat me the first year, I came in second."
"It was so easy to unite all of these Paso Robles winemakers over a barbecue," Shumrick laughed. "I can't imagine anything more fun with all of the good food and wine we serve during this event."
The 11th Annual Paso Robles Rotary Winemakers' Cook-Off heats up on Saturday, Aug. 8 from 6 to 9 p.m. at River Oaks Hot Springs, 800 Clubhouse Dr., Paso Robles. Tickets sales are limited and this fabulous tasting always sells out. For tickets and information call 877-686-8564 or buy tickets online at winemakerscookoff.com. Tickets cost $75 per person or for $650 you can reserve a table for eight.
You can reach New Times' Cuisine columnist Kathy Marcks Hardesty at khardesty@newtimesslo.com.