As Jacqui McChesney tells it, it only took a few months for the land to go from an untouched paradise to a man-made problem.
McChesney and her family live on a 46-acre parcel off Corbett Canyon Road in rural Arroyo Grande. A few months ago, she got new neighbors after her brother-in-law sold the adjoining 50-acre property.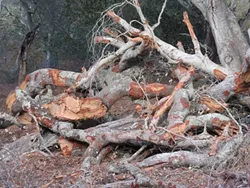 PHOTO COURTESY OF JACQUI MCCHESNEY
PARADISE LOST: Corbett Canyon resident Jacqui McChesney has been documenting what she considers to be destructive development on an adjacent property.
Ever since then, McChesney said it's been nothing but problems.
"He's cut down over 100 oak trees, he's cut a road … that is 10 feet wide and a quarter-mile long, and he's cut two building pads," McChesney said. "Worst of all, I'm getting nowhere with the county. It just seems absolutely backwards."
The "he" McChesney is referring to is Nick Stephenson, owner of the 50-acre parcel as well as Arroyo Grande's Pro-Tech Landscape Management.
McChesney said that she and her neighbors have protested loudly to Stephenson and to county authorities—to no avail—about the sudden development on the property.
"It's been pretty much every day with the chainsaws, the tractors, and the excavators," McChesney said. "The county folks have been out there a few times to check it out, but they've let him continue."
New Times visited the property on Oct. 13 and verified McChesney's claims. A recently constructed road cuts through much of Stephenson's property, with dozens of dead oak trees and debris lying by the side of the road.
At the top of the property, two large excavators were clearing a significant swath of land, picking up large oak trees and running them through a giant wood chipper at a rapid clip, leaving only piles of shredded wood dotting the hillside.
"It's heartbreaking watching this happen," said Janine Stillman, another Corbett Canyon resident who has protested Stephenson's actions, along with her husband, Steven. "You can almost hear the trees screaming."
Stillman, whose house overlooks Stephenson's property, said that the heavy machinery has been running from 7 a.m. to 5 p.m. every single day since Oct. 10. She pointed at a half-barren hillside that she said was fully forested just a few weeks ago.
"Every five minutes, there's another tree going in the chipper," Stillman said. "It's insane."
When a New Times reporter walking on McChesney's property came close to a work site on Stephenson's property, a man (who declined to identify himself) told the reporter to stay off the property. The man also said that "this is all perfectly legal" and added that the reporter should "ask anyone at the Ag Department" about the legality of the work.
An Ag Department representative told New Times the project was not in their purview, but officials at the San Luis Obispo County Planning and Building Department said they were familiar with Stephenson's project and had reviewed it.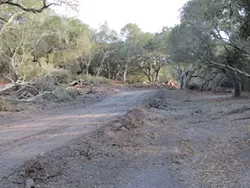 PHOTO COURTESY OF JACQUI MCCHESNEY
"We've been out to the land several times, and it's our evaluation that Mr. Stephenson does not need a permit," said Code Enforcement Supervisor Art Trinidade. "We require permits and environmental review when a project moves 50 cubic yards of material or more, but the engineer's report for this project states he's only moving 41 yards."
Trinidade said Stephenson plans to plant a lemon grove on the property, and is within his rights to destroy the oak trees and build a road so long as he stays under the 50 cubic yard threshold.
"In my opinion, I think he's gone through conniptions to avoid having to get a permit," Trinidade said. "We see this all the time—people jumping through ridiculous hoops in order to avoid environmental review."
Trinidade added that "it does look like devastation out there, especially when you see beautiful oak trees taken down," but said there's currently no blanket ordinance to protect the oaks in ag-friendly unincorporated SLO County—despite attempts to kick-start such a law by his department.
In neighboring Santa Barbara County, the "Deciduous Oak Tree Protection and Regeneration Ordinance" has been part of the county code since 2003.
As written, that ordinance promotes "the protection of deciduous oak trees, which are important to the people's well-being and the ecological integrity of Santa Barbara County."
Trinidade said that pro-oak and conservationist attitudes certainly exist in SLO County, but they have been largely trumped thus far by agricultural interests that place paramount value on being able to do whatever one pleases with his or her own land.
SLO County Supervisor Adam Hill—whose 3rd District includes the property in question—said he's aware of the Stephenson situation and respects the complaints his office has received, but he feels the county's hands are tied in this situation.
PHOTO COURTESY OF JACQUI MCCHESNEY
"Unfortunately, we don't have an ordinance that protects inland oak trees," Hill said. "We can apply all kinds of environmental conditions when someone applies for permits, but [Stephenson] hasn't done that."
Hill dubbed the lack of an ordinance a "glaring issue" and added that it's "upsetting to see these beautiful trees taken down." Hill said the ordinance has been a subject of discussion by his colleagues for years, but has taken a back seat during prolonged drought-related discussions of late.
Stephenson didn't respond to repeated requests for comment from New Times.
McChesney and Steven Stillman both said they would be in favor of an ordinance protecting oak trees in unincorporated SLO County, and added that they're extremely dubious of the 41 cubic yard figure provided by Stephenson's engineer.
In the neighborhood, McChesney and Stillman aren't the only people who've taken umbrage with Stephenson's actions.
John Ryan, manager of the nearby Cold Canyon Processing Facility, attributes at least two neighborhood power outages since August to the work happening on Stephenson's land.
"The last time, on Sept. 29, the power was out for 2-1/2 hours, and it takes an hour for us to fully power back up again," Ryan told New Times. "It costs me about $5,000 an hour to have our machinery shut down, so that's a big issue."
Ryan said the outages were "unacceptable" and added he's currently working with a service representative for Pacific Gas and Electric to figure out what actions he can take.
McChesney said she continues to hold out hope the county can intercede and halt Stephenson's "appalling" actions in some way.
"I think of our county as fairly progressive, and yet we are years behind other counties in protecting the oak trees," McChesney said. "It makes me so sad to see those trees come down, because I know they can't go back up."
Staff Writer Rhys Heyden can be reached at rheyden@newtimesslo.com.