First it was Diamond Adult World. Then it was the Victoria's Secret window display last year. Now, in keeping with what seems to be SLO County's zero-tolerance policy for less-than-wholesome retailers, a group of parents and their supporters calling themselves "Urban Outfitters Protest� marched in front of the recently-opened Urban Outfitters in downtown SLO to protest the store's sale of merchandise they say glamorizes sex, drinking, and illicit drug use. The group, which numbered between 20 and 60 (accounts vary), spent the afternoon handing out leaflets and carrying signs directing onlookers to their newly-formed website. Their beef is over collections of books, games, and "paraphernalia� displayed throughout the store that they worry are inappropriate for their teen-aged kids to be exposed to.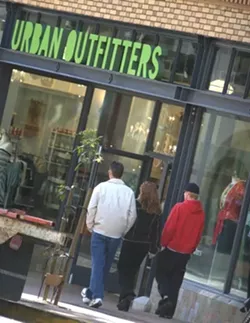 # "I went into the store with my daughter because I think they have nice clothes, but I was absolutely shocked by what I saw. We don't want this in our community.� says Julie Wilson, a local photographer and one of the group's organizers. Her complaint echoes the beliefs expressed on the group's website and by other parents involved in the protest.
A link on the website leads to tastefully-arranged photographs of the items in question, which include books like 350 Best Sex Tips Ever, The Guide to Getting it On, and Spliffs: A Celebration of the Cannabis Culture. The photos also feature drinking games, shot glasses, a "What Would Jesus Do� doll, and a Jesus-emblazoned flask, all sold at the store. Parents say these items undermine their desire to raise their kids in a safe and healthy environment, and they're demanding that store managers remove the merchandise or risk what they hope to turn into a widespread boycott.
 "They advertise that people 13 and over can shop in their store, and kids have a lot of available funds,� says Wilson. "But they don't need to see that stuff. It's corporate irresponsibility. The bar just gets dropped lower and lower.�
Though the nation-wide chain primarily sells men's and women's clothing, it also features a variety of household furnishings, dÈcor, reading material, toys, and music items geared toward the hip, 30's and under crowd. This is not the first time the corporation, which also owns the popular Anthropologie stores, has met with opposition for its choice of merchandise. Just last year a group outside of Detroit successfully won a battle to get their local Urban Outfitters to remove sexually explicit and drug-related items from the store. Questions for the SLO store were directed to their corporate headquarters in Philadelphia, where spokespeople failed to return calls for this story.
The protesters have created a letter-writing campaign in hopes of finding similar success in removing the unwanted items from the SLO Urban Outfitters, a tip they got from Blair Sandberg, a local manufacturer and unofficial advisor to the parents. He says he has plenty of experience dealing with large corporations, and is confident that the group will be able to bring about change. As for the store's right to choose its own merchandise, Sandberg says that the parents, too, have a right to say that they don't like it. "I am a huge fan of the First Amendment,� he explains, "and I feel that these parents are simply expressing their own freedom of speech. These items are promoting perversion and lust, glorifying the records of drug outlaws. These people are simply taking a stand against the CEO's deceptive marketing strategy.�
If you visit Urban Outfitters you'll find a clientele of mostly college-aged students, who flip through some of the offending material, quizzing one another and occasionally giggling at the accompanying illustrations. They balk at the idea that the items be removed from the store. "If people don't like this stuff, they don't have to come in here,� remarks one young woman, asking that her name not be used.
Several bookstores in the area sell the same or similarly illicit material, including one shop down the street with a designated "smut� section and another section dedicated to drug culture. When pressed on this point, Sandberg says his concern has less to do with the merchandise than the stores that are selling it.
"Regular bookstores are ok,� he says. Wilson agrees: "People go into bookstores to find books. Kids are going in there [Urban Outfitters] to buy clothes. But they can get a lot more than clothes.� Indeed, other clothing stores downtown offer more than just fashion for sale. Lunchboxes, action figures, and, of course, books, are just some of the items they offer. One shop actually displays a deck of "Sex Flashcards� along with hand-bound journals, toys, and comic books. Nestled between these items, you can also find a "Disappearing Civil Liberties� mug.