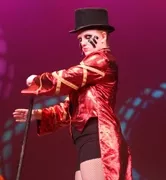 PHOTOS COURTESY OF SANDRA CORTEZ
LEAVE YOUR MONEY IN VEGAS … I MEAN SLO: It's not a bad thing to leave your money at the house of the SLO Little Theatre. The creators of "Razzle Dazzle" and "Best of Hollywood" take us on another spectacular musical journey, this time through the history of the little town in the desert that became an oasis for the entire world in "VEGAS, BABY!" It's a great show with roof-raising vocalists, brilliant dancing of all genres, terrific comedy sketches, dazzling costumes, and a whole lot of heart. A cast of 22 along with 'Local Legend' Emy Bruzzo, shine in one showstopper after another in this original SLO-grown show. And don't miss the infamous Martini Nights every Saturday. This fundraiser is essential to SLO Little Theatre. Legends Series, Swingin' with Sinatra is coming in February of 2010, which Miller also choreographs. VEGAS, BABY! hits the stage July 10-Aug. 2 at 888 Morro St. in SLO. $50 for Martini Nights, $35 for all other shows. Info: 786-2440 or slolittletheatre.org.
New Times Last time I saw you, you were doing some crazy, beautiful dance on the SLO Little Theatre stage with fabric hanging from the ceiling … you were wrapping your body around it; dancing, doing the splits … what the heck was that?

Suzy Miller The Cirque du Soleil skills have become huge all around the country and the world. Even in our town there is a community of people who do this type of performance, called "silks" or "tissue dancing" or "fabric dancing." It's a swath of stretchy fabric that reaches from the ceiling to the floor—it's a style of aerial dancing. In the Vegas, Baby show we have two aerial silks plus a lyra, which is like a giant hula-hoop, and people dance in them. Our Cirque section is phenomenal. We also have a contortionist, a juggler, a fire spinner; it's crazy how much circus skills talent is in this town.

New Times Tell me about Vegas, Baby. You wrote and choreographed it. What was your inspiration?

Miller One of my passions is variety. I have a limited attention span, so I love choreographing all different genres. One of the criteria that we use to pick a Best Of show is something that affords us that variety. There is something for everybody, and the show is like a roller coaster ride. I've always been enchanted by Vegas. I actually worked there: I choreographed for Debbie Reynolds and at Bally's.

New Times Tell me about Vegas, Baby.

Miller The show starts with the creation of Vegas, from the late 1800s (briefly) to Bugsy Siegel, The Rat Pack, the '50s, the '60s, Tom Jones, The Supremes, Siegfried and Roy, (they have a huge comedic role).

New Times The White Tigers will be making an appearance,
I presume?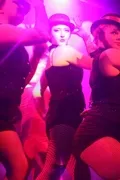 PHOTOS COURTESY OF SANDRA CORTEZ
Miller
Yes, we do have a tiger. [Laughs]. There is so much great comedy in the show, with the Chippendales, The River Dance, and it ends with Cirque du Soleil. We also do a contemporary dance with a Celine Dion power ballad. I call it extreme partnering, where people hurl themselves at each other and bench press each other.
Vegas, Baby
focuses on so many genres—Vegas is a cultural phenomenon.
New Times
Tell me more about the choreography for this production.
Miller
I encourage my cast to go crazy and then sculpt what they come up with. Sometimes I will give them the architecture of steps, but I'm blessed with a cast of innately funny people, who are shameless, but have a sophisticated humor. The set is fabulous, Donna Sellars designed it, with levels, windows, trap doors; it's nicely done. It's a huge production but we had lead-time to create it. The lighting is amazing, done by Rebekah Oulton and Dylan Pavelko.
New Times
Why should people see this show at the SLO Little Theatre?
Miller
There is something for everybody. There is a nice range of size, age, color and it's dazzling and mouth-watering to look at. There are amazing dancers and singers. The humor is exceptional and the beauty is breathtaking. There is a story as well, the story of Vegas. As my grandmother said, "What's not to like?"
New Times
Blackjack or craps?
Miller
The only gambling I do are the nickel slots. I would rather go to the casinos to look at the décor; it's a world of its own, fully fleshed out from one concept. I appreciate that. ∆

Christy Heron can be found at a booth in the Pure Nightclub in L.V. on any given weekend. Scream YES! at cheron@newtimesslo.com.