It's been eight years since the stars of Spring Break aligned to allow me to head to the Viva Las Vegas Rockabilly Weekender, held every spring in beautiful Las Vegas, Nev. It was way back in 2005 that I snapped these photos of the event, and from March 28 through 31, 2013, my wife and I will be heading back to one of the most awesome subculture events I've ever attended.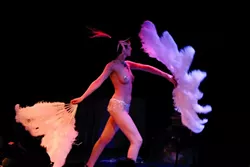 PHOTOS OF THE 2005 EVENT BY GLEN STARKEY
VA VA VHOOM! : The burlesque show is always a big draw and brings in talent from all over the U.S.
In years past, I've known plenty of SLO County folks who've headed over, and if you're not one of them, you should change that by ponying up the $115 for a full festival pass and then heading to Vegas for a weekend filled with music, hotrods, burlesque, and campy fun with a group of people who happily take a swan dive into this fascinating subculture.
SWAGGER! : This rockabilly trio played their hearts out and made the crowd swoon.
The event happens at The Orleans this year, and rooms are already sold out, but The Gold Coast Hotel is where the overflow goes, and they have regular shuttles moving back and forth between the sister hotels.
I've only been twice, but both times I was amazed at the diversity. I met a bunch of people who traveled from Japan to attend—apparently rockabilly is bigger than Godzilla there.
HOW HIGH CAN YOU GO? : People go all out on their hair, like this guy's pompadour!
I also saw more killer music than I could bear, and this year's line-up is looking pretty good, too, with appearances by the likes of Little Richard, Dick Dale, The Rockats, Vicky Tafoya and The Big Beat, Pachuco Jose y Los Diamantes, The Blues Caps with Graham Fenton (a tribute to Gene Vincent), doo-wop legends The Cleftones, and about 60 other acts, some traveling from as far away as Holland, the U.K., Australia, Brazil, Switzerland, Germany, and Portugal.

JOIN THE FUN!: The 16th Annual Viva Las Vegas Rockabilly Weekender happens Thursday, March 28 through Sunday, March 31, 2013, at The Orleans in Las Vegas, Nev. You can buy tickets for the event online at vivlalasvegas.net. The weekend includes dozens of concerts from original rockabilly stars and contemporary bands playing in a rockabilly style, a burlesque show, a vintage car show, a pool party, and an amazing selection of vendors catering to the rockabilly subculture.
Anyone interested in vintage clothes will be amazed at the vendors. Back in 2005, I bought some sweet never-been-used vintage glasses frames from the '40s or '50s, and I had my prescription made into sunglasses. The selection of items is stunning.
I plan on writing a cover story for the New Times about this little subculture adventure next April upon my return, so get in on the fun, buy your tickets, book your hotel, find a cheap flight, or do what I did back in 2005, when I drove my 1963 Corvair convertible the 400 harrowing miles. Now that's rock'n'roll!

Glen Starkey takes a beating and keeps on bleating. Keep up with him via twitter at twitter.com/glenstarkey, friend him at facebook.com/glenstarkey or myspace.com/glenstarkey, or contact him at gstarkey@newtimesslo.com.