Remember the "Dueling Banjos" scene in Deliverance when Drew—a city slicker out in the sticks for a canoe trip—tries to connect with a local boy (Billy Redden) by trading guitar and banjo licks? Ronny Cox starred as Drew. Did you see the Woody Guthrie biopic Bound for Glory starring David Carradine in the lead? Cox starred as Guthrie's pal Ozark Bule. Cox has starred in everything from Harper Valley P.T.A. to The Onion Field, from Beverly Hills Cop to Total Recall. He's played the U.S. President in Martians Go Home and Murder at 1600. During his 46-year acting career, he's enjoyed 140 roles and he continues to act, but he's also a terrific musician and singer-songwriter.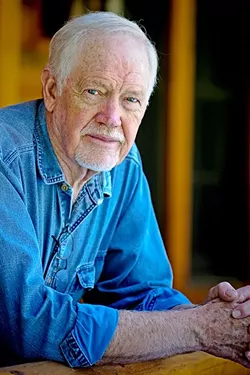 PHOTO COURTESY OF RONNY COX
YOU KNOW THAT GUY: Actor-musician Ronny Cox plays a Música Del Río house concert in Atascadero on Nov. 4.
You can hear one of his newest songs, "Trumped," on YouTube: "I was down in Laredo, eating a burrito/ Wasn't making a fuss/ In comes a man with a badge in his hand/ Throws me on a border bound bus/ There was a hundred of us (Bien venido a Mexico)/ Fingerprinted and dumped … Trumped!"
It's great swampy-sounding tune that bites deep into Donald Trump's politics of scapegoating and division.
"Well, let me tell you what, the sun was really hot/ It was beating down hard/ My skin was turning red, I threw a towel on my head/ I tried to talk to the guard/ He said, 'Hello, Ahmed' (Allah no akbar here, boy)/ Picked up his shotgun and pumped … Trumped!"
'Tis the political season, and Cox deftly skewers Trump's empty promises.
"He said he'd make us great again/ He said he'd keep us safe/ And I bought it just like you did/ Now I'm crawling' through the cacti/ Confronted with the fact I/ Could have been so fucking stupid/ A coyote named Gustavo led me to the Rio Bravo/ I swam to the U S of A/ Waiting on the bank, vigilantes in a tank/ said 'Buenos Dias, Jose.'/ 'You're gonna build us a wall, a hundred feet tall (you're gonna pay for it too).'/ They cracked their whip and I jumped … Trumped!"
Cox finishes the song with "Bamboozled and bumped. Hornswoggled and humped. Totally, Titanically, TRUMPED!"
Cox plays a Música Del Río house concert in Atascadero this Friday, Nov. 4 (8 p.m.; all ages; $20; call for reservations at 466-6941 or visit musicdelrio.com). Tickets are naturally very limited.
Cox will be accompanied by violinist Sal Garza, who's played with everyone from Yes to Devo to 10,000 Maniacs, not to mention the SLO Symphony and other classical endeavors; and multi-instrumentalist Ted Wulfers (everything from piano to cello to ukulele).
"Ronny's been compared to Tom Russell with a Southwestern flair," concert organizer Fred Munroe noted. "Whether singing one of his own songs or sharing one he's picked up along the way, what we receive is a saga of Americana like those that came from the late John Stewart. Nevertheless, it's often said that his self-teasing humor and immediate rapport with the audience sometimes masks his talent as a guitar player. Everyone found this to be very true on Ronny's previous two visits to Música Del Río. The stories that Ronny shares often make one forget they came for the music."
I hope there are tickets left for you!
Amazing Americana
For sheer musicianship and a penchant for taking string band music to new and sometimes exotic places, Hot Buttered Rum is pretty hard to beat. Numbskull and Good Medicine Presents have brought the popular band back to the SLO Guild Hall this Thursday, Nov. 3 (7 p.m.; all ages; $16 presale at ticketfly.com or $18 at the door).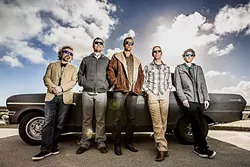 PHOTO COURTESY OF HOT BUTTERED RUM
PICKIN' AND GRINNIN': Smokin' hot string band Hot Buttered Rum plays a Numbskull and Good Medicine Presents show at the SLO Guild Hall on Nov. 3.
Boasting three talented songwriters—Aaron Redner, Nat Keefe, and Erik Yate—the band's sound is diverse and their harmony vocals arresting. Plus, this is just a good-time band. They seem to be having so much fun onstage it becomes infectious.
"At the center of Hot Buttered Rum is the enduring camaraderie of five best friends," their bio reads. "The band was conceived on a backpacking trip of high school and college buddies in the High Sierra. What was dreamed up on mountaintops and around campfires has found its way into the hearts, minds, and bodies of thousands."
Next Thursday, Nov. 10, Numbskull and Good Medicine Presents bring punk acts Guttermouth, Get Dead, and The Cryptics to Sweet Springs Saloon (8 p.m.; 21-and-older; $13 presale at ticketfly.com or $15 at the door). More on that show next week.
Afro-ska-punk heroes!
SLO Brew hosts ska, funk, punk, alt-rock act Fishbone this Thursday, Nov. 3 (9:30 p.m.; 18-and-older; $25 general admission or $35 VIP balcony). They formed in L.A. in 1979 while in junior high, and after years of hard work, they took off in the mid-'80s.Seems like they just had to wait for the music scene to be ready for a band this hyperkinetic, comically goofy, and politically sharp and biting.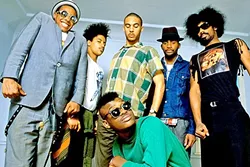 PHOTO COURTESY OF FISHBONE
JUMP AROUND: Ska, funk, punk, alt-rock act Fishbone plays SLO Brew on Nov. 3.
Their 1988 album Truth and Soul was their breakthrough, tackling tough but timely topics such as family breakups, racism, nuclear war, and oppression in LA's housing projects. The album also featured an update of Curtis Mayfield's hit "Freddie's Dead" from the film Superfly, which became Fishbone's first MTV hit.
The band's also the subject of the critically acclaimed full-length feature documentary, Everyday Sunshine: The Story of Fishbone, which was narrated by Laurence Fishburne.
The current lineup includes original members Angelo Moore (aka Dr. Madd Vibe on vocals/sax/theramin), Norwood Fisher (bass/vocals), and Dirty Walt (trumpet, vocals), as well as Rocky George (guitar), Dre Gipson (keyboards/vocals), John Steward (drums), and Jay Armant (trombone, vocals). This should be a killer show!
Also at SLO Brew this week is hip-hop/pop/electronic act Katastro and "the world's most reluctant rapper" Mouse Powell on Tuesday, Nov. 8 (9 p.m.; 18-and-older; $8 general admission or $25 VIP balcony at ticketweb.com).
What's shakin' at Cal Poly?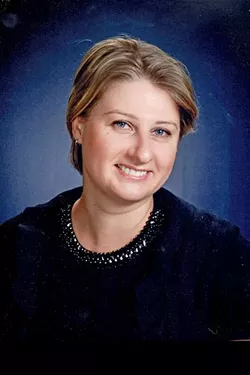 PHOTO COURTESY OF KATYA GOTSDINER-MCMAHAN
FANTASTIC FORBES: Cal Poly Arts hosts organist Katya Gotsdiner-McMahan at the PAC to play the famed Forbes Pipe Organ on Nov. 6.
This week, percussionist and Cal Poly Music Department faculty member John Astaire will play a Friday, Nov. 4, recital in the Pavilion of the Performing Arts Center (7:30 p.m.; all ages; $9 student tickets or $14 general at 756-4849). Expect work from composers such as Iannis Xenakis and Louis Andriessen and the rarely performed "Towards the Precipice" by Danish composer Poul Ruders, a specialty piece of Astaire's, which he calls "massively intense."
The excellent Cal Poly Arab Music Ensemble will be joined by some guest artists—Ibn Al-Khatib from medieval Spain; Ibrahim Al-Aryan, Karem Mahmoud, and Mohamed Abdel Wahab from Egypt; and Marcel Khalife from Lebanon—to perform a program of music and dance from the Eastern Mediterranean and larger region on Saturday, Nov. 5 (8 p.m.; all ages; tickets are $12 and $14 for the public and $9 and $12 for students at 756-4849), in Harman Hall in the Performing Arts Center.
Cal Poly Arts is excited to bring local organist Katya Gotsdiner-McMahan to the Performing Arts Center to play the famed Forbes Pipe Organ this Sunday, Nov. 6 (3 p.m.; all ages; $24 student tickets and $30 general admission at 756-4849). "Hailing from Russia, this versatile Central Coast artist—who holds graduate degrees in organ and musicology from the Moscow Conservatory—will present a program of 20th century music that will include music ranging from classical tradition to pieces influenced by jazz from America, Europe, and Russia," Cal Poly Arts said. Expect works by William Bolcom, Anton Heiller, Marcel Duprè, Dmitri Shostakovich, and others.
The second half of the program will also feature music for brass and organ performed by the Cal Poly Brass Ensemble, directed by Cal Poly Music professor Christopher Woodruff.
You can also go online for tickets at calpolyarts.org.
More music …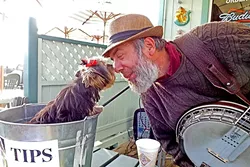 PHOTO COURTESY OF DAN MAZER
THE BANJER MAN: On Nov. 4, Dan "BanjerDan" Mazer brings his bluegrass and folk sounds to the brown bag lunchtime concert in Wilson Hall of SLO's First Presbyterian Church.
If you were planning to see Alan Parsons this Thursday, Nov. 3, at the PAC, un-plan! "We just received word that the Alan Parsons Live Project has been postponed to an undetermined date. Those who've purchased tickets will automatically receive refunds and will be notified by the Cal Poly Ticket Office," Cal Poly said.
This Friday, Nov. 4, Dan "BanjerDan" Mazer plays the brown bag lunchtime concert in Wilson Hall of SLO's First Presbyterian Church (noon; all ages; free). The multi-instrumentalist will deliver an Americana mix "rooted in straight-ahead bluegrass and branching out to include folk, country, blues, oldies, and other styles," according to organizers.
Award-winning singer-songwriter Natalie Haskins will play a solo acoustic concert this Friday, Nov. 4, in Paso's Tin City Cider (6 to 8 p.m.; all ages; free). She's a great singer and writer who's got a song in the running for this year's New Times Music Awards.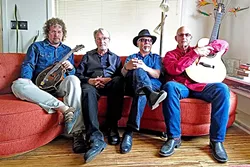 PHOTO COURTESY OF CC RIDERS
LOCAL SUPER GROUP!: Blues/roots/country/rockabilly/Tex-Mex quartet the CC Riders play Los Osos' Red Barn on Nov. 5.
The Red Barn Community Music Series has once again booked awesome local blues/roots/country/rockabilly/Tex-Mex quartet the CC Riders in Los Osos' Red Barn this Saturday, Nov. 5 (5 p.m. potluck; 6 p.m. show; all ages; donations accepted at the door). Featuring Louie Ortega, Dorian Michael, Ken Hustad, and Kenny Blackwell, the group plays on the various strengths of these diverse performers as they deliver everything from lyrical ballads to gritty blues. BYOB!
The SLO County Jazz Federation will feature highly acclaimed New York-based act The Matt Slocum Trio in concert in SLO's Unity Concert Hall on Saturday, Nov. 5 (7:30 p.m.; all-ages; $20 general, $10 students at Boo Boo Records or brownpapertickets.com). This ensemble consists of Slocum on drums, Dayna Stephens on sax, and Steve Cotter on guitar. According to Modern Drummer, "Slocum's writing and playing emphasize a breathing, expressive, virtually speech-like flow of shifting meters … . Slocum excels at open-tempo pulse and color inflections and can drive commandingly when called for … . The young drummer constantly surprises, embracing the kit as a reactive and explorative multi-percussion whole. A fresh voice."
The Clark Center presents The Bird Dogs: The Everly Brothers Experience this Saturday, Nov 5 (8 p.m.; all ages; $39 to $48 at 489-9444 or clarkcenter.org). Dylan and Zachary Zmed bring the youthful Everly Brothers sounds to the stage with hits like "Wake Up Little Susie," "Bye Bye Love," and "All I Have To Do Is Dream."
PHOTO COURTESY OF MATT SLOCUM
NYC DRUM GOD: The SLO Jazz Fed hosts The Matt Slocum Trio in SLO's Unity Concert Hall on Nov. 5.
Multiple award-winning singer-songwriter Hilary Scott has a couple of upcoming shows starting with a Songwriters at Play showcase this Sunday, Nov. 6, at Sculpterra (1 p.m.; all ages; free); and another next week, on Friday, Nov. 11, at Morro Bay Wine Seller (7 p.m.; free). Expect lyrical Americana.
New local act Sunshine & Stardust performs Sunday, Nov. 6 (4 p.m.; all ages; free), at Los Osos' St. Benedict's Church as part of the Sunday Sessions' free concert series. The SLO Town band features Holly Rohner (vocals), JJ Jackson (guitars/piano), and Anthony Donatelli (brass/wind) playing "a mix of blues, jazz, soul, rock, folk, and Americana, with a lyrical message of empowerment, freedom, and unity," according to concert organizers.
Reggae act Na'an Stop plays Pint Nite at the Frog and Peach this Tuesday, Nov. 8 (10 p.m.; 21-and-older; free). "We met at CU Boulder and have been performing for the last five years," said band member David Halvorson. They've also been touring nonstop since 2015 in their six-bunk-bed-outfitted RV, racking up more than 30,000 miles and 100 shows across the country.
PHOTO COURTESY OF NA'AN STOP
NONSTOP WITH NA'AN STOP : Boulder-based reggae act Na'an Stop comes to Frog and Peach on Nov. 8.
Finally, the eighth annual New Times Music Awards takes place next Friday, Nov. 11, in the Fremont Theater (7 to 10 p.m.; all ages; $10 tickets at New Times or Boo Boo Records). Not only will the Newties and other awards be presented to luminaries from our local music scene, but you'll also be treated to an opening performance by percussion group The Bucket Busters, followed by a live music showdown for Best Live Performance from the Noach Tangeras Band, Wynn, Proxima Parada, Fialta, and Truth About Seafood. To get you in the mood, check out the '80s hairband spoof video Truth About Seafood made for their award-winning song "Butcher & The Bride."
Keep up with Glen Starkey via twitter at twitter.com/glenstarkey, friend him at facebook.com/glenstarkey, or contact him at gstarkey@newtimesslo.com.