She just needed to get away. So when Lynn Schmidt was 22, she left home and joined the U.S. Navy.
"I ran away from home," said Schmidt, who grew up in Washington. "I just was at a time in my life where I could do something bigger than myself, and serving in the military seemed like a logical choice."
Photos Courtesy Of Lynn Schmidt
VETERAN Lynn Schmidt, gallery coordinator for the Gay and Lesbian Alliance of the Central Coast, is also a Navy veteran.
It was during her time in the Navy, working as an optical man repairing periscopes and binoculars, that Schmidt got her first camera. It ignited a passion that she forgot about until a move to the Central Coast relit that flame. Schmidt's work, along with that of other local veteran artists, is on display from Feb. 28 to March 13 as part of the Veterans' Voices exhibit at Studios on the Park in Paso Robles.
"It was a leisure activity that I could do off hours, and I could shoot all of the places we were going," Schmidt said.
During a recent art class at Cuesta College, Schmidt, who is the gallery coordinator for the Gay and Lesbian Alliance of the Central Coast, took a stunning black and white photo of local artist RawfeyL draped in the American flag using a medium format camera (think those old-timey giant box cameras with the cord and the button). The photograph Schmidt took of RawfeyL is part of a series, We The People Photos, featuring all black and white photos of diverse Americans draped in the flag, which Schmidt has slowly begun to post on Instagram.
Schmidt's newer work falls on the more abstract side. Her black and white photo, Forks, is a macro photography shot of two forks entwined. It was shot on film and then scanned into a digital format.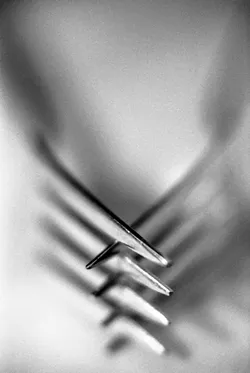 Photos Courtesy Of Lynn Schmidt
ENTWINED The photo Forks by local artist Lynn Schmidt celebrates the interconnectedness of people and the need for human connection.
"I think it says a lot of different things," Schmidt said. "It shows our interconnectedness and how we have to support each other to get where we want to go."
As a veteran and a lesbian, Schmidt struggles with the Trump administration's policy, implemented recently, that bans openly transgender people from serving in the armed forces.
"I think if somebody is going to put their life on the line and serve their country, I don't know why anyone would want to stop them," Schmidt said. "These people are willing to sacrifice their lives for their country, and yet a part of that country is singling them out for ridicule. I truly don't understand it."
Above all, Schmidt hopes that viewers of her work take to heart the symbolic meaning behind Forks.
"We're all interconnected," Schmidt said. "We're all in this together. We need each other." Δ
Arts Writer Ryah Cooley is a proud supporter of the First Amendment. Contact her at rcooley@newtimesslo.com.