"We live where others vacation."
Yes, this is a somewhat annoying thing some Central Coast residents say. Of course, this isn't so much of a humble brag these days. We all know it takes an enormous amount of ingenuity and effort to carve out a livelihood in this famed "happy place."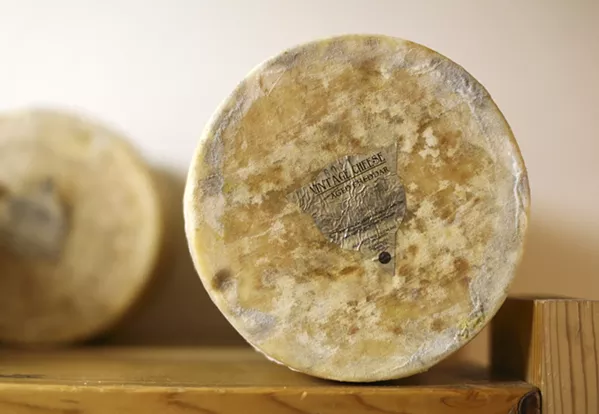 Photo Courtesy Of Vintage Cheese Company
CHEESE BY THE NUMBERS Local and family operated Vintage Cheese Company sloshes through 3,500 gallons of milk to make 5,000 pounds of cheese (in 32 flavors and counting) per week. All that milk is produced by 950 cows, sheep, and goats located across California.
This truth is clear to entrepreneurs Erin and Ryan Davis, who made the leap from Visalia to the Central Coast after years of summer vacations and weekend trips to the beach.
"We actually consider ourselves local to the area; I've had family out here since the 1930s," Erin said, adding that a long-cherished Morro Bay oceanfront home and Los Osos family farm have provided backdrops to many dreamy childhood memories (her mom still remembers when Montaña de Oro first became an official state park).
"The kids had allergies and the air quality was poor, so it was really health and wellness—as well as following our dreams to live where we vacation—that brought us out," Erin said. "We like to say we believe in 'roots and wings.' The Central Coast is our wings and the Central Valley—where we were born and raised—those are our roots."
The Davis family now happily resides in Los Osos, where they've carved out a sweet niche for themselves: crafting and selling a range of specialty, artisan cheeses. In many ways, Vintage Cheese Company has made their new life dreams come true. You could say each wheel echoes Erin's "wings and roots" vibe pretty perfectly.
The cheeses are made in a state-of-the-art facility in Traver, California. The milk is sourced from California and sold right here on the Central Coast (you can find these sharp, creamy, and blue morsels at local farmers markets, too).
Making quality, handcrafted cheese from California sheep, goat, and cow's milk isn't an easy biz, however. A "slam dunk" career transition it is not.
Any artisanal cheesemaker will tell you: This kind of work is extremely labor intensive and expensive. There's distribution, marketing, sourcing milk, aging, and working weekly farmers markets (the kids help with those, but still).
Photo Courtesy Of Vintage Cheese Company
SAY CHEESE Vintage Cheese Company, owned by Los Osos residents Ryan and Erin Davis, was officially founded in 2011 with the goal of pairing local, California-sourced milks with time-honored cheesemaking know-how.
Plus, Ryan went into the cheese business without a formal cheesemaking background.
So, how in the world do they manage?
One part grit, one part risk, and a whole lot of boundless enthusiasm.
Back in Visalia, Ryan had worked as a manager for Bravo Farms for about three years before "the big break" arrived. The well-known California Valley restaurant and one-time cheese purveyor boasts locations in Kettleman City, Traver, and Tulare.
"The owner felt like he wanted to focus on being more of a chef and less of a cheesemonger, so he asked if we wanted to buy the cheese portion of the business," Erin said, adding that Bravo Farms agreed to continue to sell whatever cheese they would continue to make under their own name. "We jumped on the opportunity. We thought, 'How could we turn this down?'"
At that point, Ryan had apprenticed under the original cheesemonger, but was now faced with a steep learning curve. Luckily, he became quickly addicted to the creativity and intricacy of the craft.
Since founding Vintage Cheese Company in 2011, the cheesemonger has grown tremendously and is now known throughout the field for putting a fresh twist on ancient recipes.
Each wheel is aged and ripened to create complex flavors and compelling textural characteristics. Read: This is not your stepdad's flabby Kraft single.
Ryan said the hardest part has been finding a place within the larger cheese market.
"There's a lot of giant companies that are producing hundreds of thousands of pounds of cheese per day, and we can't compete with them on a price level. However, what they do is very different than what we do," he said.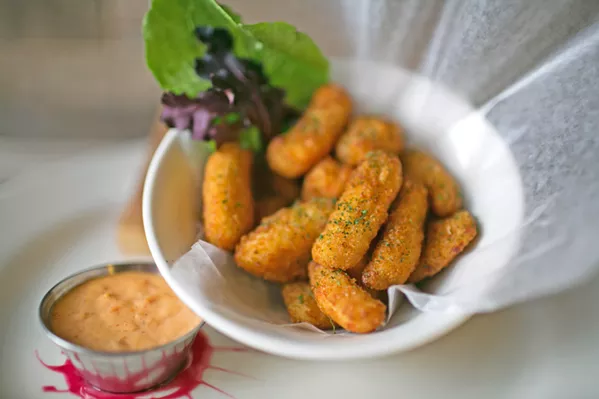 Photo Courtesy Of Vintage Cheese Company
SAY CHEESE Vintage Cheese Company, owned by Los Osos residents Ryan and Erin Davis, was officially founded in 2011 with the goal of pairing local, California-sourced milks with time-honored cheesemaking know-how.
That's a bit of an understatement.
The Davis' open-vat practices allow for small batch monitoring, which means consistent quality. Working with local dairies—instead of owning one—means the business is able to keep costs closer to that of traditional farmstead prices.
Following Old World recipes leads to truly mature morsels, but there's room for fun and artistry, too. Vintage Cheese Co. offers iconic Dutch style Gouda, crystalline Romano, buttery jack, and crumbly French bleu, but you'll also see modern takes like chipotle, jalapeño, or cabernet aged cheddar. I particularly love the sheep's milk Manchengo and cow's milk sage cheddar.
Another source of pride: Milks are sourced exclusively from California dairies.
"We saw a growing need for alternative milk products—goat's milk and sheep's milk—as well as locally sourced and handcrafted products that support local," Erin said. "We wanted to help other small businesses and really continue our family legacy of entrepreneurship."
Vintage Cheese Company has won its fair share of national and international awards, and, more recently, one of Ryan's sheep/cow's milk blends won "first place original recipe" in the National Cheese Society Awards. No small feat for a manager-turned cheesemonger, eh?
With 32 varieties and growing, Vintage Cheese Co. may not be huge, but they're making a mark in a world plagued by bland blocks and generic wedges.
Ryan and Erin don't look at it as just a win for the Central Coast or even the Central Valley. It's a win for California, and every small, family-run dairy they work with.
If you ask me, that's a win for your next sandwich, quesadilla, or cheese board.
"I love the ability to create cheeses that remind people of what cheese can and should taste like again," Ryan said.
Hayley Thomas Cain will never cut out dairy from her diet. She can be reached at hthomas@newtimesslo.com.