PHOTO BY GLEN STARKEY
HI-INFIDELITY!: REO Speed Wagon gave R.E.O. Speedwagon its name. Cool! And so is this 1928 REO owned by Jon Negranti of Cayucos.
It's Saturday, July 20, and I'm at the 21st Annual Vintage Truck Show outside Trinity Hall in Old Edna. It's a perfect day—sunny and warm—and there are plenty of truck enthusiasts taking in the sights, sounds, and smells (Barbecue? Sweet!).
In one corner is a roped-off area with old farm equipment, ancient washing machines, and even an old gas-powered kid's caterpillar run by what looks like a lawnmower engine. It's got tracks like a tank, a seat like a tractor, and a couple of levers to make it go. Man, I wish I had that as a kid. I could have done some serious damage to my sandbox!
"How'd you like to have to wash your clothes in that?" I ask my wife as she looks at a washing machine spun by an external engine and a belt. For the record, I'm not being a sexist pig. I do my own laundry, thank you very much, and I wouldn't want to use that contraption, but I guess it's better than a washtub and washboard.
We start wandering through the rows of trucks, and some are pretty old. There's a 1928 REO Truck owned by Jon Negranti of Cayucos. First of all, I had no idea that the band R.E.O. Speedwagon took its name from a truck company, but there it is above the front grill. REO Speed Wagon (they pronounced REO like the city in Brazil) started producing light pickup trucks in 1915 and continued through 1953. Dodge and Chevrolet followed in 1918 and Ford in 1925. The first motor truck was built in 1896 by the German manufacturer Gottlieb Daimler. It was not on display, but I figured you might want to know that America was not No. 1 when it came to the truck manufacturing game. Come on, America; get it together!
Not only is there a long line of pickups (That's the best pickup line I've ever seen—ha ha! Get it? Pickup line? Never mind!), but there are plenty of more heavy-duty trucks and flatbeds, as well as a few rows of vintage big rigs. Trucks were a major advancement in the shipping of goods, and in many ways, you could argue that the invention and innovation of trucks helped build America, which may be why so many guys are fascinated by them. Or maybe it's because dudes feel like badasses when they're driving a big, ol' gas-guzzler. I have a 1968 Ford F250 that gets seven miles to the gallon. Seven! Maybe the joke's on me.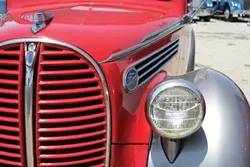 PHOTO BY GLEN STARKEY
THEY DON'T MAKE 'EM LIKE THEY USED TO: Check out the incredible styling of this Ford fender!
I'm looking at a 1951 Chevy three-window pickup owned by Rick Wilson, and I'm digging the old Coleman Desert Water Bag wired to the grill when from behind me I hear, "I've got about five or six of those."
It's the owner himself, and he tells me he finds them on eBay, and then goes on to talk about an eBay bidding war he was in for some small truck part, and he was up to $180.
"If my friends knew about this, they'd think I was crazy," he adds.
"Your truck has an amazing patina," I note, looking at the rusty hue with various colors peeking out.
"I use Simple Green and kitchen scuff pads to buff it out," he reveals.
In some areas, you can see green primer coming through, and Wilson loves its distressed look.
PHOTO BY GLEN STARKEY
STILL ROLLING: This old vintage flatbed, a 1956 Ford C-600, belongs to Dennis and Dian Wells of Inglewood.
"The only thing I've painted is the dash," he says. "I just used rattle cans."
It's a sweet old truck, and it's obviously a runner, because he drove it up from Santa Barbara for the show. For the record, its name is "Rusty."
After a while, we've had our fill of trucks and head out.
"How can you tell if a redneck is married?" I ask my wife. "There's tobacco spit stains on both sides of his pickup truck."
No reaction.
"Here's something you'd never hear in the southern U.S.: I think the tires on that pickup truck are too big."
Nothing. Let's face it: Women just don't understand pickup trucks.
Glen Starkey takes a beating and keeps on bleating. Keep up with him via twitter at twitter.com/glenstarkey, friend him at facebook.com/glenstarkey or myspace.com/glenstarkey, or contact him at gstarkey@newtimesslo.com.