Cambria is a pretty magical place, where pine trees meet the Pacific Ocean and artists of all stripes come to settle. Up a steep driveway in this charming little hamlet is the charming little Old Santa Rosa Chapel (2353 Main St.), which was built in 1870 and is listed as a landmark on the National Historic Registry. It's also the site of the upcoming Cambria Concerts Unplugged series, which doesn't start until June, but the first concert has already sold out!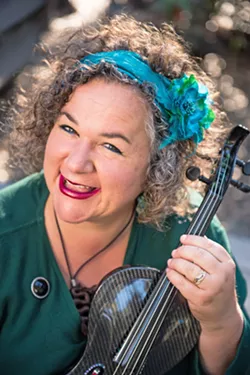 Photo Courtesy Of Brittany Anzel App
GOT BRYNN? Violinist and Opera SLO and SLO Symphony concertmaster Brynn Albanese (pictured) plays with pianist Ian Scarfe on March 30, in SLO's Community Baptist Church, but she's also started the Cambria Concerts Unplugged series, and tickets are going fast.
Celtic band Molly's Revenge is scheduled to play on Sunday, June 3, at 4 p.m., but that show is already filled, so another has been added for 7:30 p.m. (all ages; $20 tickets at brynnalbanese.com/cambria-concerts-unplugged). Tickets for the rest of the series—The Sunny Wright Trio on Sunday, July 29; The Cimo Brothers on Sunday, Oct. 21; Cambria's Candlelight Christmas Concerts on Saturday, Dec. 1, and the to-be-announced season closer on Sunday, March 31, 2019—are also available on concert organizer Brynn Albanese's website.
Albanese, a professional violinist by trade, made her solo debut at 10 with the Carson Symphony in Los Angeles, where she grew up in a family of professional musicians. She went on to play with a number of world-renowned orchestras such as the Boston Symphony Orchestra and the Boston Pops under the direction of Seiji Ozawa and John Williams from 1994 through 2001. She lived in the Netherlands for six years playing with various Dutch orchestras. Eventually, however, California was calling, and she returned home, joining Café Musique, a well-known Gypsy, jazz, swing, folk, and wild classical crossover quintet. They might just be my favorite local music act.
Albanese is currently on faculty at Cal Poly, and she's concertmaster of the SLO Symphony under new conductor Maestro Andrew Sewell, as well as concertmaster for Opera SLO. Albanese currently lives in Cambria with her wife of two years. Her parents also live there. She considers herself a Cambrian "through and through," and she discovered the Old Santa Rosa Chapel after attending a Christmas concert there "five or six years ago."
"The chapel is owned by the Catholic Church," Albanese continued, "but it doesn't function as a church anymore."
In fact, it's final mass was celebrated in 1963. It fell into disrepair and was vandalized, but in 1984, it was restored and rededicated for community use. Since then it's been used for non-denominational weddings and other celebrations.
According to Albanese, the acoustics are remarkable, but it has "no heat, no lights, just candlelight and string lights powered by batteries. Still, it's the most gorgeous place."
Albanese was speaking to Judith Larmore, the property manager who lives on site, who revealed it was her "dream" to start a concert series.
The idea was born Albanese hopes: "I want to eventually, some day, have one concert a month, and who knows, maybe a community jam, maybe some spoken word and storytelling. It's such a beautiful space to create, and you don't need a sound system."
It apparently only has two electrical outlets, but Albanese also thinks it would be fantastic to record in with a single microphone.
"There's no traffic noise, nothing," she said, "and just so you know, all the extra money after paying the musicians and my small administrative fee goes to restoration and upkeep [of the chapel]. Father Mark [Stetz] at the Santa Rosa Catholic Church is thrilled, actually, and he's coming to Molly's Revenge. The chapel is just a wonderful place to be away from everything for a couple of hours where you can lose yourself in community, friendship, music art, and life."
If you want to check out Albanese's musical prowess, next Friday, March 30, she and Ian Scarfe (piano) will present a recital featuring the works of Brahms, Mozart, Williams, and Piazzolla, as well as "Notturno" by Ottoerio Respighi and the world premiere of "For Brynn Albanese" by Mary Bianco, at the Community Baptist Church (51 Foothill Blvd., SLO; 7:30 p.m.; all ages; $20 suggested donation at the door).
The piece written for her by Bianco is just two pages long and has a "lot of Middle Eastern flavor," Albanese noted, adding that the composer is now in her 70s, lives in the wine country, and is a big supporter of the arts.
As for Cambria Concerts Unplugged—tickets are going fast! Get on it!
Siren calling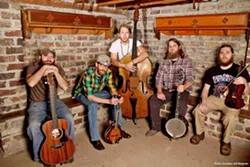 Photo Courtesy Of Old Salt Union
MIDWESTERN BOYS Illinois-based newgrass and Americana act Old Salt Union plays Morro Bay's The Siren on March 27.
It still seems crazy to me that Morro Bay has taken over as the live music hotspot in the county, but here we are! This week Numbskull and Good Medicine Presents, in conjunction with The Siren, has a bunch of killer shows lined up of the sort we used to see when SLO Brew was open on Garden Street.
Johnny Cash tribute act Cash'd Out plays this Saturday, March 24 (7:30 p.m.; 21-and-older; $20 presale at ticketfly.com and Boo Boo Records or $23 at the door). They deliver authentic early- and mid-career Cash classics—the Sun and Columbia Records stuff from mostly the '50s through '70s. Gritty and authentic!
Bluegrass, Americana, folk, and blues singer-songwriter Gill Landry plays on Sunday, March 25 (7 p.m.; 21-and-older; $15 presale at ticketfly.com and Boo Boo's or $20 at the door). "Townes Van Zandt once said, 'There's only two kinds of music: the blues and zippety doo-dah. I've always loved that," Landry wrote in his bio. "In my opinion, labeling music sucks, but clearly marketing and classifying music without some label is near hopeless, so here we are." He's awesome!
Photo Courtesy Of Jay Blakesberg
QUINTESSENTIAL CALIFORNIA Psyche-rock and folk act The Mother Hips play The Siren on March 28.
The Siren's booked Illinois-based newgrass and Americana act Old Salt Union on Tuesday, March 27 (7:30 p.m.; 21-and-older; $10), with local act Miss Leo and Her Bluegrass Boys opening. Old Salt Union is currently on tour with the Yonder Mountain String Band, but they had an open date and decided last minute to swing out to Morro Bay. Only 10 bucks and an early start since it's a work night! Quintessential California rock act The Mother Hips, who were first signed by über-producer Rick Rubin when they were still students at Chico State, play on Wednesday, March 28 (7p.m.; 21-and-older; $20 presale at ticketfly.com or Boo Boo's or $25 at the door), with opener Jason Crosby. They're touring in support of their 10th album, Chorus, due out this spring.
Punks unite for The Dickies and The Queers on Thursday, March 29 (7 p.m.; 21-and-older; $18 presale at ticketfly.com or Boo Boo's or $20 at the door). New Hampshire-based The Queers should appeal to Ramones fans, but with even more bubblegum rock and juvenile lyrics.
Scooteristas descend!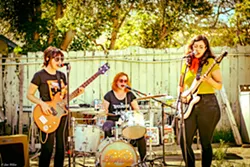 Photo Courtesy Of Bombon
GRRL POWER All-female garage/surf rock act Bombón headlines a four-band show at Bill's Place on March 23 as part of the Rides of March vintage scooter rally.
Want to hear the ring-ding-ding of 100 two-stroke scooters pulling into Bill's Place in Arroyo Grande on Friday, March 23? Of course you do! The plumes of blue smoke and smell of oil—breathe it in, baby, then come into the club to rub shoulders with vintage scooter aficionados who've come to town for the annual Rides of March scooter rally. Bill's will feature music by San Pedro-based all-female garage/surf rock act Bombón, local bubblegum and glitter punks Hayley and the Crushers, other local act Pancho and the Wizards, and Long Beach-based Melted.
Photo Courtesy Of The Starlight Dreamband
HOT JAZZ! Basin Street Regulars host SLO's Starlight Dreamband during their next Hot Swingin' Jazz concert at the Pismo Beach Vets Hall on March 25.
"We're still making that long-awaited record with House of Faith Studios in Oakland, and we're stoked to say it should be out this summer!" Hayley of the Crushers (and New Times' Flavor column) said. In the meantime, they released a killer video from their last album Jewel Case.
"Hot Shot" is about "that horrendous guy in high school who thought he was 'the king.' Then, 10 years later there he is, still selling sodas and lottery tickets at the gas station with that little smirk on his face," Hayley said. "This whole album feels a lot like it was torn from pages of my high school diary, and I'm ok with that. I was a weird kid in a small town who retreated to my room to write stories and play Ramones songs over and over on my guitar. Playing rock music today with the Crushers has only strengthened what I suspected all along: It's the ones who stay true to themselves that actually win in life. The king is dead. Now that I think about it, he was a total bore anyway."
This one's going rock, weirdoes!
More music ...
Merrie Bande will play Renaissance era and Celtic music on Friday, March 23, at Coalesce Bookstore (7 p.m.; all ages; $15 general admission or $10 for students and seniors, at (805) 772-2880).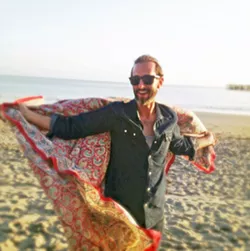 Photo Courtesy Of Erika Mulgrew
ALMOST SUMMER Award-winning singer-songwriter Jody Mulgrew plays an EP release concert at Socrates Coffeehouse in A-Town on March 27, for his excellent new six-song collection We Gave Ourselves to Summer.
Austin-based singer-songwriter and Oklahoma Poet Laureate (2013-14) Nathan Brown will play a trio of shows this week: Friday, March 23, at East Wellbeing and Tea (5;30 p.m.); Saturday, March 24, at the Morro Bay Wine Seller (6:30 p.m.); and Sunday, March 25, at Sculpterra (1 p.m.).
The SLO Blues Society is having a "fun raiser" concert this Saturday, March 24, with local acts Code Blues, Burning James and the Funky Flames, and Orphan Jon and the Abandoned at the SLO Guild Hall (7 to 10:30 p.m.; 21-and-older; $15 at Boo Boo Records, Cheap Thrills, Paradise Records, the door). The Blues Society runs on volunteers to produce and staff our concerts. You should join up: (805) 541-7930.
Basin Street Regulars host SLO's Starlight Dreamband and the Santa Ynez High School Jazz Band during their next "Hot Swingin' Jazz" concert at the Pismo Beach Vets Hall on Sunday, March 25 (jam at 11 a.m.; concert at 1 p.m.; all ages; $10 general admission).
Photo Courtesy Of Shoring
PORTLAND PROUD Folk rockers Shoring return to Frog and Peach for two nights, March 28 and 29.
Jody Mulgrew plays an EP release concert at Socrates Coffeehouse in A-Town on Tuesday, March 27 (7 p.m.; all ages; $15 at brownpapertickets.com). Titled We Gave Ourselves to Summer, the six-song collection is filled with Mulgrew's gorgeously poignant and often brooding songs.
Portland folk rock act Shoring returns to Frog and Peach to play on Wednesday, March 28, and Thursday, March 29 (10 p.m.; 21-and-older; free). They're touring in support of their new eponymous album. Called the Every Moment We Delay tour, band member Nick Kostenborder said it's "about recognizing that the course you're on is leading nowhere, and it's time to change direction. Some of us have been playing music together for nearly a decade. A couple of early opportunities were allowed to slip away and suddenly you find yourself in your early 30s with a chance to learn from your mistakes and take action. We've hit a whole new level of focus and passion." Δ
Keep up with New Times Senior Staff Writer Glen Starkey via Twitter at twitter.com/glenstarkey, friend him at facebook.com/glenstarkey, or contact him at gstarkey@newtimesslo.com.