PHOTO BY STEVE E. MILLER
LIGHTS, CAMERAS, ACTION! : Embodiment at Native Lounge went off last week! You've got three more chances to be part of the scene: Feb. 4, 11, and 18.
A
s I look around at all the beautiful people filling up Native Lounge, I can't help but think I must look like a turd in a jewelry box.
Thanks for protesting, readers, but seriously, everyone here is younger and more beautiful than me! What? You didn't exclaim, "Oh, no! You look great!" OK, I see where I stand in your book.
It's Thursday, Jan. 28, and it's the first Embodiment event, and I'm with this really gorgeous girl. Shhh. She has no idea this is a date. We're—you know—"just friends hanging out."
Speaking of friends, did I ever tell you about the time my friend Frank Warren pretended to be deaf to the security guards at an Elvis Costello concert so we could get better seats? I only mention it because the statute of limitations just ran out.
No, actually, I mention it because I'm in the midst of an ethical dilemma, which feels exactly like that moment Frank and I sat down in those closer seats we didn't pay for.
PHOTO BY GLEN STARKEY
ROGUE'S GALLERY : New Times photographer Steve E. Miller, Skin Deep freelancer Brittany App, and VIP-bubbled, vowel-less n'er-do-well Mchl Vandenberg enjoy a post show group hug.
So, Ms. Hotness and I walk up to Native and I hand over some tickets the club gave me (Ethical breach 1). I see my inside man (Johnny "Deep Throat" Kenny) and say, "Thanks so much for the tickets," and point, "Can we go in there and sit?"
"There" is the VIP section, where hip looking little sectionals with coffee tables wait for bottle service (Surprisingly affordable! Email tyrone@nativelounge.com. Imagine sitting with nine of your closest friends making drinks at your table while the runway action goes right by your pampered, lucky, classy-looking faces!)
So can I go in there? It turns out I can go in there! (Ethical breach 2).
Then I see artist Neal Breton, who's sporting an oh-so-'80s argyle sweater, jaunty cap, and enormous beard. He's telling me about the models he painted and then sits down with Ms. Hotness as I turn to two guys behind me and mock them for not being in the VIP section.
One guy is Noah Duncan, 28, and the other is Mchl Vandenberg, 29. Just for the record, Mchl pronounces his name like Michael. In fact, his name used to be Michael.
"When I set-up my email account," he explains, "… well, I couldn't afford any vowels."
"That's why you're not in the VIP section," I goad.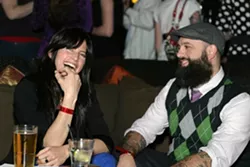 PHOTO BY GLEN STARKEY
BEAUTY AND THE BEAST : Ms. Hotness (aka—Darci Spiker) chats it up with Embodiment artist and enormously bearded San Luis Art Supply owner Neal Breton.
"I'm constantly surrounded by my own VIP bubble," counters Mchl.
"Well, your VIP bubble isn't allowed in the VIP section," I say, putting the smackdown on "Miichaaeel," because in the VIP section there are so many free vowels laying around that I could afford to fill his name with extras.
Hey, look! There's Brittany App, whose tangled nest of blond dreadlocks makes her look like a 21st century Pippy Longstocking. The photographer is here to shoot for Skin Deep, a UK-based art and tattoo magazine.
EXPERIENCE IT!: Embodiment happens this Thursday, Feb. 4 at Native Lounge. It also continues Feb. 11 and 18. Cocktail hour runs from 8 to 9 p.m., with "The Show" running from 9 to about 10:15 p.m. Tickets are $10 presale (at the venue) or $15 at the door. To reserve a table and bottle service for your group, email tyrone@nativelounge.com or call 709-1205.
"I've been freelancing for them for something like three years," says App. "Our area probably has this really falsely huge international vibe because of it."
Just as I ponder how App's made SLO Town look like some kind of tattoo Mecca to people in England, the music powers up and choreographer Suzy Miller and her troupe of hip-hop dancers start busting, popping, and jiggling down the runway.
Moments later, a stream of throbbingly sensuous quasi-nekkid models start voguing in front of me, all decorated with wild images and designs. I settle back into my VIP seat next to way-out-of-my-class Ms. Hotness. I'm living it, people.
As I look first at the throng in front of me, just behind the VIP barricade, and then look behind me at Mchl in his self-created VIP bubble, I can't help but notice everyone else seems to be having as good a time as I am. What the hell? Shouldn't my VIP status provide me with more fun than the riffraff? I'm just about ready to demand my money back when I remember ethical breaches numbers 1 and 2. Be careful, people. This VIP stuff can really go to a guy's head!
Glen Starkey takes a beating and keeps on bleating. Contact him at gstarkey@newtimesslo.com.