At more than 25 feet long and popping with vibrant blues, greens, and purples, the new mural at Cal Poly's Warren J. Baker Center for Science and Mathematics is a thing to behold, catching the gaze of passersby on their way to class. But perhaps the most noticeable color palette is the range of shades of brown, olive, and tan used to represent the mural's futuristic looking people busily tinkering away on machines, peering down microscopes, and gazing thoughtfully at the planets.
But the demographics represented in the 27-by-6-foot Integrated Visionaries piece by Colorado-based traditional Aztec artist David Ocelotl Garcia are a far cry from the reality seen on the San Luis Obispo campus.

Photo By Jayson Mellom
ART IN REAL LIFE Artist David Ocelotl Garcia's murals like Integrated Visionaries can be found in Mexico and the U.S. in public spaces such as museums and parks.
As of last year, Cal Poly was shown to be the least ethnically diverse four-year public university in California according to research done by New Times. And in fall 2016, the university enrolled 3,407 Hispanic and Latino students and 152 African-American students, compared to more than 12,000 white students, according to Cal Poly's online fact book. The makeup of the faculty reflects a similar trend with 1,089 white professors and lecturers teaching the student population alongside 84 of their Latino peers and 21 African-American colleagues, also according to the online fact book.
And according to Mustang News, as recently as June 4 members of Cal Poly's Gamma Rho fraternity showed up in a photo wearing culturally appropriated outfits and holding guns alongside a Trump sign. The picture was posted on Twitter by Old Row, a brand associated with the South and Greek Life. The university issued a statement espousing its values of diversity and inclusivity but didn't take any action against the fraternity.
However, university officials such as College of Science and Mathematics Dean Phil Bailey, are trying to paint another picture of the school. In a statement, Bailey said that the mural will "show students, faculty, and staff of diverse backgrounds how important they are to the future of science and mathematics."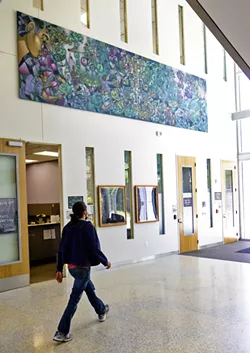 Photo By Jayson Mellom
OUT AND ABOUT The Integrated Visionaries mural at Cal Poly's Warren J. Baker Center for Science and Mathematics was inspired by themes of diversity, inclusivity, and community.
Still, sometimes you have to envision the future you want, even if it seems far off from the current reality. That's why Garcia took on the piece with his abstract imaginist style based on themes like diversity, inclusivity, and also community, which he explored through colors, a sense of movement, and characters. The new mural debuted at the end of May.
"It's a great honor to attempt to manifest that in a visual piece," Garcia said. "It makes me feel like I'm creating art that has a powerful significance."
Garcia was commissioned to paint the mural after a nationwide search that included several Cal Poly students among the applicants. From designing to painting, the Integrated Visionaries piece took Garcia about eight weeks to complete. Inspired by the Mexican mural movement, which included artists like Diego Rivera, José Clemente Orozco, and David Alfaro Siqueiros, Garcia gradually began to think and create bigger when it came to his art. Since 2008, the artist, who said he takes his inspiration from the existence and energy of all living things, has painted about 15 murals that can be seen in public spaces like museums, parks, and performing arts centers in the U.S. and Mexico. But it was always a dream of Garcia's to have a mural on a college campus because of the potential social implications the art could have.
"It reaches so many people," Garcia said of the mural art form. "You get to capture someone's attention. The public can access it, not necessarily knowing they're going to encounter it. I like the surprise of it."
Garcia also said he would like for the Integrated Visionaries mural to change the way students perceive things and even possibly impact how they spend their time at Cal Poly.
"I hope to spark their interest in being creative," Garcia said. "If you can approach something creatively, you have more choices. I hope the mural can make you be respectful and mindful that we all come from different cultural backgrounds, but we're still connected regardless."
Does life imitate art or is it the other way around? Sound off to Ryah Cooley at rcooley@newtimesslo.com.