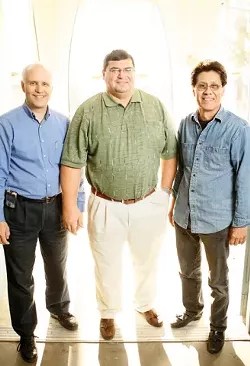 PHOTO BY STEVE E. MILLER
ON A MISSION : Nipomo pastor Mark Parke, director of Central Coast Rescue Mission, takes a break from setting up for the Christmas celebration with Sober Living supervisor David Monte (left) and Chaplain Robert Ruiz.
# Linda and Rich Antles, a Santa Maria couple, recently helped organize an annual pre-Christmas dinner at the Santa Maria Fairpark, where Central Coast Rescue Mission staff and volunteers handed out hot meals, clothes, and toys to hundreds of needy local families.
Volunteers from the Foodbank of Santa Barbara County stood in long rows serving food, and the St. Louis De Montfort Praise Band sang holiday songs. Later, hundreds of children waited in line for a chance to walk through the Central Coast Rescue Mission "toy store" of donated dolls, books, and clothing.
"When you see little kids standing in line for five hours who have holes in their shoes, and it's freezing cold, the light goes off that everyone needs help, and that you really don't have a problem," Linda said.
The Central Coast Rescue Mission is part of the Rescue Mission Alliance, a nonprofit Christian organization that has been providing food, shelter, and clothing across California for the past 30 years.
In 1999, Central Coast Rescue Mission began its work in Santa Maria by serving food to the homeless and needy during Thanksgiving and Christmas.
Since then, the organization has expanded its services to serving meals every Sunday--as well as during Easter, Thanksgiving, and Christmas. The mission operates a daily food pantry and regularly distributes clothes and toys to people in need.
For the past six years, Linda and Rich have helped organize and run Central Coast Rescue Mission events like the December gathering at the Fairpark.
Linda serves as the organization's volunteer coordinator, and Rich is chair of the organization's advisory board council. He also serves on the Rescue Mission Alliance board of directors as a representative for the Central Coast.
Linda said that while 2007 was a difficult year for many families, the organization has been able to keep giving because of the people who donate their money and time.
She said that when someone volunteers, "it creates a domino effect," inspiring other people to volunteer their time. With the help of volunteers, the Central Coast Rescue Mission is able to better serve the community, she said.
The volunteers help serve food at events, stock the office pantry, and deliver supplies to local families.
Linda also said that along with doing the grunt work, volunteers bring added drive and optimism to the organization when staff morale is low.
"Working every day in this kind of job, you're kind of like a nurse who becomes immune to disease. You become immune to the poverty," she said. "But when you watch a new person come in and be deeply impacted by all this poverty, it's an eye-opening thing."
As volunteers themselves, the Antles were motivated by scenes of poverty and loss in the aftermath of Hurricane Katrina, which devastated large sections of the Gulf Coast in 2005.
"When Katrina hit, I remember looking at the news and thinking how terrible and tragic it all was," Rich said. He said he knew he had to do something to help.
"I realized that Linda and I couldn't go to New Orleans and do something, but we could feed the poor and homeless here," he said.
So the next weekend, the Antles attended a weekly meal for Santa Maria's homeless put on by Central Coast Rescue Mission.
On top of helping feed people, the Antles began working at the organization's sober living program for men with addictions.
The facility is home to about 12 men who are working their way through the rehabilitation process with the help of staff.
"We try to help them get their lives back on track," said Mark Parke, a Nipomo pastor and new director of the Central Coast Rescue Mission.
Program participants are given addiction and relapse prevention counseling, as well as help with transportation to appointments.
The program is broken down into two phases, each of which lasts approximately one year. Men in phase one live in the main center and aren't allowed to hold jobs in the community. However, they are required to participate in community outreach programs by setting up and serving food at Central Coast Rescue Mission events, or working in the office food pantry.
Men in the second phase live at a halfway house a few blocks from the center. They are required to hold jobs and pay rent, as well as participate in advanced stages of the recovery program.
Amy Asman is a staff writer for New Times' sister paper, the Santa Maria Sun. Send comments to rmiller@newtimesslo.com.