Hop out of bed and open your ears to the latest CD by wide-awake local bluesman, Sleepy Guitar Johnson, titled The Mojo Sessions.
Recorded, produced, and mixed by Denis Degher (Sleepy's alter ego) at his Old School Ranch Studio in Paso Robles, the music pays homage to the early progenitors of good ol' American blues and rock, with a distinctly modern edge.
Sleepy calls his melodic and danceable musical style "21st-century blues," but with his characteristic blend of soulful Dobro slide and bar-yanking Gibson electric, his guitar sound evokes surfabilly and Americana roots along with those ever-present blues.
PHOTO COURTESY OF SLEEPY GUITAR JOHNSON
WIDE AWAKE BLUES : The Sleepy Guitar Johnson Trio plays tunes from a brand-new recording at a CD release party on Saturday, Sept. 13 at Hoover's in Atascadero and Sunday, Sept. 14 at Castoro Cellars on Hwy. 46 West.
As Guitar World Magazine puts it, "Sleepy's music is clearly blues inspired and is, in fact, drenched with the down home stuff, yet it is completely original."
The new CD on the Powered by Mojo label is designed to sound as big and warm as vintage vinyl. Producer Degher, former owner of Red Zone Studios in Southern California, has worked with Brian Setzer, Santana, the Ventures, and Earth, Wind, and Fire, among many others, so he's pretty familiar with that old-fashioned vinyl sound.
In fact, as Sleepy writes in the liner notes on The Mojo Sessions, "When I first started playing guitar, we used to listen to the 12-inch vinyl LP. The Long Playing record was a great improvement over the 45 and 78, because it enabled the artist to create two distinct sides. Sometimes I'd listen to one side for days on end before even listening to the second side. We're resurrecting that concept here, and all the hues run to blues."
The Sleepy Guitar Johnson Trio—with John "Cool Hand" Morris on thumping Fender bass and Michael "Tom Tom" Brown on drums—performs in two CD release shows for your listening and dancing pleasure. Catch their musical performance on Saturday, Sept. 13 at 9:30 p.m. at Hoover's in Atascadero, or enjoy an afternoon show on the lawn at Castoro Cellars in Paso Robles on Sunday, Sept. 14. You won't be yawning with Sleepy!
Seeing Red
PHOTO BY STEVE E. MILLER
WORLD CLASS SAX : Jazz legend Red Holloway performs with Hip Pocket at a benefit barbecue and dance for Barack Obama in Cambria on Saturday, Sept. 13, and with the Mike Raynor Group in Morro Bay on Friday, Sept. 12.
Saxophone great James "Red" Holloway is one of the busiest musicians on the international stage, having performed throughout his illustrious career with Dexter Gordon, Lionel Hampton, Jack McDuff, Billie Holiday, Ben Webster, Sonny Rollins, and Lester Young over the years.
Once in a while, though, the jazz legend stays home in SLO County, and that's when local music fans have the chance to wrap their ears around his stellar sax tones.
Red Holloway takes the stage with the Mike Raynor Group for a free performance at the Inn at Morro Bay on Friday, Sept. 12 at 7:30 p.m., just in time for the sunset over the estuary.
If you'd rather dance than sit, you can get some exercise and make a political statement at the same time at an Elect Obama barbecue and dance, when Red Holloway makes a special appearance with Hip Pocket in Cambria.
Hip Pocket is a project of local drummer Darrell Voss, playing rockin' funk, R&B, and just plain danceable grooves. Joining Voss for the Obama benefit will be high-energy Mighty Croon Dogs members "Guitar Wizard" Billy Foppiano, bassist Frankie Paredes, and saxophonist Scott Wright.
Red Holloway and Hip Pocket perform in support of Obama's campaign on Saturday, Sept. 13. The event is set for 3 to 9 p.m. at the home of the Brodys, 4485 Santa Rosa Creek Road in Cambria. Congresswoman Lois Capps and State Schools Superintendent Jack O'Connell are also scheduled to appear.
Tickets for the Elect Obama barbecue and dance cost $30 in advance, available at Cambria Farmers' Market and at barackobama.com, or $35 at the door. You can find out more at 927-3966. Rock your vote!
Smell the ocean air?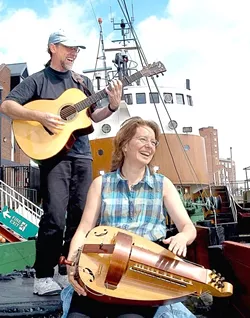 PHOTO COURTESY OF WILLIAM PINT AND FELICIA DALE
THE SEA IS CALLING : Nautical songs of all different flavors come to life when William Pint and Felicia Dale take the stage at a SLOFolks concert on Friday, Sept. 12 at Coalesce in Morro Bay.
Ever wondered why there are so many songs of the sea? Maybe because sailors know how to entertain themselves. Seattle-based duo William Pint and Felicia Dale are experts in maritime songs, interpreting the musical traditions of the British Isles, France, the West Indies, and the oceans that link our world.
Dirty Linen calls their energetic performance "unconventional but spine-tingling," and "unique and mesmerizing", especially on the hurdy-gurdy.
The duo's tight rhythms and strong harmonies evoke sea breezes and the smell of the sea, so what better place for them to perform than Morro Bay?
You can catch their SLOFolks-sponsored show at Coalesce Bookstore, 845 Main St. in Morro Bay, on Friday, Sept. 12, at 7 p.m. Tickets cost $15, available by calling 772-2880 or at the door. Find out more at www.slofolks.org.
Our very own Broadway star
A tribute to musical theater—Leona Evans: Back on Broadway—will be presented right here in SLO County at the Unity stage (1490 Southwood at the corner of Johnson Avenue), featuring some of the finest music ever performed on Broadway.
PHOTO COURTESY OF LEONA EVANS
SHE'S BACK : Leona Evans presents a tribute to musical theater with well-loved Broadway tunes on Saturday, Sept. 13 at Unity in SLO.
Leona Evans has more than 30 years of theatrical experience under her belt, including principal roles in the original Broadway productions of Fiddler on the Roof and How to Succeed in Business Without Really Trying. She performed in national tours of quite a few musicals before becoming minister at Unity in SLO.
Unity's musical director, pianist Stephen Tosh, will accompany Evans. The show also features Evans' actor-musician son, 12-year-old Matthew J. Evans.
Leona Evans performs on Saturday, Sept. 13, with a 6:30 p.m. Champagne reception preceding the 7 p.m. show. Tickets cost $25, including the reception, available at the door or in advance from Unity of San Luis Obispo, 543-4250, Ext. 12.
Singin' up a storm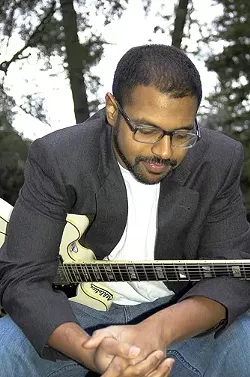 PHOTO COURTESY OF BHI BHIMAN
MUSICIANS IN RESIDENCE : Visiting singer-songwriters Bhi Bhiman and Richard Julian will perform their lyrical masterpieces at the Clubhouse in SLO on Sunday, Sept. 14, and the following two Sundays as well.
The Clubhouse is making a name for itself as a fine venue for singer-songwriters, with local and visiting musicians alike clamoring to play there. This month it's Richard Julian and Bhi Bhiman, teaming up for a performance on Sunday, Sept. 14.
Julian is a member of The Little Willies with Norah Jones, and has just released his fifth solo album on Blue Note's Manhattan Records. Regarded by critics as his best offering so far, Sunday Morning in Saturday's Shoes has earned Julian praise for his dry lyrical wit and amalgamation of country-folk and jazz.
Bhiman, known for his clever lyrics and soaring vocals, is a rising force on the Bay Area music scene. His debut recording, The Cookbook, has been lauded for its comedic social commentary and bittersweet stories of anguish and heartbreak.
Richard Julian and Bhi Bhiman are the musicians-in-residence all month, and will also play at the Clubhouse (740 W. Foothill Blvd. in SLO) on Sept. 21 and 28.
Oh say, can you see?
If your first name is Genevieve, and you're unique and unforgettable, who needs a last name?
Indie singer-songwriter Genevieve is coming to San Luis Obispo to promote her new CD. Described in a release as "funky Carole King meets country/folk storyteller with a Jersey girl attitude," Genevieve has toured the country by herself three times and is writing a book about her life on the road.
She also spent a summer singing the National Anthem at baseball games around the U.S., and has performed at the Kennedy Center and even at the White House.
Catch Genevieve at the Clubhouse on Tuesday, Sept. 16, or at Linnaea's Cafe on Wednesday, Sept. 17.
Out of this world
The '90s saw the birth of a few new planets right here in our own solar system: Digable Planets, to be exact. The hip-hop trio took their memorable moniker from the notion that every person is a planet, and added their own characteristic spin.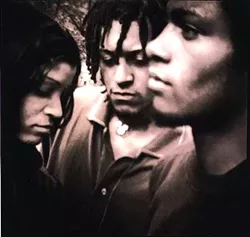 PHOTO COURTESY OF DIGABLE PLANETS
IN ORBIT : Digable Planets will get the dance floor spinning at Downtown Brew in SLO next Thursday, Sept. 18.
The threesome incorporates elements of funk, samba, jazz, and psychedelia into their street-savvy hip-hop. Their debut recording, Reachin' (A New Refutation of Time and Space), was described by Rolling Stone magazine as "artistically sound, unabashedly conscious, and downright cool." The album's biggest hit, the Grammy-winning single "Rebirth of Slick (Cool Like Dat)," attracted legions of fans across a variety of radio formats and in clubs around the country.
Save the date and whirl in your own orbit with Digable Planets on the Downtown Brew dance floor in SLO on Thursday, Sept. 18 at 8 p.m. This 21-and-older show also features Venemous Voices and Malik Miko Thorne spinning. Dig it!
Rock for the arts
Travis Larson Band is celebrating their tenth anniversary by shooting a live DVD—at the beautiful Clark Center, no less—and helping out younger musicians at the same time.
Travis and his band have certainly made a name for themselves over the last decade, with their rippin' rock that just keeps getting better and better.
Mark your calendar for Thursday, Sept. 18, when Travis Larson Band performs at Rock for the Arts, a benefit to provide educational scholarships for aspiring high school performers in the South County. Rock for the Arts started in 2001 at Arroyo Grande High School and has raised thousands of dollars in scholarship money for young performers.
The show includes a raffle (tickets cost $1), with $2,000 worth of prizes supplied by sponsors, including an electric guitar, a wireless system, lots of effects pedals, and drumming accessories.
Tickets for the 7:30 p.m. show (doors open at 7 p.m.) cost $10, or $5 for students, and are available at the door at the Clark Center for the Performing Arts, 487 Fair Oaks Ave. in Arroyo Grande, or at www.travislarsonband.com.
More music
Amsterdam-based singer-songwriter Benjamin Winter revists SLO Town on Friday, Sept. 12 at Linnaea's. His soulful indie ballads have gained a passionate grassroots following throughout the U.S. and Europe, according to a release. He's opened for Glen Phillips of Toad the Wet Sprocket fame, among others, and he's played to enthusiastic crowds at Downtown Brew and Cal Poly on past visits.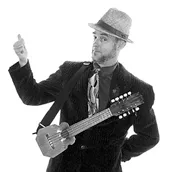 PHOTO COURTESY OF DEVIN WALLACE
UP AGAINST THE WALL : Award-winning playwright and new SLO resident Devin Wallace writes songs dealing with subjects like the U.S. border fence, which he'll perform with a trio at Linnaea's on Sunday, Sept. 14.
Fighting Chance and Klockwyze take the stage at Mr. Rick's in Avila Beach on Friday, Sept. 12, for a free performance. They're joined by Domestic Fury at Mongo's in Grover Beach on Saturday, Sept. 13, when the cover is five bucks at the door.
Fresh from Canada's Edmonton Labatt's Blues Fest, San Diego-based roots blues duo Nathan James and Ben Hernandez are stopping in Paso Robles to do a show. Get ready for a unique array of instruments including resonator guitar, foot percussion, spoons, jug, washboard, washtub bass, and more. These guys won last year's international blues challenge in Memphis, so you won't want to miss your chance to check out Nathan James and Ben Hernandez at Monteleone's (1331 Vendels Circle) on Friday, Sept. 12.
Blending traditional folk, Americana, and ragtime elements, Aaron Bowen and Derek Evans are coming to town to play at Linnaea's on Saturday, Sept. 13 at 8 p.m. Bowen describes his music as "a rainy Seattle morning, a blistering midday in western Texas, or a lazy Parisian spring afternoon." Evans' songwriting expresses, as he puts it, "a wit as dry as the martini he'd like you to buy him." Hopefully he'll settle for a cup of Linnaea's great coffee or tea.
If you wanted to put together an all-star jazz band of local musicians, you'd definitely want to include innovative and warm-hearted vocalist Inga Swearingen. She joins the Real Time Jazz All Stars—guitarist Gary Drysdale, bassist Fred Atwood, pianist Paul Rinzler, saxophonist Karl Welz, and drummer Darrell Voss—for the annual jazz concert presented by St. Benedict's Episcopal Church in Los Osos (Clark Valley and Los Osos Valley roads). Tickets for the 3 p.m. Sunday, Sept. 14 show cost $35, available at the door or by calling 528-5194.
Award-winning playwright Devin Wallace now calls SLO home, and he'll perform at Linnaea's on Sunday, Sept. 14, at 8 p.m. Listen up for his most recent musical composition, "The Great American Wall," about the U.S. government's ongoing construction project on the border with Mexico: "Yes, and the tourists will come spend their money/They'll come springtime, summer, and fall/Saying, 'Why, it's just like Berlin in the old days/Here at the Great American Wall!'" Saxophonist Greg McInnes and percussionist Steve Sumii will play with him, and singer-songwriter Emily Wryn from Lompoc will begin the evening's free entertainment at 7 p.m.
So many great live shows! Local music fans are lucky to live here.
---
New Times contributor Kathy Johnston would rather dance than sleep. Take her for a spin at kjohnston@newtimesslo.com.
Editor's note: Glen Starkey will return from vacation in time for the Sept. 25 issue. Malik Miko Thorne of Boo Boo Records, who regularly contributes CD reviews to this column, also is on vacation. His reviews will resume next week.