---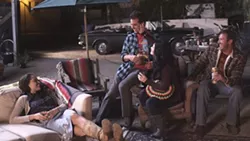 PHOTO COURTESY OF ASPECT STUDIOS
STAR MUSIC! : Got a song that would go perfectly with this scene? Submit it to Aspect Studios and maybe you'll be on the More Than Stars soundtrack!
My buddy David Vienna, who used to be
New Times'
arts editor, has been in L.A. for many years writing screenplays (some even "in the pipeline!"), reality TV show scripts (yes, they have scripts … sorry to burst your bubble), and other weird stuff, like comic books. He squeezes that in between squeezing his wife Larissa who recently squeezed out their twins Boone and Wyatt, who have kept their parents extremely tired by squeezing out stuff in their diapers and crying all night as their teeth try to squeeze out of their gums.
Anywho, David decided to take things into his own hands recently and teamed up with local film company Aspect Studios and director David Thayer to film the feature-length movie More Than Stars, which is "loosely based" on the lives of David and three of his douchebag friends, one of whom is yours truly, but the other two are Steve White and Keith Bond. Apparently the film makes us look like irresponsible drunken idiots, so it's rife with cinéma vérité-style realism, which means my mom can't find out about this film, and since it's an indie with no distribution, she probably won't. But I digress.
David and the other David and Aspect Studios are doing the film on a tight budget, which they went over the first time they ordered the cast and crew pizza, but dammit, it's a labor of love, and people believe in the project and want to be a part of it.
If you're a local band or recording artist, now it's your chance to work
for free!
The plan is to solicit local acts to submit music for possible inclusion in the film, so I talked to Vienna about it.
New Times Do you have any preconceived notion of what kind of music you're looking for? Surely there must be certain scenes where you think you need a rock song or a ballad or something.
David Vienna I have an idea what kind of music I'm looking for, but I'm ready and willing to throw that out the window if something better reveals itself. Ultimately, I want what's best for the film. Right now, there's only one scene for which I have a song picked out. But, as music comes in and the film edit comes together, that could change. I've already seen some rough edits of scenes that play very differently than I wrote them. It's cool to see how they evolved, but that means the musical mood I may have had in mind when writing it might not fit the scene anymore.
New Times Will there be any "soundtrack" music, or will the entire film be filled with songs?
David Vienna The film centers on a group of friends, all of whom end up having to face personal challenges and responsibilities. With the script, I tried to capture what my generation was going through the same way films like The Big Chill and more recently Garden State did. Those films featured fantastic music, and I'd like to do the same. As Music Supervisor, I'd like to put together songs that not only help tell the film's story, but also tell a story on their own. If we get an orchestral piece that works, I'll use it, but we're not looking to score the whole film.
New Times Do you plan on releasing a soundtrack album?
David Vienna At this point, no. But, who knows?
New Times Where will the film be shown?
David Vienna Like with any indie film, we hope to show it at whatever festivals will take it. I'm sure there will at least be a screening somewhere in SLO. The wild cards are actors Susie Castillo and Aaron Metchik. Susie is co-host of NBC's new show School Pride and Aaron recently wrote and directed a very funny film called 10 Years Later. Both of those could end up getting More Than Stars some attention.
New Times What will the bands get out of it?
David Vienna The goal with the film was to simply make a movie, something we could point to and say, "We got together as a community and made this." Of course, we'd love to do the festival circuit or get a distribution offer, but right now all I can promise is that the participating bands will get the same exposure the filmmakers and
cast get.
There you have it, bands. Here's what you need to know: Any style, any genre will be considered. If your song is selected, you'll be asked to sign an agreement that allows its use in the film, but you'll retain the copyright. If submitting digital tracks, they must be AIFF format. MP3s are low quality and can't be used for film. You must own the copyright to the music. And no covers, please; only originals. If sending an entire album, indicate which songs you are submitting. You must be willing to do this for the exposure only. Deadline for submissions is Friday, Nov. 26.
Send your music on CD to the following: David Vienna c/o Aspect Studios, 719 Pismo St., SLO, CA 93401. Don't forget to include your contact info.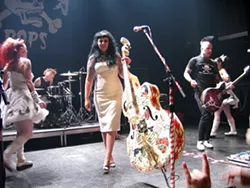 PHOTO COURTESY OF THE HORRORPOPS
THE HORROR, THE HORROR! : If you're looking for a little Halloween warm-up, then get ready to grave dig the scary sounds of the HorrorPops at SLO Brew on Oct. 21.
Hurry to SLO Brew
If you're looking for a little Halloween warm-up, get ready to grave dig the scary sounds of the HorrorPops at SLO Brew on Thursday, Oct. 21 (8:30 p.m.; all ages; $15 presale or $16 at the door). The psychobilly and punk act is fronted by the deadly sexy double bass player Patricia Day, and they've just released their third Hellcat Records album, Kiss Kiss Kill Kill, which rips through genres like a hot knife through a screaming co-ed: new wave, punk, surf, ska, rockabilly, metal, goth—you want it, they got it.
Known for their breezy California jammin' sound and relentless national touring schedule, local act Still Time can now add "do-gooders" to their list of achievements. The band's been working with Meals for Moms, a SLO-based community collaborative, which partners with local organizations and businesses to provide dinners for low-income, single-mother families. They're also hot off a national tour, recently played the West Beach Festival, and have been hiding out in a guesthouse in the Santa Cruz Mountains writing songs for their third album. They also recently added saxophonist Ryan Mosse to their line-up, which, if I count correctly, is now seven strong. See them with Mosse on Friday, Oct. 22 (7:30 p.m.; 21-and-older; $12 presale or $15 at the door). Central Currency will open the show.
Dig out your tattered Led Zeppelin T-shirts and head down to SLO Brew on Saturday, Oct. 23, when Led Zepagain returns to the club for another tribute concert (8 p.m.; 21-and-older; $13 presale or $15 at the door). Their show returns you to the band's 1977 heyday, which was tragically also their last U.S. performances after the tour was cancelled due to the death of Robert Plant's 5-year-old son. Led Zepagain re-creates these final shows in spectacular detail, down to the complete set list, equipment, and costumes. Remember, the cell phone is the new lighter.
Politics, art, and music
Subversive political artist Mark Bryan is up to his old tricks, lampooning the right with a caricature painting inspired by Alice in Wonderland's Mad Hatter Tea Party. The first time around took a swipe at Bush and co., but this time the OMG (Original Mama Grizzly) from Alaska and her weepy, cranky, demagoguing friends at Fox News get the Bryan slap-down. (See the painting online at artofmarkbryan.com.)
You can view the original painting (its world premiere!), listen to some music, and raise funds for some local progressive groups on Wednesday, Oct. 27, at 7 p.m. in the Steynberg Gallery.
"Are you Mad as a Hatter? Are you filled with fear and loathing about the coming election? Here's your chance to change some of that bad mojo into good and have some fun, too," Bryan said.
"All citizens are invited to come down the rabbit hole and participate in a night of playful political high jinks. Wear your best Mad Hatter hat or whatever fits your mood (it's almost Halloween). Local blues legends Valerie Johnson, Al B. Blue, and the Mad Hatters (Cliff Stepp and Joey Five and Dimes) will be on hand to lay down some Tea Party blues. A contest will be held for the best 'Mad Hat.' Come and try to pin Karl Marx on the Glenn Beck blackboard. You could win a prize! Also a raffle will be held for a Giclée print of 'The Mad Tea Party, Part D'uh!'"
Entry is a $10 donation, which includes a "tea" beverage, hopped up Kool-Aid, cake, and other snacks.
More music …
On Friday, Oct. 22, the Steynberg Gallery hosts Nashville artist Tim Charron (8 p.m.; all ages; $10 at the door). Charron—an international touring artist specializing in Germany, Costa Rica, Spain, and the USA—fuses singer-songwriter roots rock with pop sensibility.
The Yew Tree, in association with Painted Sky Studio, presents Kim Robertson and Laurie Rasmussen on Friday, Oct. 22 (8 p.m.; all ages; $18 presale at The Cambria Business Center and The Yew Tree). The internationally renowned harpists and vocalist will "combine their talents in a special concert featuring the powerfully evocative Celtic harp and song," according to promo materials. "Performing duets and solo renditions of traditional Celtic, American, ethnic, and original compositions on a variety of harps, Kim and Laurie express a fresh, innovative style with these traditional and legendary instruments. Their eclectic concerts include songs, humor, and a few surprises."
Cal Poly's 2010 Parents Weekend will kick off with a musical extravaganza at 8 p.m. on Friday, Oct. 22, in Harman Hall of the Performing Arts Center. The public is invited to see all Cal Poly's major performing ensembles, including the Cal Poly Symphony, Cal Poly Choirs (PolyPhonics and The University Singers), University Jazz Band I, Arab Music Ensemble, and the Cal Poly Wind Ensemble. The event marks the first night for Andrew McMahan, Cal Poly's new director of bands. Music Department Chair W. Terrence Spiller will emcee. Tickets cost $15 and $13 for the public, $14 and $12 for senior citizens, and $8 students. Call 756-2787 to reserve yours.
The Elkhorn in San Miguel hosts another night of revved up country music from Big Jugs, who sing "songs about gettin' shitty and big ol' titties." Check 'em out on Friday, Oct. 22.
PHOTO COURTESY OF BRIAN GORE AND SCHEHERAZADE STONE
PERFECT PAIRING : Acoustic self-taught guitar wiz Brian Gore and stunning vocalist Scheherazade Stone—known together as The Sing Strings—will present an evening of folk, jazz, and classical music at Coalesce on Oct. 23.
Acoustic self-taught guitar wiz Brian Gore and stunning vocalist Scheherazade Stone—known together at
The Sing Strings
—will present an evening of folk, jazz and classical music during the next SLOfolks concert on
Saturday, Oct. 23
(7 p.m.; all ages; $20; 772-2880). Gore, called a "poet of the guitar," is a musical romantic who draws inspiration from literature and philosophy. He hooked up with Stone after following her jazz career in the Bay Area, finally overcoming his fear, and sending her a copy of his composition, "Zen Scream," which she immediately loved. His eccentric and stirring playing mixed with her smoky and emotive voice proved a winning combination.
Sassy all-female Celtic trio Banshee in the Kitchen returns to town with a Steynberg Gallery show on Saturday, Oct. 23 (8 p.m.; all ages; $15 at the door).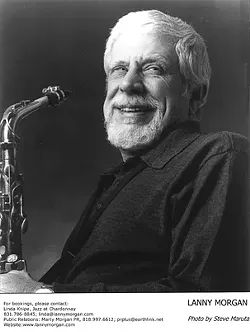 PHOTO COURTESY OF LANNY MORGAN
LEGEND : Alto sax icon Lanny Morgan returns to the Hamlet for the next Famous Jazz Artist Series concert on Oct. 24.
Alto sax icon
Lanny Morgan
returns to the Hamlet for the next Famous Jazz Artist Series concert on
Sunday, Oct. 24
(4 and 7:15 p.m.; all ages; $15 and $12 respectively, or $20 for both; 927-0567). Morgan led his own groups, but also played with Maynard Ferguson, Charlie Barnet, Bob Florence, and Bill Holman.
The Lanny Morgan Sextet
, his most recent recording, was nominated for a Grammy. Dylan Johnson (bass) and Darrell Voss (drums) will back him up, and series co-producers Charlie and Sandi Shoemake (piano/vibraphone and vocals) will also appear.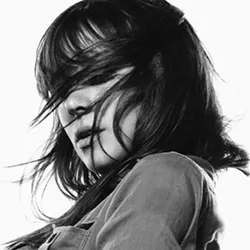 PHOTO BY MARK SEGAL
SHE'S GOT POWER! : Cat Power brings her mesmerizing, minimalist sounds to Big Sur's Henry Miller Library on Oct. 24.
I saw
Cat Power
a few years back at the Grange Hall, of all places, and she was mesmerizing, so just imagine how incredible she'll be in the trees and under the stars of Big Sur's Henry Miller Library on
Sunday, Oct. 24
(6 p.m.; all ages; tickets at henrymiller.org). Her minimalist orchestration and breathy vocals will feel like a prayer.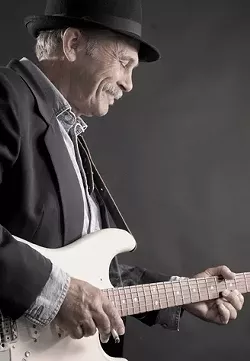 PHOTO COURTESY OF LOUIS "COWBOY" JOHNSON
THE REAL DEAL : Steve Key's Songwriters at Play showcases will give you a couple chances to see Austin-based performers Louis "Cowboy" Johnson (pictured) and Amanda Pearcy when they play Oct. 25 at Rose's Landing and Oct. 27 at Spyglass Inn.
Steve Key's Songwriters at Play showcases will give you a couple of chances to see Austin-based performers
Louis "Cowboy" Johnson
and Amanda Pearcy when they play
Monday, Oct. 25
, at Rose's Landing in Morro Bay, and
Wednesday, Oct. 27
, at Spyglass Inn in Shell Beach (6:30 p.m.; all ages; free). Dolly Parton and Emmylou Harris are a couple of regularly drawn comparisons to Pearcy, and bull rider Johnson is a real cowboy from the Black Hills of South Dakota, where he also worked the mines. Both shows feature up to eight additional performers doing three-song sets.
PHOTO COURTESY OF JETTY SWART
LIFE IS A CABARET : Jetty Swart will bring French-style cabaret to Steynberg Gallery on Oct. 26 and The Porch on Thursday, Oct. 28.
Steve Key's Songwriters at Play showcase at the Steynberg Gallery has a real treat in store this week. On
Tuesday, Oct. 26
,
Jetty Swart
will bring French-style cabaret to the venue (6:30 p.m.; all ages; $5 at the door). Hear French songs on accordion from this hilarious performer, whose first name is pronounced "Yeti." She sings most of her songs in French, and calls her music "a punk-style gypsy party where Nina Hagen, Edith Piaf, and Kurt Weill meet." She'll also appear at The Porch on
Thursday, Oct. 28
(6:30 p.m.; all ages; free). Both shows feature up to eight additional performers doing three-song sets.
You'll also want to mark your calendar for Bonnie "Prince" Billy, who's returning to the area for a show on Thursday, Oct. 28, at The Asistencia at the Santa Margarita Ranch (7 p.m.; all ages; tickets at bonnieprincebillymissionranchslo.eventbrite.com). Billy, aka Will Oldham, first came to my attention when he starred as the child preacher in John Sayles' terrific 1987 film Matewan, about attempts to unionize coal miners. He's continued to work in great indie films like Wendy and Lucy (2008) and Old Joy (2006), but he's also developed into a very fine songwriter (Johnny Cash covered his song "I See a Darkness").

Keep up with Glen Starkey via twitter at twitter.com/glenstarkey, friend him at Myspace.com/glenstarkey, or contact him at gstarkey@newtimesslo.com.