It's not often that San Luis Obispo County's top prosecutor finds his own name on a "wanted" poster, but that's exactly what happened to District Attorney Dan Dow during a May 9 debate in SLO.
Individuals who went to the debate between Dow and his opponent in the June primary, Judge Mike Cummins, came out to find flyers on their cars offering a $250,000 reward for "evidence leading to the arrest and conviction" of Dow as well as 11 current or former Atascadero city employees and elected officials.
The poster was created and distributed by Rick Holliday, a man who's been engaged in a legal feud with the city and has also been charged with five felonies and three misdemeanors by the SLO County District Attorney's Office, according to court records.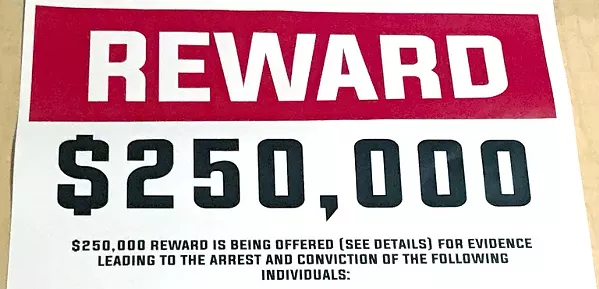 Photo Courtesy Of Confidential Source
STRANGE POSTER This flyer was found on vehicles outside a May 9 debate for SLO County assessor and district attorney races. The flyer included the names of incumbent DA Dan Dow and current and former Atascadero City officials.
Emails obtained by New Times showed that Atascadero deputy city manager said she reported the flyer to attorneys handling both civil and criminal cases involving Holliday.
According to SLO County court documents, the DA's office filed multiple felony charges, including grand theft, against Holliday in April. Another complaint also charged him with several misdemeanors, including contracting without a license.
SLO County Assistant District Attorney Eric Dobroth said the charges were unrelated to the flyers and added that both Holliday's cases were scheduled to go to trial June 4.
"As for the poster[s], we are aware of them and although they do not appear to be a criminally actionable threat at this time, we are taking cautions to assure the safety of our staff and the public," Dobroth wrote in an email response to questions from New Times.
Speaking with New Times, Holliday confirmed that he created the flyers, and said he fully intends to pay the reward money. Holliday said he was currently engaged in a lawsuit against the city of Atascadero, and that he had a temporary restraining order filed against him regarding contact with the city and its employees. He also said that he was wrongfully arrested for crimes he did not commit, which resulted in the criminal charges against him. Holliday said the flyers were an attempt to "rein in" corrupt government officials but stressed that they did not represent any malice or threat.
"In no way is this a threat to any individual," he said. "This is meant to bring transparency to the civil process."
Holliday said he was not employed or paid by the Cummins campaign. Δ

Correction: An earlier version of this article misidentified where the May 9 debate took place. The debate was held in SLO, not Atascadero.