As Americans, we like stuff, but we like stuff more when it's somewhere else. In many ways, NIMBYism just may be one of our most significant public policy motivators.
So if you felt like there were a lot of issues in 2014 that drew in the NIMBYs, you were right. The past 12 months saw such not-in-our-backyard-inspiring issues as oil-carrying train cars, a nuclear power plant in a seismically active coastal zone, proposed oil-drilling operations near the Huasna Valley … again, the pitched battle between hikers and an obstinate landowner, lakeside residents watching their lakes turn to muck, and a discussion over McDonald's that inspired more fights than differing conspiracy theories about the podcast Serial.
Was it ugly at times? Sure. But we were proud to have played a part in it. 'Murica!
January
BIG BLAZE Just as 2013 came to a close—and was officially declared the driest year on record in San Luis Obispo County—a wildfire ripped through Big Sur and the Los Padres National Forest, destroying 34 homes and burning 917 total acres. Unfortunately, the manifold consequences of a severe statewide drought would only multiply.
SLO-LAR The brand new Topaz Solar Farm on the Carrizo Plain harnessed its first wave of electricity, joining the California Valley Solar Ranch and becoming SLO County's second solar plant. Congresswoman Lois Capps (D-Santa Barbara) visited both sites on Jan. 6, touting them as sterling examples of the potential for domestic renewable energy.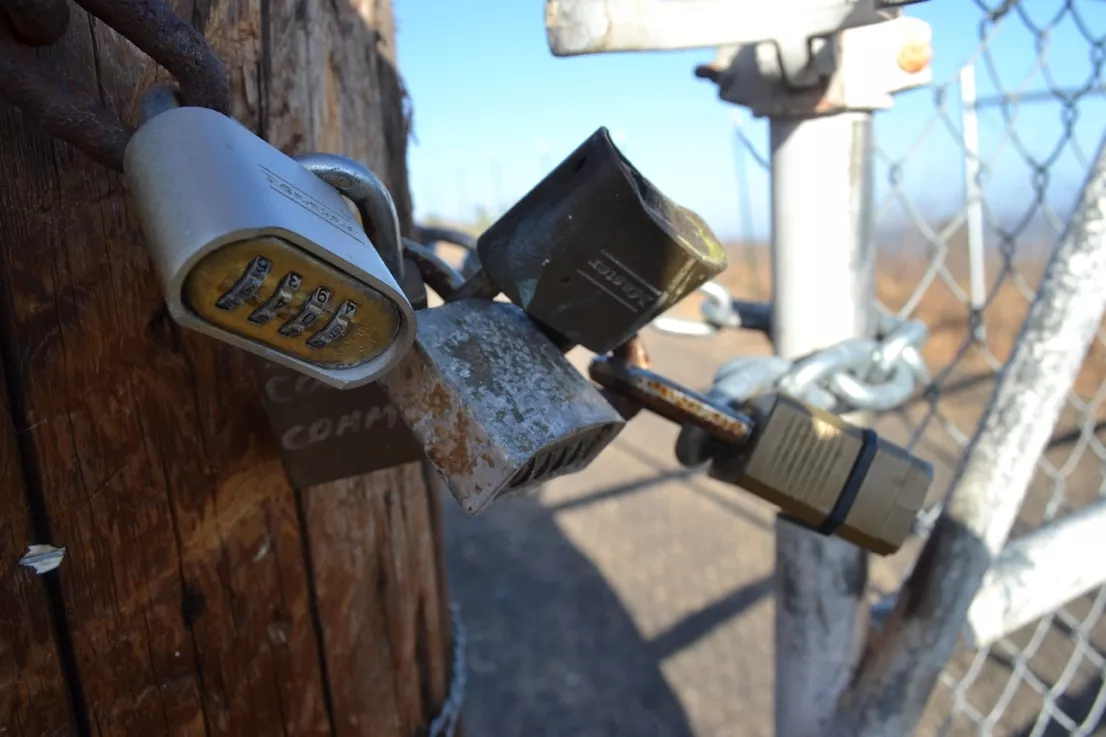 FILE PHOTO BY RHYS HEYDEN
KEEP OUT: Defying multiple orders from the California Coastal Commission to remove unpermitted fences and signs, Ontario Ridge landowner Rob McCarthy continually implemented new ways to keep hikers from gaining access to the popular trail.
FIGHT ON THE RIDGE A bitter land-use battle on Ontario Ridge—between hikers, landowners, and various governmental agencies—was beginning to take shape in January. As landowner Rob McCarthy started to fence off public hiking trails with barbed wire, hikers began to fight back with wire cutters and letters to the state Coastal Commission accusing McCarthy of NIMBYism.
BURIED IN LETTERS As the public comment period for the controversial Phillips 66 rail spur project in Nipomo came to a close on Jan. 27, county planning staff received hundreds of comments from concerned citizens and organizations. The project was rolling ahead as of January, but this dissent would foreshadow delays to come.
February
TRAGIC END February brought a conclusion to the life of Arthur Clay Watkins, 56, an Arroyo Grande therapist, former Rotary Club president, and father of two. In a bizarre and calamitous three-month span, Watkins allegedly robbed a Santa Maria bank, was charged with seven felonies, spent more than a month in jail, and, on Feb. 2, drove his motor home 600 feet off a cliff near Ragged Point on Highway 1, perishing in the crash.
FILE PHOTO BY STEVE E. MILLER
WATER, WATER EVERYWHERE: It was a tough water year throughout the state, particularly in Morro Bay, which relies almost exclusively on dwindling supplies of water from the state. Other supplies, like the Ashurst well [pictured] are limited under pumping restrictions due to nitrate contamination.
WATER WOES As the statewide drought intensified, delivery levels for recipients of the State Water Project dropped to zero percent. This was dire news for the 11 SLO County municipalities that receive state water, and especially troubling for Morro Bay, a city almost entirely dependent on the source. Up on the North Coast, mandatory water rationing measures kicked into action in water-starved Cambria, including the closure of all public restrooms on Feb. 3.
CUESTA TURNAROUND Two years after inadequate technological and financial planning imperiled its accreditation, Cuesta College President/Superintendent Gil Stork announced on Feb. 10 that the college's accreditation had been fully reaffirmed.
FILE IMAGE VIA CRAIGSLIST AND BRIAN LOPEZ MARTINEZ
SETTLED: Brian Lopez Martinez pleaded no contest to one count of interfering with an officer, but received a $20,000 settlement this year from the city of Morro Bay after a 2012 incident in which he was pepper sprayed and Tasered in a Morro Bay bar.
TASED AND CONFUSED What started as a late-night scuffle between a bar patron and Morro Bay police officers ended with a no contest plea and a settlement. Almost two years after being repeatedly Tasered by officers following a confrontation at the Fuel Dock Saloon in Morro Bay, Brian Lopez Martinez received a one-time $20,000 settlement from the city.
March
CAL COAST BLUES After a protracted legal battle, Karen Velie—former New Times writer and co-founder of the controversial CalCoastNews website—was found guilty of driving under the influence on March 25. Velie claimed she'd been arrested arbitrarily because of who she was, but a jury of her peers unanimously disagreed with that notion.
REFINEMENT NEEDED Though some locals derided opposition to the Phillips 66 rail spur project in Nipomo as NIMBYism, the flood of public comment criticizing the project caused authorities to decide to recirculate the project's environmental impact report on March 24, delaying the review process by almost a year. Initially scheduled for a spring 2014 Planning Commission hearing, the project is now slated for a hearing on Feb. 5, 2015.
FILE PHOTO
EXIT, PURSUED BY TACKER: After five months of substandard job performance and multiple harangues from frequent Oceano Community Services District critic Julie Tacker, embattled OCSD General Manager Lonnie Curtis was unanimously fired by the OCSD Board of Directors on March 14.
PAINFUL EXIT The tumultuous five-month tenure of Oceano Community Services District General Manager Lonnie Curtis came to a screeching halt on March 14, when the OCSD Board of Directors unanimously canned him. On his way out, Curtis flipped the bird and blamed frequent critic Julie Tacker for his firing, labeling her a "hemorrhoid."
FILE PHOTO BY HENRY BRUINGTON
SLICK SITUATION: Though a veteran of the oil industry, Dero Parker of PEOCO encountered fierce resistance from residents near the Huasna Valley, who were fresh off a battle against another proposed oil-drilling project in the area.
WELL, WELL, WELL Bakersfield-based oil man Dero Parker's plan to drill for oil in the Huasna Valley started drumming up some controversy in March. Locals protested against possible oil drilling in their backyards, and critics compared it to a hotly contested (and ultimately rejected) project by Excelaron in the same area a few years back. Parker's project is currently under review.
FILE PHOTO BY AMY ASMAN
ICE TOWN: Santa Maria became a hotbed of public outcry when the City Council approved an Immigration and Customs Enforcement (ICE) facility in town. A March 27 meeting drew record numbers of public speakers, including embattled Vandenberg Air Force Base protestor Dennis Apel.
COLD AS ICE The biggest City Council meeting of the year on the Central Coast occurred March 27 in Santa Maria. More than 1,200 locals showed up to protest plans to build an Immigrations and Customs Enforcement (ICE) facility in Santa Maria, but the council approved the plans anyway on a 3-2 vote.
April
WET (FIRE) BLANKET Despite months of promotion and advocacy, the Five Cities Fire Authority (FCFA) saw its proposal for a $1 million-per-year benefit assessment district go down in flames on April 18. A whopping 59.6 percent of the ballots sent out to property owners in Grover Beach, Oceano, and Arroyo Grande opposed the assessment district, with only 40.4 percent in support. As a result, six FCFA employees were axed a few months later.
BURGER BATTLE After a nearly five-hour hearing featuring a large number of locals who were opposed to having a burger giant in their backyard, the SLO County Board of Supervisors voted on April 8 to approve construction of a drive-thru McDonald's restaurant in Los Osos. This will become the 13th Mickey D's in SLO County.
BUMPER CROP(S) The 2013 Annual Crop Report for SLO County came out on April 2, and total gross crop values reached record-breaking levels. Curious about the county's most-valued crops in 2013? Wine grapes led the charge, followed by strawberries, and then cattle/calves.
FILE PHOTO
LITTLE BUG, BIG PROBLEMS: Citrus trees and agriculturalists alike feared the arrival of the Asian citrus psyllid, known for carrying a citrus-destroying disease, when the little buggers turned up in Arroyo Grande.
BUGGIN' OUT The Asian citrus psyllid, a small bug that can spread Huanglongbing (or citrus greening disease) and devastate citrus trees was discovered for the first time in SLO County, putting the local citrus industry on high alert starting in April. Nobody wants these guys in their backyards.
May
JUSTICE SERVED? We decided to take a look at cases of sexual assault in SLO County, and found that very few ever end in an arrest, let alone a successful prosecution.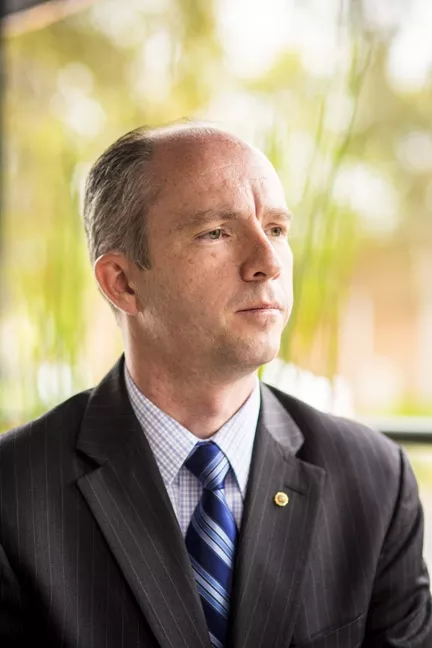 FILE PHOTO BY HENRY BRUINGTON
DA MAN: After a heated political battle for the top law enforcement job in SLO County, Dan Dow [pictured] beat out competitor Tim Covello in the election for District Attorney. Covello has since moved to take a new job in Santa Barbara County.
GETTIN' DIRTY With a heated race for the SLO County District Attorney's seat growing increasingly nasty, prosecutors within the office spoke out against what they saw as a misleading campaign to smear Dan Dow.
HONEY BOOM BOOM One man ended up in the hospital and another in jail after a garage fire in San Luis Obispo was sparked by a suspected hash oil manufacturing operation. After the fire, we set out to learn more about concentrated cannabis, which is also known as dabs, honey oil, wax, shatter, bubble hash, or extract. Turns out more people are making it, not a lot of people are doing so safely, and the law around the stuff is as sticky as the dabs themselves.
MO' MONEY, NO WATA' As the final pieces of the Paso Robles Groundwater Basin worked through the Legislature, big money began to drip into Katcho Achadjian's campaign coffers. He was the key sponsor of AB 2453.
ADIOS Members of the Latino Outreach Council began to bail from the organization, which came under fire from the California Department of Justice for failing to file its necessary charity registration papers since 2004.
REEFER MADNESS Basing a case primarily on one local medical marijuana operation, SLO city officials entertained a proposal to ban outdoor marijuana cultivation and processing, limit indoor activities, and explicitly prohibit medical marijuana delivery services. But a show of community force preceded a 4-1 City Council decision to table the discussion.
CASE CLOSED The Sheriff's Department concluded its investigation into the circumstances surrounding the death of 25 sheep after a February storm, and found no wrongdoing.
NEW GIG Paavo Ogren left his job as county director of Public Works to pursue a new job as general manager of the Oceano Community Services District, becoming the ninth general manager to serve the district since 2007.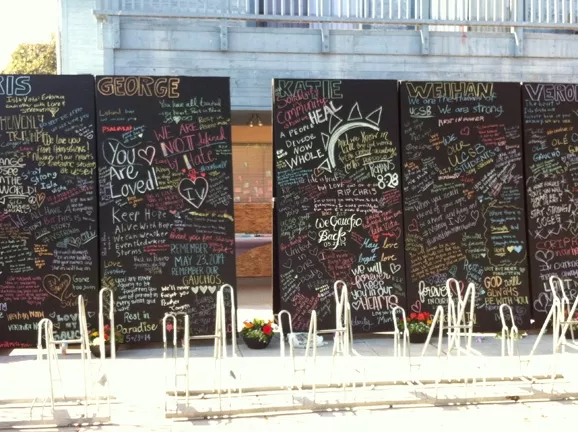 FILE PHOTO BY CHLOE RUCKER
IN MOURNING: Members of the UC Santa Barbara and Isla Vista communities held numerous events to mourn the deaths of six UCSB students killed on May 23.
IN THE WAKE OF TRAGEDY People throughout the Central Coast, the state, and the country struggled to understand why a 22-year-old in Isla Vista took the lives of six people.
June
DEATH TOLL An inmate who died in the San Luis Obispo County Jail became the third such person to die while in custody since the start of the year.
NEVER EVER EVER? County supervisors denied a permit for the two-day summer funfest, Forever Never Land, limiting the event from a planned 10,000-person capacity to a cap of 3,000 instead. We later found out that there are serious flaws with SLO County's events ordinance, and everybody knows about them.
TRAFFIC STOP A 16-year-old girl was arrested as part of a San Luis Obispo prostitution sting that netted eight prostitution-related arrests, and one man who was arrested on suspicion of felony human trafficking and pimping a minor.
WHO DUNNIT? Oceano resident James E. Randall was arrested and charged with nine felonies stemming from a string of alleged Idaho burglaries. He was also listed as a suspect in an Arroyo Grande burglary. An investigation revealed he may or may not have been a delivery driver for the newspaper distribution company CIPS Marketing Group, which delivers papers for The Tribune.
DORM DOOM? Fed up with Cal Poly's plans, residents surrounding the school sued to prevent a planned 1,475-student dorm.
July
IN DEBT The debt you don't pay can and will haunt you, as hundreds of locals have learned after receiving court summons from third-party debt collectors. As it turns out, most people never protest their cases, and they almost always lose.
MAGIC BULLET Someone shot something through the window of then County District 4 Supervisor Caren Ray's Arroyo Grande home. The perpetrator and motive remained unknown, but amateur ballistics experts throughout the county weighed in with theories.
FILE PHOTO BY HENRY BRUINGTON
NOT SO PRETTY ANYMORE : Signs of California's drought were shockingly apparent at such areas as Laguna Lake in SLO, where water levels receded revealing a mucky lake bottom.
LAKE FLACCID Neighbors of San Luis Obispo's Laguna Lake floated ideas to dredge the lakebed, which had become a tad gross, dry, and depressing in recent years.
August
GET WET Before the report was released publicly, New Times tried to find out what Dr. Robert Sewell said in 2003 about tsunami hazards at Diablo Canyon and why the Nuclear Regulatory Commission chose to keep his report out of the public sphere for more than a decade.
… OR GET OFF THE POT First they tried (unsuccessfully) to ban mobile medical marijuana dispensaries; then the Paso Robles City Council reversed its stance and voted 3-2 to begin accepting business licenses for services within the city.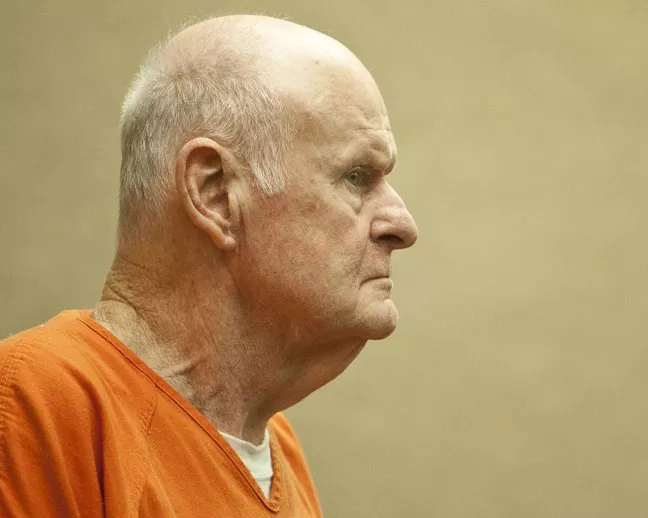 FILE PHOTO BY STEVE E. MILLER
NO CONTEST: After professing his innocence for more than a year, alleged $22 million Ponzi-schemer Al Moriarty pleaded no contest, receiving jail time and an order to pay restitution.
NO MORIARTY Octogenarian financier Al Moriarty ended a convoluted legal battle when he accepted an agreement and pleaded no contest to seven felonies and agreed to repay money to victims of fraudulent securities and investment practices and grand theft in an alleged $22 million Ponzi scheme.
THE NEW GUY Morro Bay finally got a new city manager in the form of retired Army Col. David Buckingham at the going rate of $160,000 per year plus benefits. Despite a 2013 incident that resulted in Buckingham's transfer for "boorish behavior," according to his higher ups, city officials and outgoing interim City Manager Ed Kreins praised Buckingham's credentials and personality.
CAMPUS INTRIGUE An attempted robbery in SLO resulted multiple arrests, which probably wouldn't have been huge news if not for the fact that five Cal Poly football players were arrested on suspicion of planning or carrying out the robbery of a local frat house.
I THOUGHT I SAW THE SIGN Misleading signs that left visitors with the impression they were viewing rehabilitated animals at the Morro Bay Aquarium were removed after legal threats from the Animal Legal Defense Fund.
FILE PHOTO BY HENRY BRUINGTON
AVOCADO GRAVEYARD: With a dwindling water supply, operators of the Morro Creek Ranch in Morro Bay opted to stump their avocado trees in hopes of regrowing the crop after the drought.
STUMPED Looking for a sign revealing the impacts of California's drought? You needn't have looked any farther than the wood graveyard left behind when the operators of Morro Creek Ranch stumped many of their 225 acres of avocado trees.
VERDICT DELIVERED A three-week trial resulted in a more-than $6.7 million award to the family of Tricia Rittger, who was struck and killed by a car while crossing Shell Beach Road outside the Cliffs Resort in Pismo Beach.
FILE PHOTO BY COLIN RIGLEY
END OF AN ERA: After nearly 40 years in operation, Sjany de Groot's De Groot's Nursing Home for Children came under fire from state health officials and was forced to transfer some of its patients to other facilities.
OR ELSE … State health regulators notified Sjany de Groot that after nearly 40 years in operation, she would have to make massive improvements or shut down her health-care operations for children housed at De Groot's Nursing Home for Children.
PISMO, PRESRVED A $400,000 contribution from the San Luis Obispo County Board of Supervisors tipped the scales to all but assure that the 900-acre Pismo Preserve would be purchased and made available to the public.
September
DEEP DIVISIONS After a summer rife with controversy over legislation necessary for the proposed Paso Robles Basin Water District, Gov. Jerry Brown signed the legislation into law. But there's still much work ahead, and the SLO County Board of Supervisors picked up the baton, planning to submit a petition for its formation in 2015.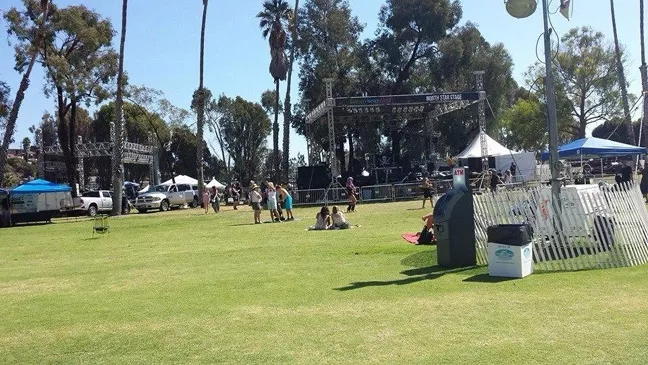 FILE PHOTO COURTESY OF ISABELLA FREDERIKSEN
NEVER LAND: The much-publicized Forever Never Land event was a far cry from what guests expected, with attendance coming in far below capacity and many advertised activities and performances canceled.
NEVER AGAIN After an unwelcome reception by area residents and the ensuing denial for a permit necessary to exceed normal event attendance limits, Forever Never Land—a planned fantasy-themed festival and adult playground at Avila Beach Golf Resort—was dealt insult to injury when several cancellations led to low attendance and upset attendees.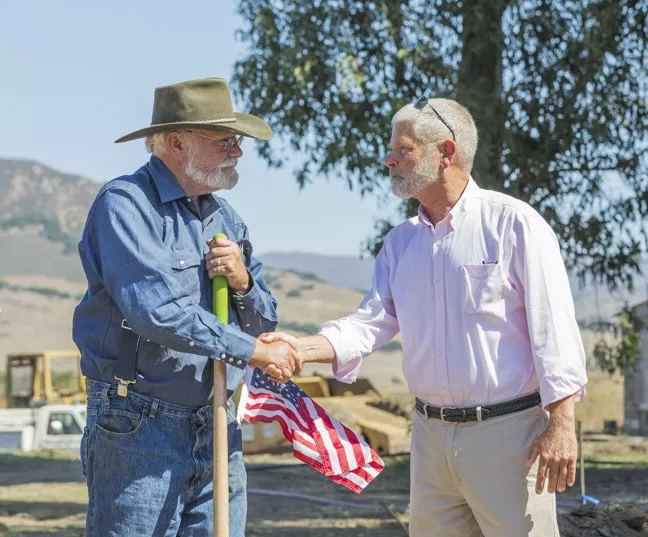 FILE PHOTO BY COLIN RIGLEY
TRUCE: After years of arguments with SLO County officials, such as Supervisor Bruce Gibson (pictured right), over code violations at Sunny Acres, owner Dan De Vaul was able to come to an agreement that resulted in a building permit for a 14-bed housing structure.
LIGHT SHINES ON Sunny Acres—the sober living facility that's been the subject of a long-entrenched battle over code compliance between SLO County and property owner Dan De Vaul—finally had its day to shine when the facility broke ground on a new 14-bed facility, with all the necessary permits in hand.
ROLLIN' OUT THOSE HIGH PRICES The city of Atascadero had its flop-sweat moment of the year when a new report estimated projected costs for road and traffic improvements necessary for the Walmart/Annex project to be more than double the initial estimate. Projected costs jumped from an early guess of $4.5 million to a new-and-improved estimate of $12 million. The kicker? Both Walmart and the owners of the Annex site across the street entered into a contract with Atascadero saying that in the event of a cost override, they would each only pay $200,000 more then their agreed upon fair share, meaning that they'll only have to cover about $5 million of the possible overrun, leaving city officials to explain how they're going to come up with the additional $7.5 million.
October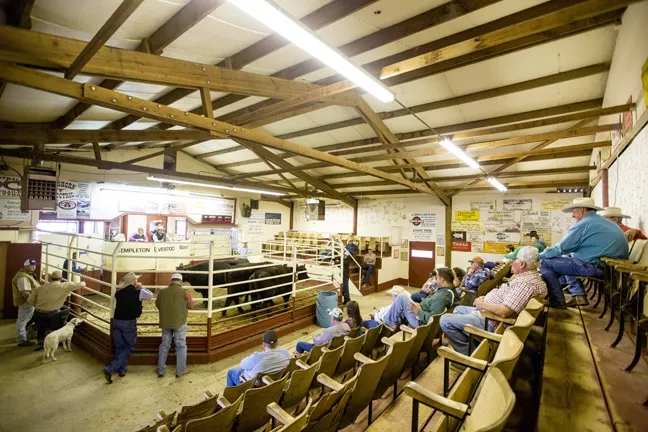 FILE PHOTO BY HENRY BRUINGTON
GOING ONCE: The Templeton Livestock Market held its last auction on Oct. 4, before shutting its doors to make way for 107 single-family homes.
MOVING TIME The Templeton Livestock Market, a longstanding landmark in the community where local producers had sold and bought cattle since the early 1940s, held its last auction and closed its doors after the property was sold out from under them and planned for single-family homes. Hoover's "Beef Palace" Restaurant, which also sat on the property beside a few office buildings and a corral, closed down in November.
UPROOTED The De Groot Nursing Home for Children shut its doors after losing a battle with the California Department of Health, which said the home that housed five special needs and developmentally disabled children had several deficiencies in its code compliance.
SLOW DOWN, SLO BREW
The people behind San Luis Obispo's premier downtown live music venue—for now—announced they were downscaling plans for the operation's soon-to-be-new home. Citing cost overruns and permitting hurdles, they'll be toning down the building's footprint and music-loving capacity, underscoring a parting of ways between co-owners Hamish Marshall, the Australian developer who will retain ownership, and Todd Newman, who oversaw the music side of the venture.
November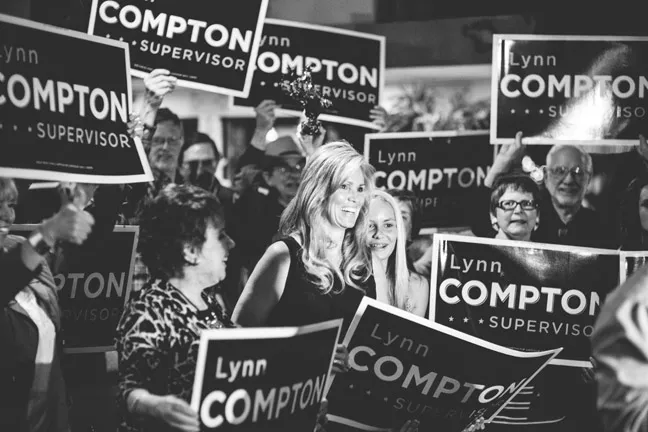 FILE PHOTO BY HENRY BRUINGTON
STRAIGHT OUTTA COMPTON: The newest SLO County supervisor, Lynn Compton, beat out incumbent Caren Ray for the District 4 seat.
DEMOCRACY, SHMEMOCRACY Several areas around the county saw a bit of a shake-up in the 2014 election, which saw a very low turnout. Arroyo Grande saw an unprecedented upset when long-time Mayor Tony Ferrara lost to write-in candidate Jim Hill by 95 votes, after Hill announced his candidacy only five weeks before the election. Lynn Compton beat incumbent District 4 Supervisor Caren Ray; the San Luis Obispo City Council got some young blood with Dan Rivoire's victory; former mayor John Shoals beat out incumbent Mayor Debbie Peterson in Grover Beach; Steve Martin became mayor in Paso Robles after no one wanted to take him on; and Pismo Beach's incumbent Mayor Shelly Higginbotham beat out challenger Kevin Kreowski by only two votes.
MAKING WAVES The Nuclear Regulatory Commission released an 11-year-old report that assesses the impact a tsunami would have on the Diablo Canyon Nuclear Power Plant. The report, which was released in response to a Freedom of Information Act Request, suggests that the plant may be more vulnerable to tsunamis created by underwater landslides than previously thought.
PHOTO COURTESY OF ANIMAL PLACE SANCTUARY
A BETTER PLACE: After being set on fire in October 2013, Panda the steer is now living on a Northern California animal sanctuary. Garrett Kaplan, 24, pleaded no contest to one count of felony animal cruelty.
BLACK AND BLUE Garrett Kaplan, the Paso Robles man who was charged with dousing a 5-month-old steer named Panda with accelerant and lighting it ablaze at Paso Robles High School in 2013, pleaded no contest to felony animal cruelty and was sentenced to serve 90 days in jail and spend one year in a live-in treatment facility to address "severe alcohol addiction" and his violent behavior toward animals.
December
FLY OVER The San Luis Obispo City Council finally got the four votes necessary to override the SLO County Airport Land Use Commission in a disagreement over the Land Use and Conservation Element of the city's general plan, a move that council members and city staff have been lusting over for months.
QUARREL ON The San Luis Obispo Planning Commission delayed making a decision on the Las Pilitas Quarry proposed for a site 3 miles east of Santa Margarita. The project has been controversial since Las Pilitas Resources LLC announced plans for the quarry five years ago, and after county planning staff recommended that commissioners deny the project, the applicants demanded a decision be put off until next year—when (coincidentally?) Lynn Compton's appointed planning commissioner will take his or her seat.
Senior Staff Writer Colin Rigley and Staff Writers Jono Kinkade and Rhys Heyden are looking forward to hearing your news tips for 2015. Contact them at crigley@newtimesslo.com, jkinkade@newtimesslo.com, or rheyden@newtimesslo.com.