On the idyllic island of St. Croix in the U.S. Virgin Islands, wassailing and driving is widely accepted as long as you're not recklessly endangering others. In New York City, after a night of imbibing, the worst that could happen is you lose the piece of paper with your address dutifully written on it, and your taxi driver doesn't know where to take you. In Los Angeles, smelly cabbies are ready and waiting around every corner, in every neighborhood.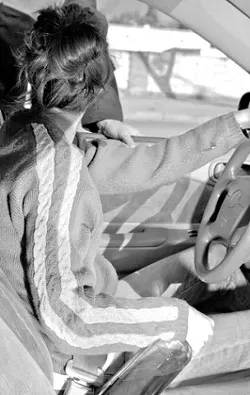 PHOTO BY RYAN MILLER
ON THE ROAD : Wine in the car? A recent crackdown is sending law enforcement officials after drunken drivers all around the county. Watch for DUI checkpoints and an increased police presence through the new year.
# When it comes to consuming alcohol and coordinating transportation on the Central Coast, however, local drivers aren't so lucky. This community is a stretch of small, sprawling towns, which means 10, 20, 30, 40, and 50 minute commutes on desolate, dark, and dangerous highways. It also means potentially waiting anywhere from 20 minutes to two hours for a cab to pick you up and then more money than some are willing to shell out for the fare.
Kimberly Mott, of Drug and Alcohol Services in San Luis Obispo, agrees.
"This landscape allows people to travel when they shouldn't," she said.
That's why, with help from Drug and Alcohol Services and representatives of 14 different law enforcement agencies in SLO County and support from the District Attorney's office, cab and bail bond companies, and other local community businesses one of California's most aggressive DUI crackdowns of the year is currently underway. Fourteen agencies, including police departments from various Central Coast cities, Cal Poly, and Cuesta, are taking part in the local "Avoid the 14" campaign, which coincides with a national "Over the Limit, Under Arrest" campaign happening all over the United States. As usual, any law enforcement officer can pull any driver over at any time. That means a Paso Robles cop can pull you over in Pismo Beach. A CHP officer can pull you over on Higuera.
"This promotes a consistent statewide message," Mott said.
"Avoid the 14" began in November and kicked off a three-and-a-half-year effort to take drunken drivers off of streets and freeways. According to the most recent statistics from californiaavoid.org, San Luis Obispo County saw 171 DUI arrests and two related fatalities from collisions between Nov. 23 and the day after Christmas. Mott said that the final statistics for the holiday season would be available after Jan. 2.
"The good thing is that fatalities are down," Mott said on Dec. 27. "The holiday season for us will not end until Jan. 2, so we have a week to go on this project."
The step-up in enforcement includes implementing those infamous DUI checkpoints.
Sgt. Dave Sanchez of the Arroyo Grande Police Department, who coordinated a Dec. 16 checkpoint in Arroyo Grande, explained that many elements go into putting checkpoints together.
State law mandates that the location of each one be publicized 24 hours before the date of the checkpoint. Drug and Alcohol Services' Mott isn't the biggest fan of that regulation or the one that gives drivers the opportunity to actually avoid the checkpoint altogether. Posted warning signs and opportunities for drivers to turn around before they reach the checkpoint are typical. However, that's also how officers sometimes catch suspected drunken drivers.
Standard checkpoints typically involve a smooth flow of traffic through a coned-off lane between 6 p.m. and 1 a.m., which doesn't extend through most bars' closing times.
Mott defended that method and timeframe and said that the bulk of DUIs about 62 percent take place after 5 p.m. on Friday and Saturday nights.
While officers wave certain motorists through and halt others, they randomly check for suspicious activity and hand out informational pamphlets and leaflets with DUI stats and reasons to stay sober.
The number of arrests varies from checkpoint to checkpoint and those arrests can lead to other arrests as well. Outstanding warrants, weapons, and seatbelt violations are a few of the myriad offenses discovered when searching for drunken drivers.
In addition to DUI checkpoints, law enforcement agencies are turning to saturations, meaning that they'll "saturate" the county with patrolling officers looking for suspicious activity.
So what about alternatives to the choice to drink and drive? Sure, there are sleepovers, hours spent in a warm Denny's, taxis, limos, and designated drivers, but what about other options? Mott wasn't positive about the fate of now-defunct Safe Ride program, but she heard that the service couldn't handle the overwhelming and relentless fighting, damage to vehicles, and vomit. The operations manager at Ride-On Transportation confirmed that its Safe Ride program which used to transport inebriated passengers in the county has been shut down since an April skirmish that essentially broke the camel's back.
The Regional Rideshare shuttle does still run for a nominal fee, but only through 5 p.m.
"But there is no reason why people cannot plan ahead with a limo or designated driver," Mott emphasized. "We don't have the luxury of having a ton of taxis."
To counteract drunken driving, all drivers are encouraged to report motorists who seem to be under the influence. The organizations involved in the campaign want to get the word out about the zero-tolerance attitudes held by law enforcement agencies. Sober drivers are encouraged to call 911 and report any suspicious vehicular activity in order to remove a DUI offender off the streets. Electric signs along highways before and after Christmas encouraged such calls.
In light of the ongoing campaign, even a $100 taxi ride can be worth the hassle, money, and time. It's safer, cheaper, and smarter than getting into the driver's seat after a New Year's Eve Party, company soiree, or night out at the bar because anyone's luck can run out.
If you want to avoid the 14 agencies on heightened alert this holiday season and beyond, leave the driving to the licensed and sober.
INFOBOX: Four wheels, three sheets to the wind, two eyes, and one message
The "Avoid the 14" campaign is encouraging everyone to watch the roads. Want to keep an eye out for drunken drivers? Here are some obvious clues:
Turning widely or straddling the center of the road
Weaving or zigzagging on the road
Almost striking another object or vehicle
Driving slower than 10 mph below the speed limit
Following others too closely
Erratic braking
Driving into opposing traffic or crossing traffic
Driving with headlights off
Drinking in the car
Christy Heron can be reached at cheron@newtimesslo.com.