Few things could be considered more epic--or iconic, for that matter--than the American Wild West. Unless you're talking about Broadway. Or Elton John, who has to be right up there with McDonald's or Coca-Cola in terms of ubiquitousness. Combining these three giants of American culture into one musical almost sounds like too much of a big thing. But that's exactly what San Luis Obispo native Christopher Kahn is doing in his show, Tumbleweed Connection, which will play at the Clark Center Oct. 19 through Nov. 4.
The show was inspired by--and named after--John's third album,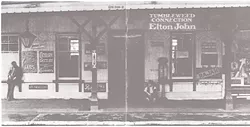 IMAGE COURTESY OF CHRIS KAHN
HISTORY MAKERS : Bernie Taupin and Elton John created the album Tumbleweed Connection.
# featuring lyrics by Bernie Taupin. Released in 1970, the album was created from Taupin and John's preoccupation with America's wild frontier. The lyrics conjure cowboys, fugitives, and country farms as part of a hazy, romanticized past. In 2003, Rolling Stone named the album 463 on its list of the 500 greatest albums of all time.
"When I was growing up, Elton John owned the world in terms of pop," said Kahn, who wrote Tumbleweed Connection while he was a student at San Luis Obispo High School. "Elton John's music has a natural theatrical quality, and I consider Tumbleweed Connection to be a master album. One day I was listening to it for the hundredth time and I thought, there's a story there.' I got infected with the story and it wouldn't let go of me."
Kahn set himself the challenge of creating a musical that would feature all 10 of the album's songs. He wound his plot and characters around the many songs, citing "Where to Now St. Peter?" as the song that truly characterizes the production.
"I took myself a blue canoe," the song begins. "And I floated like a leaf/ Dazzling, dancing/ Half enchanted/ In my Merlin sleep."
With time, Kahn forgot about his musical. He left SLO in 1979 and studied communications at UCLA. Kahn's interest in writing took a backseat to his developing career in the fitness industry. Currently, Kahn and his wife own a fitness business in Beverly Hills, but Kahn claims that he comes from a family of musicians and artists--a birthright that made it impossible for him to turn his back on writing altogether. In past decades, Kahn has taken great literary strides, publishing two novels and selling 10 screenplays. This success, combined with a rediscovery of Tumbleweed Connection, inspired him to revive the musical.
"People don't allow themselves the luxury of just sitting down and closing their eyes listening to an album," Kahn said. "They always listen to music while doing something else."
So why would a writer with connections in Los Angeles and big Broadway dreams stage his production on the Central Coast? Thanks to his four sisters--all of whom are involved in the local arts community--Kahn has Central Coast connections as well. While attending a local theater production, he became aware of Suzy Miller, who most locals know as the choreographer for the SLO Little Theatre legends series. Miller translated Kahn's vision, which was limited to words and music, into movement. When the key detail of a choreographer fell into place, Kahn knew that Tumbleweed Connection would be staged in SLO County and used as an audition production for larger venues.
The local stage would allow one of Kahn's sisters to work as dance captain, two to participate in the ensemble, and a fourth to assist him with production details. His brother worked the advertising end of the production, and a niece will also be dancing with the show, meaning that his family alone accounts for nearly 10 percent of the cast.
Kahn met Bill McLaughlin, who works frequently with the Little Theatre, about a year ago. Once again, everything seemed to click, and Kahn asked McLaughlin to direct the performance. A local director was particularly important for a 46-member cast of local performers.
"It was sort of destined to happen because everyone that heard about it wanted to be involved," Kahn explained. "A lot of lights turned green for us in the process."
When selecting a venue, Kahn had to consider both the quality of the performance and budgetary constraints. He ultimately selected the Clark Center, calling it "the best of both worlds."
Little is being said about the plot, an archetypal story centering on two brothers, one a black sheep figure and the other a patriot. As World War I imposes itself on their lives, the external world conflict invariably affects their relationship. According to Kahn, the storyline is not unlike that of Legends of the Fall.
In the weeks leading up to the show, it wasn't the choreography or the many details pertaining to the quality of the show that occupied Kahn's time and attention--it was the marketing. The simple fact that Kahn was able to obtain rights to John and Taupin's music for 12 performances was a significant achievement, though with the recent popularity of musicals like Mama Mia and Movin' Out, Kahn hopes that John and Taupin will recognize that Tumbleweed Connection comes at an opportune time. Kahn invited both Taupin and John to the musical, as well as a handful of agents and investors from Los Angeles, hoping that some of them will attend and--better yet--see the production's commercial potential.
Even if the right people do express interest in Tumbleweed Connection, it would be at least a year or two before the musical would find itself under Broadway's bright lights. But locals can content themselves with the knowledge that it belonged to them first.
"If we're fortunate enough that this show is successful, everyone in town is going to be able to say they saw the first show," Kahn said. "There's a sense of pride in that. People want to say, 'I was there. I had it from the beginning.'"
INFOBOX: Blowin' in the wind and through the theater
Tumbleweed Connection runs Oct. 19 through Nov. 4 at the Clark Center in Arroyo Grande. Tickets cost $45 for the opening night galas on Oct. 19 and 20, $30 for the other performances, and $28 for seniors and students.
Arts Editor Ashley Schwellenbach rolls like a tumbleweed in the wind. Send elbow pads to aschwellenbach@newtimesslo.com.