No lighthouse is all that light. I mean, any time you hear of one, it's because some 19th-century widow drowned herself or a boat full of swarthy sailors crashed into the bluffs, and now their ghosts call that lighthouse home. Yes, make no mistake. Lighthouses are dark, dark places—tailor-made death traps wrapped in glass and postcard-ready paint schemes.
OK, maybe that's a bit of an exaggeration. But I'm not crazy in thinking lighthouses are eerie places. They're just sitting there, on the coast, all isolated and antique-y, with those breathtaking vistas! The horror!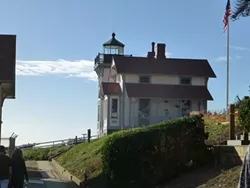 PHOTO BY ADRIANA CATANZARITE
HOUSE ON THE HILL: Built in 1890, the Port San Luis Lighthouse is one of the few Prairie Victorian lighthouses left and the only one that remains on the West Coast.
So, in honor of Halloween, I decided to visit the scariest lighthouse on the Central Coast: the Port San Luis Lighthouse, located atop the hills by Avila Beach.
Last year, New Times visited the Port San Luis Lighthouse for its annual Halloween haunt. Back then, the theme was zombies. This year … well, I won't give it away just yet.
Let's begin with the truly frightening part of this trolley tour of terror:
My accomplice (New Times college minion/intern Adriana Catanzarite) and I arrive at the meeting spot a good half hour before the event is set to begin. Already, the scene seems a little off. The parking lot is gated and secluded by sandy hills that could easily muffle any screams if someone were indeed to kidnap us as I let my imagination convince me would happen.
Twenty minutes of abject dread later, the trolley arrives. Around 20 of us board the old-fashioned contraption, which has been festooned to the brim with many a macabre detail: spiderwebs, ravens, an onyx candelabra, and a driver cloaked in black and skeleton face paint. OK, Port San Luis. I see your scare game. Bring it on!
Oh, they brought it! Even before we make our way over the towering hills toward the lighthouse, I am a paralyzed mess of anxiety. The road leading there is only 9 feet wide, there's no guardrail, and I am petrified of heights. Port San Luis, how did you know? This is my worst fear.
When we arrive at our destination, I'm already a blubbering mess. A woman dressed in head-to-toe skeleton garb greets us on the way up to the lighthouse. This is Kristi Balzer, the lighthouse's executive director and our own personal Charon, guiding us into the doors of this haunted hell.
PHOTO BY ADRIANA CATANZARITE
COME WITH ME IF YOU WANT TO LIVE: Port San Luis Lighthouse Executive Director Kristi Balzer led a small group of unsuspecting guests to their doom.
And by hell, I mean heaven, because the place where Kristi leads us is some kind of wonderful. It's the foghorn room, and it's filled with the most delectable cupcakes and cookies: strawberry, chocolate, and blood-flavored! Oh wait, that last one is red velvet. My bad. As I sit chomping down on cookie after cupcake after cookie, listening to the lecture about the lighthouse's history, I can't help but notice that small portions of the crowd are going missing.
Aha! Port San Luis, you're up to no good again! Pumping us guests full of sugary delight and historical enchantment, then kidnapping us one by one! This is textbook Hansel and Gretel. Come on, show me something worth screaming over!
At this moment, I've grown cocky. Blame the sugar feast. So when it's our turn to take on the spirits of Port San Luis, I trudge proudly right up to the front. Get out of my way, demons! The desserts await my return!
I do not clearly recall what happened while I was in that house. All I can remember are the screams—so many screams! And the singing. Oh, dear Halloween king in the sky, the singing. It plagued my nightmares that night, the tormented cries of those faceless children and the slamming of doors by ghouls in the dark.
"AAAAAHHHHH," quoth the woman in front of me. I couldn't have said it better.
TOUR OF TERROR: To see the Port San Luis Lighthouse in all its non-haunted glory, you can take a trolley tour every Saturday at noon, 1 p.m., and 2 p.m. Tours are also run on Wednesday at noon. Tickets cost $20 for adults and $15 for kids (3 to 12). For more information, visit sanluislighthouse.org.
We made it out of that wicked structure, blinded by the sudden burst of sunlight. The light looked dimmer than before. Maybe it was due to the blackness of the haunted house, to the darkness of those spooky figures, or it was nearing sunset.
Turns out, it was mostly the last one. So with one final wave goodbye, we headed back into the trolley for our return to civilization. Goodbye, Port San Luis Lighthouse. You got me. And now, time for more sugar!

Lighthouses also scare Jessica Peña because they are near the home of her worst fear: whales. Send her sugary goods at jpena@newtimesslo.com.