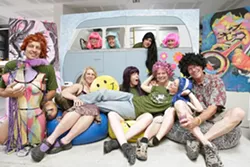 PHOTO BY STEVE E. MILLER
AMBIANCE ANGELS : The backstage area of the Live Oak Music Festival is an art installation created by (clockwise starting at left "window"): Joan Weir, Marianne Orme, Marty Sanders, Suzanne Albertson, Lars Enyart, Renee Punzi, Shelley Zoff, Liz Cordoba, Smiley Face, Barbara Bolton. Missing is Joanne Tarkington, a midwife who left to deliver a baby.
Behind the inspired performances on the outdoor stage at the annual Live Oak Music Festival is a magical and artistic world where musicians are treated like honored guests. Although the audience never sees it, the festival's renowned backstage ambiance and hospitality have made Live Oak a top choice for local, national, and international musicians.

"Performers are consistently astonished with the quality of the décor, the atmosphere, the food, and the wine for such a small festival," said backstage manager Janelle Younger. "My favorite thing when musicians arrive is to take them on a tour of the decorations. They bring their friends backstage to see everything"—just like the way locals take visiting friends to see the famous bathrooms at the Madonna Inn, she added.

Ambiance coordinator Barbara Bolton and her dedicated team of volunteers spend months each year planning and creating the elaborate decorations that transform a patch of dirt and blank white tents backstage into an interactive art installation for the musicians.


HOW TO BE A LIVE OAKIE: The Live Oak Music Festival is set for June 19, 20, and 21 at Live Oak Campground off Highway 154. The festival includes main stage performances, workshops, teen dances, breakfast shows, and late-night dances. Full festival tickets, including camping, cost $115 for adults, $75 for teens, and $35 for children. Day tickets cost $35 for adults and teens and $15 for children. Visit liveoakfest.org or call 781-3030 for yours.

Here's the lineup on the main stage: Friday, June 19 4 p.m.—Rancho Deluxe, alternative country 5:30 p.m.—Terry Evans, soulful blues 7 p.m.—Old Blind Dogs, traditional Scottish 8:45 p.m.—Dave Alvin and the Guilty Women, alternative country/folk/rock Saturday, June 20 10 a.m.—Dawn Lambeth, early jazz and swing 11:20 a.m.—Mamadou Diabate, Malian kora master 1 p.m.—Amanda Shaw and the Cute Guys, Cajun 5 p.m.—Los Pinguos, hot Argentine folk groove 6:45 p.m.—Trombone Shorty and Orleans Avenue, New Orleans jazz/funk 8:45 p.m.—The Subdudes, New Orleans R&B/blues/funk Sunday, June 21 10 a.m.—Po' Girl, soulful urban roots 11:30 a.m.—Masanga Marimba Ensemble, Zimbabwe/Latin America world 1 p.m.—Jim Lauderdale Bluegrass Band, Grammy-winning bluegrass 5 p.m.—Girlyman, harmony folk/pop 6:45 p.m.—Anonymous 4 with Darol Anger & Scott Law, early Americana 8:30 p.m.—Rodney Crowell, Grammy-winning singer/songwriter 10 p.m.—Joe Dickerson, Scottish Highland bagpipes
Recycling and reusing materials they find in Dumpsters, garage sales, and swap meets, the crew members create lifesize dancing figures, giant mushrooms, psychedelic banners, shiny wall hangings, even a waterfall. Every year their creativity takes the décor in a new direction, often reworking the material from previous festivals to stay within their low budget.
"We've come a long way from the our first Live Oak décor 20 years ago, when we had some old cowboy boots filled with dried flowers," Bolton recalled as she and her crew put the finishing touches on this year's artistic creations.
With the Live Oak theme of "Peace. Love. Dirt.," the ambiance team has added a "summer of love" touch to the backstage look for the upcoming festival.
An almost-lifesize Volkswagen bus made of thin plywood—complete with '60s-style stick-on flowers and sagging Indian-bedspread curtains in the back windows—offers performers the opportunity to pose for Polaroid photos with their faces in the window cutouts.
In the barn workshop where their creative juices were flowing on a recent weekend, Renee Punzi and Joanne Tarkington ran into the bathroom with their latest psychedelic endeavor to see how it looked under the black lights.
Shelley Zoff and Liz Cordoba studied a schematic of the backstage tent layout, planning out the electrical requirements for the lava lamps and other lighting, as Tarkington announced that she found a recipe online for "lava lamp goo."
None of the ambiance crew members are artists or musicians, Bolton pointed out. Their professional backgrounds range from chemist and nuclear scientist to midwife, teacher, office manager, general contractor, and café owner. Creating an elaborate backstage world for Live Oak is one of their main creative outlets.
Bolton credited their original inspiration to the work of longtime crew member and artist Sharon "Buffy" Doran, their "honorary ambiance goddess and mentor" who recently retired from her position. Cambria artist Janet Allenspach has also retired from the crew, leaving Marianne Orme, Suzanne Albertson, Joan Weir, Tarkington, Punzi, Cordoba, and what Bolton calls the "grunt work slave-boys" Marty Sanders, Lars Enyart, and Jim Airth to fulfill the vision. Victoria O'Toole coordinates the ten backstage massage therapists.
"It makes such a big impression on the performers," said KCBX Public Radio General Manager Frank Lanzone, who spends a lot of time backstage during the Live Oak Music Festival, the main fundraiser for KCBX.
"I hear them saying, 'This is cool, this isn't the usual situation we find at festivals with asphalt and a 10-by-10 shade structure with the hot sun beating down.' Ninety-nine percent are content and happy, and I'm sure their performance reflects that. Most of them say, 'Invite me back, this is my favorite festival, can I be your mascot so I can come every year?'" Lanzone said.
Bon Temps chef Phil Lang and his crew create three delicious meals a day for the performers, adding to the reputation of Live Oak's backstage.
The festival's logistics coordinator Jo Jackson said, "This is not backstage at Carnegie Hall or even the Lobero Theater. There's dirt." Carpets, executive-style portapotties, even a private massage tent all help create a unique backstage atmosphere for the musicians, along with a welcoming sense of community that inspires them "to sing their hearts out," she said.
Lanzone said he's looking forward to seeing what the hardworking ambiance crew comes up with this year.
"It just blows me away," he said, adding, "I think if you look hard enough, you'll see those old cowboy boots are still there somewhere, too."
Contributor Kathy Johnston can be reached at kjohnston@newtimesslo.com.