Laura Krifka fell madly in love with contemporary art during her time as a Cal Poly student. Cassie McFarland haunts local thrift stores, divesting them of their treasures so she can better create narratives about albinos, barren women, pageant girls, and furries. Together, they created an exhibit, titled "We, Monsters," that explores what McFarland calls "inner landscapes"--paintings and sculptures that explore innocence, identity, and social ostracism.
IMAGE BY LAURA KRIFKA
GIRLS GONE WILD:
# The two students will be graduating in June, but throughout the month of April, all of San Luis Obispo will have the opportunity to appreciate or be seriously disturbed by their work at the Steynberg Gallery. An art exhibit at the cutting-edge art venue--one of the few local spaces that consistently challenges traditional perceptions of art--is a significant coup for a pair of student artists, but the duo didn't have to work very hard to convince gallery owner Peter Steynberg to show their work. Krifka paid the gallery a visit in November and showed him photographs of their work. The timing couldn't have been better Steynberg had been interested in hosting an exhibit of work by Cal Poly students.
Krifka and McFarland first exhibited together a year ago at an otherwise empty Pier 1 building on Monterey Street. Despite the fact that Krifka is a painter and McFarland is a sculptor, their partnership for a show made a lot of sense thematically.
"We both gravitate toward stranger subject matter," Krifka explained.
"We aren't afraid to show the inner lives of people rather than just a portrait," McFarland added.
Starting with Boys in Bloom in the spring of 2007, Krifka painted her share of the work that will appear in the show in a Cal Poly studio she shares with a handful of other senior art students. In her pieces, youthful innocence, sublime nature, and the erotic collide as teenage boys laughingly look down at viewers from their perch in a tree or swing joyfully from a branch in what could be a tableaux of life in Neverland. Three young women gorge themselves on fruit, a nondescript multitude of trees and a winding river behind them.
All of Krifka's subjects are nude. Sometimes the nudity is a symbol of innocence in other paintings, she intends for her subjects to evoke the decadence of the rococo period, drawing connections to contemporary examples of lavish extravagance.
"There's a lot of reasons why I paint nude figures," she explained. "From a technical perspective, I don't like the way clothes date people. I like to talk about a universal condition, the fact that people in the 16th century have breasts the way people today do. It's just nudity. It's not done in a pornographic way, and at times it makes fun of pornography."
While all of her paintings were created within the last year, those made in the last four months have a strong 3-D influence. Krifka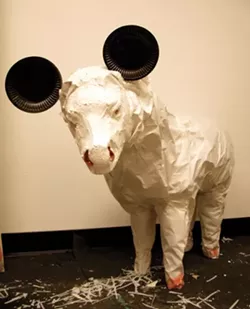 IMAGE BY CASSIE MCFARLAND
MIRROR MIRROR ON THE WALL :
# now makes sculptures that, in turn, inspire her oil paintings.
Next autumn, Krifka will explore her love affair with contemporary art in a different city as she pursues her master's degree at UCSB. But for now, she's content to reap the painted fruits of her labor at her most recent Monterey Street exhibit.
Krifka's fellow monster, McFarland, also operates out of a studio space provided by Cal Poly. But her studio--which Krifka admiringly calls "a room of terror and rebirth"--is overflowing with fabric, ceramic figures, and stuffed animals that McFarland liberated from the college's biology department. These seemingly innocuous items become tools she uses to delve into the psychological problems and sexual fetishes that inspire her curiosity.
After choosing a topic of interest, McFarland begins an intensive research process, discovering everything she can about what it means to be albino, for instance, or expressing her concerns about people altering their identities by studying furries, people who dress and sometimes live as anthropomorphic animal characters.
"All these people are on the outskirts of society, so there's a sense of grotesque in what I do," McFarland explained. "There's a sense of empathy, but not feeling sorry for them. It's more curiosity."
While she often incorporates paint in her creations, McFarland prefers to work with sculptures because she feels that the added dimension allows her work to project more feeling. The end result is as unlike a classical Greek statue as any sculpture could be. One piece, Overripe Fruit, was inspired by Frida Kahlo's painting, The Two Fridas. Two women, naked and with glowing halos, sit facing the viewer, their arms crossing. One woman's stomach is unhinged, and in the negative space between the two women is a vagina. The intention of the piece is to explore what it means, for women, to be barren.
Overripe Fruit, which she made in 2007, was her first piece. Since then, McFarland believes that her work has become more complex, mostly because she became pickier about her material selection.
Her second piece was inspired by an article about albino children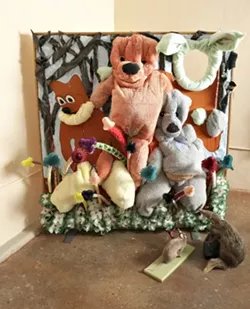 IMAGE BY LAURA KRIFKA
FURRIES:
# who took a trip to Disneyland. Using paint, wallpaper, wax, tape, paper, and paper plates, McFarland created a murky image bearing albino faces adorned with Mickey Mouse ears.
While her pieces may stretch and pull viewers' perspectives like lumps of resistant saltwater taffy, the basis for much of McFarland's work is a soft, sentimental impulse. She works in the realm of the disregarded and discarded for a reason she even rescues unwanted photographs from thrift stores.
"I'm so sentimental as a person, I have a hard time believing that someone could just throw something away," she said. "All of these are, in a weird way, self-portraits. My fears and anxieties. And maybe even desires."
San Luis Obispo may be ill prepared to have a large, mixed-media mirror, clad in Mickey Mouse ears, reflect its deep-seated fears and anxieties, but it may be time for viewers to disembark from the plein air express and catch a train into the roiling, uncertain depths of the human psyche.
INFOBOX: Who, monsters?
Cal Poly students Laura Krifka and Cassie McFarland are exhibiting their paintings and sculptures in "We, Monsters" at the Steynberg Gallery through April. The gallery is located at 1531 Monterey St. in SLO. For more information, visit www.steynberggallery.com.
---
Arts Editor Ashley Schwellenbach is a Wii monster. Send tales of couch bowling glory to aschwellenbach@newtimesslo.com.