It's Thursday, Aug. 15, and to beat the weekend traffic, my wife and I are making the evening drive to Stevenson Ranch, in Santa Clarita Valley, not far from the City of Angels.
We're staying with some dear friends who have a swank suburban home with a backyard pool. They also happen to have Humphrey Bogart's old bed in their guest room, and whether she did or not, I'm going to pretend Lauren Bacall slept in it too.
Photos By Glen Starkey
DOES WHATEVER A SPIDER CAN! This alleyway on the Warner Bros. lot is where Mary Jane Watson kissed an upside down Spider-Man, in Spider-Man (2002).
The missus of the house is a creative director at Warner Bros. Studios in Burbank, and she's promised us a private tour on Friday, so after a few drinks and some catching up, we're off to bed. Here's looking at you kid.
On Friday morning after a little homemade breakfast, the mister of the house piles us into the family van and drives us to Warner Bros. and his wife's office, and soon we're in fantasyland where the magic happens. Usually the tour would set us back $69 each and we'd be driven around on a tram, but we just walk onto the lot with our special badges, free to explore.
There's the water tower with the famed Warner Bros. logo. My friend points to a building and tells me that's where Clint Eastwood's office is and no we can't just "stop by and say hi."
I pause by for a selfie in front of Jackson, Mississippi's Municipal Court Building, which of course is actually about 1,852 miles east of here. All the buildings look like regular buildings until you open the door to go inside and discover the interior is only 5 feet deep.
You know that scene in Spider-Man (2002) when Spider-Man, aka Peter Parker (Tobey Maguire), has just saved Mary Jane Watson (Kirsten Dunst) from four thugs in an alleyway, and he's hanging upside down from a fire escape in the rain, and he says, "You have a knack for getting in trouble," and she says, "You have a knack for saving my life," and then to thank him "properly" she peels down his mask and kisses him? Yeah, I'm standing in that alleyway.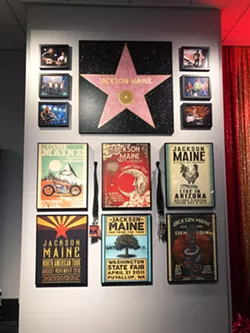 Photos By Glen Starkey
ALL YOU GOTTA DO IS TRUST ME Props from A Star Is Born (2018), including Jackson Maine's (Bradley Cooper) Hollywood Walk of Fame Star and fake concert posters, adorn a wall in the Script to Screen display.
"They had to plug Tobey Maguire's nose with cotton balls to keep him from drowning," my friend tells me. "To make rain look good on camera, the raindrops have to be huge."
I'm also informed that she can't get me some rope to recreate the kiss with my wife and me. Some friend, eh?
We wander through the various sets, which have appeared in hundreds of films and TV shows. They're like semi-blank canvases ready to be transformed as needed. We pass one shop front that says, "Quality Donuts" on the window and "Toy Store" on the door. Make up your mind, building!
One of the trams drives past us, and the tour guide points to another building and informs his tourists that it's the lone remaining building still standing from the Casablanca (1942) set.
"Of all the gin joints, in all the towns, in all the world, she walks into mine."
We walk over to the onsite museum to check out its current exhibition, the DC Universe. I get a photo sitting on Aquaman's throne and holding his trident because I'm nerdy like that (Aquaman, 2018). There are costumes and props and graphics on the walls. Deeper in the building, there's Wonder Woman (2017) stuff: more costumes, props, and even Steve Trevor's bitchin' motorcycle. There's also a Harry Potter display, and I especially like the Omnioculars that Ron Weasley (Rupert Grint) used to watch the 422nd Quidditch World Cup in Harry Potter and the Goblet of Fire (2005).
As we leave the museum to walk to the Script to Screen exhibit, we pass a courthouse façade used for the TV show Gotham (2014-2019), the café from La La Land (2016), and the town square from Gilmore Girls (2000-2007).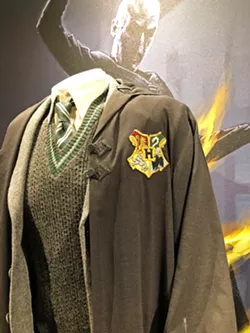 Photos By Glen Starkey
YER A WIZARD, HARRY Harry Potter's Hogwarts School of Witchcraft and Wizardry uniform is so close I could touch it ... but no touching!
Script to Screen shows how films and TV shows develop, and there're a lot of cool interactive displays. We see the set of The Big Bang Theory (2007-2019), props and costumes from A Star Is Born (2018), and some more photo opportunities. I get a picture holding an actual Academy Award statue—yes, it's quite heavy—and my wife and I get a photo in a specially lit interior set of one of the Lord of the Rings films. I discover the limits of my nerdom when I decline to wait in line to sit in front of a green screen on Batman's motorcycle to make a video of me careening through the streets. Zoom zoom! Maybe next time.
After I get a photo of my wife standing in front of Central Perk, the café from the TV show Friends (1994-2004), where you can actually buy coffee drinks, we exit through the gift shop, because even on a free employee-guided tour, Warner Bros. wants to give me a chance to buy something. Δ
Senior Staff Writer Glen Starkey is zooming his way back to Batman's motorcycle. Send a speeding ticket to gstarkey@newtimesslo.com.