It's the Instagram hashtag taking California foodies by storm, and it's leading local artist Dina Mande and her Paso Robles-based film production company Juice Media all over the state to capture California's most beloved culinary establishments on film.
Mande and her team are the producers of the popular, award-winning web series, California Dream Eater, which stars actor/comedian Chase Ramsey as a "Dream Eater" who encounters chefs and restaurant owners and provides hilarious commentary on the dishes.
"He's like Anthony Bourdain with a bow tie," Mande laughed.
California Dream Eater works by asking Instagram users to recommend their favorite local restaurants, cafés, or bars, and to single out the dish that lures them back over and over. Then, from a pool of recommendations, the Dream Eater chooses his next location to feast.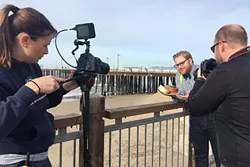 PHOTO COURTESY OF JUICE MEDIA
TANTALIZING VIDEOS: Dream Eater Chase Ramsey enjoys some Splash Café clam chowder by the Pismo Beach Pier during a California Dream Eaters shoot. Juice Media, a Paso-based production company, produces the web series that uses Instagram comments to seek out California's best food and drink.
"They use social media in a really smart way," Mande told New Times, referring to the organization that commissions the series, Visit California. "They'll do a shout-out to an area, and then there's groundswell of people who respond."
Mande spent many years directing commercials in Hollywood before moving to Paso Robles in 2009. She made her first big splash on the Central Coast with her 2011 original web series, the "Paso Wine Man," a satirical homage to the wine scene starring Casey Biggs, which caught fire on YouTube.
Then, a couple of years ago, Mande connected with Visit California, which promotes tourism in the state, and the group hired Juice Media for the California Dream Eater gig.
"I like to shoot documentary style and comedy," Mande said. "So this was a perfect fit for me, because it's both. I have an awesome team that I travel with, shoot with, and edit with."
Juice Media has produced 32 videos for the series so far, and they've been in some interesting corners of the Golden State, from Strathmore in the Central Valley, to Oakland in the Bay Area, and of course, into SLO County.
The Dream Eater's recent stop in SLO featured the clam chowder at Splash Café in Pismo Beach, a Pisco Sour at Sidecar Cocktail Co. in SLO city, and the champagne cake at the Madonna Inn.
"There's a lot of love for SLO County on Instagram," Mande said.
Mande employs her distinct filmmaking style on the Dream Eater series, which she characterizes as "intimate, spontaneous, fun, and colorful." The videos combine enticing shots of the food and its preparation with silly back-and-forths between Ramsey and the chef.
The most difficult and important part of producing the films is getting the food to look just right, Mande said.
"We want it to be lit perfectly," Mande explained. "To move in an interesting way, to have slow motion tossing in the air, selective focus and lots of color in the food, makes it look delicious. It's all about making the food look tantalizing."
And tantalizing it is. One of Mande's big takeaways from producing the series was gaining a deeper appreciation for the bountiful produce of California.
"A lot of what were doing is going behind the scenes and asking, 'How do you make this?' We literally get in the kitchen and try to figure out what makes the dish so special," Mande said. "A lot of it harkens back to that we live in California. We're so lucky with the produce that we have to live with. We're a state full of people who get to eat happily. That comes through in this series."
The California Dream Eater road trip still has some gas left in the tank. Mande and her production team are off to make another batch of videos in the fall. Where to next, you ask?
"It all remains to be seen from the Instagrammers where we will go," Mande said. So don't forget to give your two cents via #DreamEats and @CaliforniaDreamEater on Instagram.
For as long as it continues, Mande said she'll revel in the opportunity to tour California and capture its finest chefs and foods.
"This is like going on a road trip with all of your friends. This is a dream job," she said.
Fast Fact
The city of San Luis Obispo invites the public to attend the second neighborhood meeting for the Broad Street Bicycle Boulevard Plan on June 9 from 6 to 8 p.m. at the City Library, 995 Palm St.
Staff Writer Peter Johnson wrote this week's Strokes. Send story ideas to strokes@newtimeslo.com.