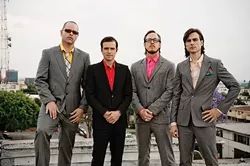 PHOTO COURTESY OF WEEZER
PARTY LIKE IT'S '94 : Weezer is revving to bring the noise at Vina Robles Amphitheater this Friday, Sept. 12.
Something truly magical happens when any song from Weezer's 1993 self-titled debut record, known universally as The Blue Album, hits any jukebox at any bar across America. Suddenly, beers are swaying in the air as Gen Xers, Gen Yers, Millennials, and even the odd Baby Boomer shooting pool bursts into song. It's weird, but awesome.

On more than a few occasions, I've witnessed whole groups of strangers chant such absurd, well-worn hooks as: "If you want to destroy my sweater, whoa-whoa-whoa," "Woo-ee-oo I look just like Buddy Holly/Oh-oh and you're Mary Tyler Moore," or, my personal favorite (probably because it best describes my teen years): "In the garage where I belong/no one hears me sing this songgggg." I like to imagine an immense wave of mid-'90s love children named "Jonas" walking around, an homage to the first line of that seminal record. OK, that last thing probably didn't happen, and I firmly blame TLC for making safe sex cool. Yet another prime example of how the hippies got to have all the fun.

Let's get back to brass tacks. My point: It was Weezer's influential first album (and second offering, Pinkerton) with their addictively melodic hooks and raw, garage-tinged attitude, that truly kick-started the band's ascent into stardom. Something like eight albums, and more than two decades later, the more polished nerd rockers (frontman Rivers Cuomo donned thick rimmed specs before it was hep) are still selling out stadiums, writing catchy hits, and inspiring winged "W" tattoos across the land.

Cuomo (backed by Weezer drummer Patrick Wilson, rhythm guitarist and keyboardist Brian Bell, and bass guitarist Scott Shriner) will make his Vina Robles Amphitheater debut Friday, Sept. 12 (8 p.m.; tickets range from $43-$73), and jangly, Bay Area band Waters is slated to open. With any luck, concert-goers will hear the old stuff as well as new tracks from Weezer's forthcoming record, Everything Will Be Alright in the End, chock full of 21st century party anthems that harken back to "the garage," or as I like to call it, "The Weezer Womb."

New single, "Back to the Shack," is hopeful, and may even represent a peace offering to fans who criticized the band for crossing over into dance music territory.

"Take me back, back to the shack/back to the strat with the lightning strap/Kick in the door, more hardcore/rockin' out like it's '94," Cuomo sings, and quite convincingly at that. Kids of the '90s: Our prayers may have been answered!

Zombies and country gold
PHOTO COURTESY OF ROB ZOMBIE
IT'S ALIVE! : Multitalented rocker Rob Zombie is ready to tear up the Vina Robles Amphitheater stage this Sept. 17.
The Zombie Apocalypse is here! Say what you want about his ghoulish aesthetics, rock icon Rob Zombie is one multi-talented bloke. The filmmaker, screenwriter, producer, musician, and one hell of a performer will transform Vina Robles Amphitheater into a dark and devilish playground on Sept. 17 (tickets are $30 to $45). The founding member of White Zombie and successful solo artist released his fifth album, Venomous Rat Regeneration (sounds yummy, don't it?) last spring, and continues to be distinctly inspired by horror, sci-fi, and the generally bizarre. Fans are no doubt gearing up for a hot date with Zombie's larger-than-life stage persona, massive walls of sound, and writhing cage dancers.

Also at the sprawling Paso Robles venue, catch Sugarland singer-songwriter Jennifer Nettles with special guest Brandy Clark on Sept. 13. Nettles is a powerhouse for sure. She's won a Grammy as well as glittering ACM and CMA accolades with her emotionally charged, heartfelt performances (tickets are $45 to $81). If you haven't yet explored Nettles' catalogue, check out her 2014 solo record, That Girl, and the album's title track. The video is sultry and darkly glamorous, with a hip-shaking, hand-clapping tune about love, deceit, and good old-fashioned heartbreak. It's pop-tinged heartbreak, but heartbreak nonetheless. Clark is not to be missed either. The sharp and witty brunette songbird loves everyday characters, and sings the stories of real-life people, and their woes. Let titles like "Take a Little Pill," a commentary on how many Americans deal with life problems, and "Day She Got Divorced," which delves into the real-deal feelings jilted lovers face, be fair warning that this performer is prepared to get into the thick of things.

Beaverstock is far out, man
PHOTO COURTESY OF CASTORO CELLARS
MUCHO FUN : Rock greats Los Lobos will play an anticipated show at Castoro Cellars on Sept. 14.
Known for their award-winning "dam fine wine" and laid back vibe, Castoro Cellars has been a family-owned and operated institution in Templeton for more than 30 years. Now, the winery is becoming known for something a little louder: Beaverstock, a celebration of live music and local libations, which rivals the hippest festivals in L.A. or San Francisco. Haven't heard of it? Get the sawdust out of your ears! The second annual event—which unfolds under the winery's gorgeous oak trees—will feature Chicano rock superstars Los Lobos alongside nine additional acts of local and national fame.
PHOTO COURTESY OF PROXIMA PARADA
LOCAL BOYS : Proxima Parada is one of several regional acts to grace the Beaverstock stage in Templeton on Sept. 13.
Get your fill of Zongo All-Stars, Jill Knight, Moonshiner Collective, Proxima Parada, Band of Heathens, blues great Eric Bibb, folk jamming troupe Hot Buttered Rum, or up-and-coming heavyweight soul crooner Allen Stone. The groovy goodness explodes from 1 to 9 p.m. on Sept. 13 and 14, and tickets, which benefit the Templeton Education foundation, are $40 for one day (five bands) and $60 for both days (10 bands). Not bad, eh? Don't forget: Your ticket includes a silly kid's zone for the little ones (kids enter free), yoga demonstrations, musical petting zoo, food vendors, magicians, local art, and more craft beer and area wine than you can shake a stick at. Don't miss an intimate Q-and-A session with Allen Stone and Sean Hayes, too. Gnaw on all the delicious details at castorcellars.com/beaverstock.

Botanical beats, afrobeat groove, and punk goes folk at SLO Brew
Next time you pick up a seemingly innocent hitchhiker, make sure it isn't a member of Santa Barbara troupe Gardens & Villa (they are known to jump into strange cars). The five college buds crafted the dreamy, ambient electronic sound after the collapse of their noisier post-punk band and an adventurous hitch-hiking journey up the West Coast. Give 'em a listen at SLO Brew this Sept. 12 (7:30 p.m.; all ages; $10 presale or $12 at the door), and let their free-wheeling spirit bring you back to the carefree days of no wheels and big dreams. Still unsure about these young bucks? Check out the band's "Black Hills" video on YouTube, and you'll get a prime picture of what these musicians do best. It's weird, it's surreal, and it's totally something you'd want to listen to while floating naked in an infinity pool.

PHOTO COURTESY OF MOONSHINER COLLECTIVE

FOLK YES : Energetic folk rock outfit Moonshiner Collective is gearing up to play Beaverstock at Castoro Cellars on Sept. 13.
I think we could all gyrate, shake, and twirl off a bit of steam at the start of this hectic school year. Right? Nine-piece Afrobeat funk ensample Captain Nasty is here to make you sweat out your demons on Sept. 13 (7:30 p.m.; all ages; $10). You've got to a love a band that proudly proclaims their love of partying it up, KISS style. The outfit's blog showcases "The captain" donning a blonde afro wig while downing a beer, for goodness sake (check it out at captainnastyband.com). Oh, be sure to get there early for opening act, The Julian Temple Band of New Zealand, for a full global fix.

Maybe you just want to hear an honest guy and his guitar? No judgments! It's an American tradition, and I for one never tire of a well-written song, sung with stripped-down soul. Chuck Ragan of punk act Hot Water Music will bust out a country-tinged solo acoustic show on Sept. 14 (8 p.m.; all ages; $15 presale or $17 at the door). Ragan will strum timeless tunes from his latest disc, Gold Country, a refreshing, handcrafted album bolstered by starkly rugged tunes like "Ole Diesel," and "Cut 'Em Down." The nostalgia pairs perfectly with opening act, Rusty Maples, of Las Vegas, who aims to capture the spirit of the West with his tender lyrics, classic themes, and energetic Americana-inspired pop songs. Maple is a tried-and-true desert wanderer with the spirit of the land jangling in his bones. Check out the bearded bard's airy tune "Like a Lover Should" for a taste of his unique alt country stylings.

Diversity abounds at Songwriters at Play!
Songwriters at Play is brimming with fab and varied tunes Sept. 11 with Kristen Black at Shell Beach Café (no cover; 6:30 to 9 p.m.) setting the creative tone. Black is a Cal Poly professor and folk rock bandleader—quite the dual personality. Her strong intellect and soulful lyrics converge for a unique acoustic show overflowing with rock, Americana and soul sounds. Sept. 12 brings us Diane Arkenstone and Guy Budd ($10; 7 to 10 p.m.) at D'Anbino Cellars in Paso Robles. Bud is a Central Coast blues man who has spent decades crafting his authentic, well-worn sound, and Arkenstone is a rare bird indeed—a star of the New Age genre. Whether performing Celtic, trance, world, Native American, techo, or rock, this fluid artist does not get caught up in arbitrary labels.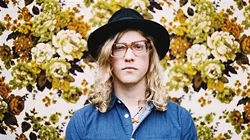 PHOTO COURTESY OF ALLEN STONE
SMOOTH OPERATER : Soul crooner Allen Stone will bring his velvet vocals to Beaverstock, a two-day music festival at Templeton-based Castoro Cellars unfolding Sept. 13 and 14.
Want to get a belly laugh in? Head on out to Sculpterra Winery on Sept. 14, for Funny folkies! Sue Fink & Jane Godfrey (no cover; 1 to 4 p.m.) as they entice audience members to chuckle, dance, and think. The duo calls their sound "urban campfire cabaret," and for good reason. Humor, showmanship, and spontaneity enliven each show in a truly remarkable way. If you happen to miss the band's first set, don't fret. They'll play a second date at Bon Temps Creole Café in SLO on Sept. 15 (no cover; 6:30 to 9:30 p.m.) that is sure to add a dose of color to your already spicy meal.

And now for something totally different! Bear Market Riot, which began as a Los Osos Farmer's Market jam session and has evolved into a folk-soul-blues-reggae fused ensemble, is ready to make their mark on the Central Coast. They're infectious, they're acoustic, and they're playing a free show at Shell Beach Café on Sept. 18 (no cover; 6:30 to 9 p.m.). The trio boasts a delightfully quirky lineup. Albert Sanduno calls himself a "Latino Bob Marley," with a knack for conjuring up thick, rock steady grooves; Nick Motil is a Pismo Beach resident who cut his teeth at Jimmy Buffet's restaurant on the Las Vegas Strip (needless to say, he knows JB's entire catalog front and back); and, Kirk Nordby loves to croon Americana-tinged songs peppered with spiritual messages. The wild group will play after an offering from special guest Christiana Newcomb, a local songwriter, whose strong, ethereal vocals shine on her Taking Off EP. Not only is the record beautifully produced, but it also benefits the recovery of sex trafficking victims through the Seeds of Hope nonprofit. Way to make your mark heard, Christiana. Good karma points for this lady.

As usual, Songwriters at Play offers a "pass the hat" donation period for each of its free shows this week. For more information, visit songwritersatplay.com.

Last, but certainly not least. Go where the locals drink and check out Travis Larson Band at Frog and Peach Pub tonight, Sept. 11 (no cover; 10 p.m. to 1 a.m.). Don't be intimidated by the group's intense explosion of advanced instrumental guitar fusion. Allow it to slowly seep into your ear holes and fiddle with your brain. Will it make you a more shredding guitar player? Only one way to find out.

Hayley Thomas filled in for the great Glen Starkey this week. Note: Glen had an email crash before his vacation (go figure), so please re-send your show dates post haste! As always Glen can be reached at gstarkey@gmail.com.