Drive-ins are weird. Only in America with its obsessive car culture would someone come up with such a crazy idea - to pull into a parking lot and watch a movie without ever having to get out of your vehicle.
The first drive-in was invented in the early 1930s by Richard M. Hollingshead, who began experimenting in the driveway of his New Jersey home with a bed sheet for a screen and a 1928 Kodak projector on the hood of his car. He put a radio behind the screen for sound and even used a lawn sprinkler to simulate a rainstorm.
Christopher Gardner
WELCOME TO THE DRIVE-IN: On any given night, cars begin lining up shortly before the gates open at 7:30 p.m., hoping to get a prime parking spot.
#His experiment was deemed a success, and on June 6, 1933, the first drive-in theater opened, showing "Wife Beware," which was in second run status and cost Hollingshead $400 for a four-day rental even though indoor theaters could rent it for $20 a week! Even at its conception, the drive-in was already enduring second-class status.
Hollingshead came up with all kinds of reasons why the drive-in was superior to an indoor theater: the option of smoking without violating fire laws; talking without disturbing anyone; eating in the privacy of your vehicle; eliminating the need for a babysitter by bringing your kids along in their pajamas to sleep in the backseat (one early drive-in operator staged a "Babysitter Protest" with picketing teenage girls holding signs that read "Down with Drive-Ins, More Work for Babysitters"); and easier access for aged, infirm, or severely overweight folks who wouldn't need to navigate a darkened theater.
In their heyday of the '50s and '60s, nearly 4,000 drive-in theaters were scattered across America. By the '70s they were considered campy and mostly showed B-movies. By the '80s the VCR started to peck away at their popularity. Today most drive-ins are dark, built over, or abandoned and gathering weeds. Only 400 or so remain.
Christopher Gardner
MAKING MEMORIES: Young Owen, Amy and Garth Turners almost-2-year-old son, had been to the drive-in before, but this would probably be "the first time he will remember it," said Garth.
#In California, once one of the top drive-in theater states with 220 venues, fewer than 30 remain. Today, even with so few drive-ins, California is still one of the top five drive-in states.
One of the few remaining theaters is our own Sunset Drive-In, opened in 1950 by Charles Pasquini and run by Raymond Rodkey. The Pasquinis actually lived in the house under the theater screen, and Charles Jr. still lists it as one of his residences. The Rodkey family ran the theater for its first few years of operation, gave it up, and then in 1985 Raymond's son Larry reclaimed management of the Sunset.
"It's the only drive-in theater between here and east to Fresno and south to Santa Maria," said Rodkey, a powerfully built guy with a beard and glasses who has a collection of vintage Ford Mustangs. "This was my dad's first love, and I followed in his footsteps. Now it's my love. I grew up in this theater, learned to drive in this parking lot. I knew exactly what I wanted to do since I was 8 years old."
Rodkey still has fond memories of his childhood at the Sunset. He recalls, for instance, one evening in the early '60s when he was hanging out with Gene Ackerson, the "field guy" for the theater whose job it was to police the lot.
"I looked over and watched as two stark-naked people got out of the front seat of their car and then got in the back," he said chuckling.
These days Rodkey tries to keep the theater family-oriented, avoiding R-rated films.
"I try for PG or PG-13 films, or G films, though there aren't too many of those these days. I try not to run R films, but sometimes in the winter that's all there is."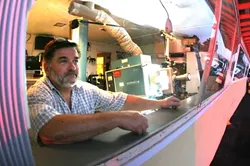 Christopher Garner
MOVIE MAN: Larry Rodkey, owner of the Sunset Drive-In, has movies in his blood. His father Raymond ran the drive-in when it was opened in 1950 by the Pasquini family.
#In the age of multiplexes and strip malls, one may wonder how a theater like the Sunset Drive-In continues to survive. With the threat of more development and the Prado overpass, many locals began to speculate on the Sunset's chance for survival since it rests on prime real estate in an area of the city that no doubt will one day be developed. But Rodkey thinks there's a future for this theater because Pasquini "doesn't need the money" and because he lived in the house beneath the screen, so the theater holds even more nostalgia for him that it does for the general public.
Rodkey also recently spent $10,000 replacing half the fence around the theater and is preparing to sign another 10-year lease on the facility. He's also planning on replacing the speaker system - many of which have been stolen only to show up on eBay fetching $100 or more. You can tune in to the film's digital sound via your car radio, but Rodkey wants to retain the nostalgia of the old system by leaving the speaker poles in place and setting up jacks. Patrons will then be able to check out a speaker and plug it into the jack. All these capital improvements certainly don't sound like a death knell for the Sunset, which on summer weekend nights attracts 250 or more cars on average (summer weeknights there's usually 50 to 70 cars, and in the winter there's sometimes as few as 10).
Last summer the theater had its biggest night ever, with 608 cars - a completely full lot - for a showing of "Shrek 2." In the '80s, patrons paid by the car, but today it's per person. It's still something of a bargain at $6 each for a double feature, and the food is pretty reasonable too. A hot dog runs $2.50 and a killer box of nachos is $4.
"I want to make money, but I don't want to rob people," said Rodkey. "I'm trying to be fair. I look at today's prices [at other theaters] and think, I can't do that! But there's no point being here if it's not profitable. As for the food, there's nothing in the snack bar that I wouldn't eat."
Rodkey supplements the Sunset's income by hosting a weekly swap meet every Sunday morning, and it's one of the best swap meets around because it limits the number of vendors selling new merchandise.
"Most swap meets today are like an outdoor Wal-Mart, where this one's basically a lot of junk," said Rodkey warmly. "I get approached by vendors wanting to sell new things all the time, but I tell them this isn't that kind of swap meet."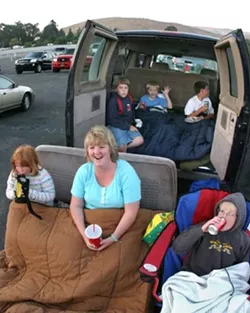 Christopher Gardner
BIRTHDAY BASH: The Slocum family along with some friends came to the drive-in to celebrate 10-year-old Randys (waving in the van) birthday.
#Buyers get in for $1, the snack bar is open, there's usually a couple vendors selling really good Mexican food, and there's always interesting people and things to look at. Like a subculture unto itself, the swap meet has become a tradition and it helps Rodkey stay profitable during the slow winter months.
He also owns two other drive-ins, the Skyline in Barstow and the Mooney in Visalia, as well as Arroyo Grande's indoor Fair Oaks Theater. As far as he's concerned, the drive-in is on its way back.
"It's coming back because of the nostalgia," he said, and judging from the vintage concession stand commercials he shows between features, Rodkey is fanning the nostalgia flames as much as he can, hoping to attract a new generation of drive-in fans.
Last Friday, cars began lining up for admission just before the 7:30 p.m. gates opened. Some backed pick-up trucks toward the screen and set up chairs; others parked their cars and then got out and began cleaning off the windshields with Windex.
Just to the right of the concession stand, brothers-in-law Steve Bennett and Mark Graves wrapped their two kids Sarah Bennett, 8, and Chad Graves, 9, in thick blankets and set them up in folding chairs. The two families have been coming to Pismo Beach in RVs since 1991, and on every two-week vacation they always "schedule a movie night at the drive-in." This night their wives - sisters - decided to stay at the campground, but the kids were excited to see "The Fantastic Four," which was followed by "War of the Worlds."
"The kids will probably be asleep by the second feature," said Bennett, only slightly worked that the film's PG-13 rating and violent content might be too much for the kids.
On the other side of the concession stand, a large group began playing volleyball before they were asked to stop as the lot began filling up. They, too, were out-of-towners on vacation. Some members of the Heinze and Sanders families had never been to a drive-in, so this would be a first.
"It's the only drive-in we know," said one.
"It's a great way to socialize," said another.
"We come every year," said the Heinze patriarch.
Christopher Gardner
BEANBAGS IN PARADISE: Eric and Becca Norrbom (in the back) brought nieces (left to right) Jessica and Christina Leahy and their friend Hannah Villegas to the drive-in, loading beanbag chairs in the back of a pickup.
#Parked just in front of the concession stand were SLO residents Eric and Becca Norrbom, who brought to the drive-in their nieces 15-year-old Jessica and 17-year-old Christina Leahy, along with their 16-year-old friend Hannah Villegas. All five were piled in the back of Norrbom's giant pick-up, sitting comfortably on beanbag chairs.
"We're in the love sack," said Eric, snuggled up with Becca on their massive beanbag.
"It's great because you can just sit down in a beanbag chair and get a giant bucket of popcorn," said Jessica. "And there's free refills."
Next to the Norrboms, the Slocum family was celebrating 10-year-old Randy Slocum's birthday. Piled in the back of a van were fellow 10-year-olds Kyle Sweasey, Garrett Lemons, and Nathan Lichty, as well as Randy's precocious 7-year-old sister Grace, 11-year-old "almost 12" brother Michael, and mom Anne. Mom wasn't too worried about the PG-13 rating for "War of the Worlds," which young Grace had already seen.
"It wasn't too scary," said Grace, "and I didn't like the ending or the thunderstorm. If these machines were buried millions of years ago, why did they wait like 5,000 days to attack? It didn't make any sense."
"And if the were smart enough to get here and bury those machines, why weren't they smart enough to cure the common cold?" asked Anne.
Meanwhile, in the concession stand, 9-year-old Carolynne Nelson had her nose pressed against the glass of the popcorn maker as Rodkey scooped popcorn into the trash.
"But what happened to the popcorn?" asked Carolynne.
"It got burned. I burned it," responded Hannah Palmer, who had only started working at the drive-in six weeks earlier.
Was Larry mad?
"No, Larry forgave me," said Hannah.
It was just another night at the drive-in, and sometimes popcorn got burned.
After the first feature ended, a few cars started their engines and drove off. As the night wore on, the theater patrons grew quieter. After the final feature, engines roared to life all around, the people began packing up and driving off in an orderly fashion, slowly filing out of the theater. The theater crew began policing the area, picking up trash, locking up the bathrooms, securing the parking lot. It was late, they were tired, and they knew they'd have to do it all over the next night and the night after that.
"It's a fun summer job," said Hannah, who perhaps was catching the same bug that Larry Rodkey caught as a teenager growing up at the Sunset Drive-In, a passion that set him on a mission to keep the drive-in alive. Yes, the drive-in is weird, but it's good weird.
Glen Starkey is weird, but a good weird. Beg to differ at gstarkey@newtimesslo.com.