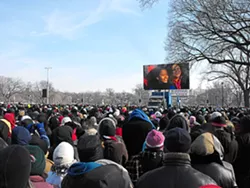 PHOTO BY MARCUS KING
OBAMA CROWD:
In D.C., many people anxiously started the day, greeted by cold weather and huge crowds with only the tops of people's heads visible for what seemed like miles and miles ahead. As early as 3 a.m., I could see people begin to walk up toward the National Mall to line up for their place in line to witness history in the making. Shoulder to shoulder, leaving no room to even stretch one's arms, people danced—or at least appeared to be dancing as they jittered and moved their legs and feet in an attempt to keep warm.

In the days leading up to this 56th inauguration, bars were opened after hours in Washington, D.C., thanks to special legislation just passed in December. Alcohol was served until 4 a.m. Sen. Dianne Feinstein, chair of the Inauguration Committee, was concerned—and some others shared her concern—about a possible strain on local police because of the lengthened hours, which were originally planned for 5 a.m. for bars, and 24 hours for food establishments. Nightclubs stayed open late, filled to maximum capacity. The metro opened up on Inauguration Day to thousands of people, with many parking lots at metro stations filled to maximum capacity. Yet there was no shoving or disorderly conduct. There were surprisingly no arrests related to any of the inauguration events.

From the crowd, I could hear and feel the excitement and anticipation building. Many attendees wore patriotic attire, mostly purchased from the various vendors lining every street and outside every DC MetroRail train station, selling everything Obama. There were Obama belts, Obama buttons, Obama hats, Obama hoodies—whatever you could think of to put the likeness of Obama on, you could buy it right there. Snipers could be seen on the surrounding rooftops.
PHOTO BY JEFF HAMSHER
SANTA MARIA TO WASHINGTON, D.C.: Marcus King is vice-president of Allan Hancock College's Associated Student Body Government. Here, he's holding the inaugural tickets he received from U.S. Rep. Lois Capps'office.
People conversed with total strangers next to them, from all corners of not just the U.S., but also all over the world. Nobody seemed to be able to recall a time in which so many people united for one common cause, or to witness one single event together—and not as people of different races, but rather as a beautiful diverse picture of what being the "United States of America" truly means. This was a celebration and time of thanks and awe and empowerment that many had waited generations to see.
The crowds quickly grew quiet when the ceremonies began. People marched in place as the bands began to play. When president No. 43, George W. Bush, appeared on the various screens all over the National Mall, thousands, if not millions of "boos" erupted in unison throughout the crowd. When Obama's face appeared, a sound of rejoicing, happiness, and pride filled the air. The jubilation was at least twice as loud as the condemnation.

When Pastor Rick Warren stepped forward to ask everyone to join together in prayer, a couple more isolated boos began—then someone in the crowd said, "Let him speak now." At that moment everyone grew quiet again, looking past differences, as the crowd joined together in prayer.

The swearing-in of Vice President Joseph Biden, Jr. by U.S. Supreme Court Justice John Paul Stevens seemed to be just a build-up to the joy that filled the area when, minutes later, President Barack Obama took his oath from U.S. Supreme Court Justice John Roberts, Jr. The crowd went wild with screams and cheers of hope and enthusiasm. The speech we had waited for months to hear was about to begin. Everyone gave complete silence to the president as he delivered his inaugural address.


HOW HE GOT THERE: Members of the 111th Congress were given inauguration tickets to be distributed to their constituents, and one found its way into the hands of Marcus King, vice president of Allan Hancock College's Associated Student Body Government. Together with Jeff Hamsher (Student Body Government president), he traveled to Washington, D.C., to witness President Barack Obama's inauguration on Jan. 20. The psychology major is also a founding member of Hancock's Black Student Union and Poetry Club. He serves on the Student Senate for California Community Colleges.
The speech was atypical compared to the message of hope that echoed across airwaves and over crowds at Obama's visits during his campaign. It began with his thanks to the American people, and to President Bush. He then stated that the inaugural address has been given in prosperous and peaceful times. He segued into the fact that he was taking his oath during quite a tough time.
President Obama stated that we all know about the crisis in which we have found ourselves. Rather than a blame session attacking President George W. Bush, Obama pointed out how we found ourselves in the hard times we are facing. He mentioned that the economic crisis we face is a result of "greed and irresponsibility on the part of some"—a statement that prompted the cameraman to broadcast George W. Bush's reaction across the Jumbotron screens that filled the mall. Many watchers shook their heads back and forth, as if in shame of the leadership of the previous administration, replaced just minutes before.
President Obama went on to explain that our collective failure to make hard choices and prepare for the new age also contributed to this crisis. That seemed to balance the blame and spread it out to not just the previous president, but upon all of us. We share the responsibility to return to greatness.
President Obama admitted that our problems are very serious and that we can't solve them all in a short time. One of the most monumental moments of the speech, during which everyone was most enthusiastic, came when Obama echoed the message of freedom, equality, and justice for all that our Declaration of Independence gave us, which Lincoln himself stood for. Perhaps it was the fact that just one day before, then-President-Elect Barack Obama and Vice-President-Elect Joseph Biden, Jr. enjoyed a free concert given at the Lincoln Memorial. Many of us in the crowd witnessed it, too, and that made the message all the more inspiring.
President Obama stated that we must begin the work of remaking America. He cited education and new jobs, the harnessing of the sun, wind, and soil, and improving the quality of health care and dropping its price as part of our plan and responsibility. He also touched upon accountability, emphasizing the importance of taking on these tasks not just to improve the economy, but also to restore the trust between the people and the U.S. government.
PHOTO BY MARCUS KING
IN THE CUE:
The speech became very emotional when Obama mentioned how far we've come from our dark days of segregation. He likened it to his father he had never known. Throughout the crowd, many nodded in agreement. Members of older generations nodded perhaps because they experienced segregation. Younger generations nodded perhaps because Barack Obama's upbringing by a single parent was something familiar.
Ultimately, he claimed responsibility for the future, and practically implored every American to do the same. At that moment, a beautiful symphony of cheers rang out, but the most beautiful part of it was the diverse picture of an America that Dr. Martin Luther King Jr. himself would be proud of, with tears of joy running down faces of every shade and color as a day of hope seemed to dawn. ∆
Marcus King is vice president of Allan Hancock College's Associated Student Body Government. Contact him through the executive editor at rmiller@newtimesslo.com.