PHOTO BY STEVE E. MILLER
FORMER MAYOR MIKE BRENNLER : "Believe me, I don't think government can be perfect, but there are a lot of improvements that can be made in Atascadero."
It was supposed to be an exercise in trust building. Atascadero's City Council members sat side-by-side on one side of a table. 

An ethics moderator sat on the other side. A few members of the public sat in the back of the room, watching on as an event that was supposed to heal relationships left tattered by vicious campaigns and lingering accusations went horribly, horribly wrong.

Two council members almost traded punches. Later, one member simply got up and walked out in a huff. So much for trust.

It's been about a year since that failed session. Even now, with a different council makeup, the day echoes in the minds and rhetoric of many residents.

While it was a particularly dramatic display, it was not the first time politics in the small city degraded to personal slams and accusations; nor would it be the last.

The list of ugly political scenes is long. Peppered throughout the last few years have been tales of a challenge to a street brawl, vandalism, a death threat, and requests for police escorts by a council member.

Couple that with an us-versus-them mentality in the public, and Atascadero's reputation begins to come into focus.

Ask folks how it came to this point, and the answer is frequently "Walmart." Residents are still dripping from the tidal wave of ill will left by the debate leading up to the decision to allow the discount retailer to set up shop in the town. Bad feelings remain even now as the store is nearly a certainty. Although Walmart has a reputation as a hard sell to small-town residents in many parts of the country, in Atascadero it had a particularly devastating impact on personal relationships.

During the Walmart battles, neighbors became brooding adversaries, ordinary citizens turned against one another, council members brought their personal battles into the political arena, and motives were questioned regularly.

Divisiveness and bad blood remain. Discussions at city meetings often illuminate a split between those who want to dissect every aspect of Atascadero government, and others who just want them to shut up and play nice. Sometimes the jabs are subtle; at other times the attacks are blatant.

Troubles were brewing for a while. A widespread conservative base has long governed Atascadero. For roughly 10 years, however, that majority has been diluted by a steady influx of slow-growth liberals. For the most part, those interviewed placed themselves at one end of the spectrum or the other. Despite taking middle-ground positions on some issues, many characterized their philosophy in one of two categories: liberal and left, or conservative and right.

If a person were looking for a metaphor for the city's troubles, they might find one in the state of the faded and crumbling City Hall. The building itself sits separated by chain link fencing and "Danger" warnings. Dead hay-colored grass creeps over worn marble statues. Parts of the masonry building's chicken-wire skeleton are visible through holes in the concrete and plaster. Reddish-brown rust has crept over the stairway handrails and almost reflects the dry layer of pine needles that covers the ground.

The building owes its decrepit state to the San Simeon earthquake, which rocked its foundation and shattered its walls. Now, city business takes place in a former bowling alley down the street.

But at the top of the old building there is hope in evidence. Poetic phrases have been etched in capital letters on each facade, reminders of Atascadero's guiding principles. "LET US KEEP OUR FACES TO THE SUNSHINE AND WE WILL NOT SEE THE SHADOWS."

Many in Atascadero hope that they can soon finally feel the warm sun on their faces.


PHOTO BY STEVE E. MILLER
COUNCILMAN JERRY CLAY: "I think a lot of that petty stuff is behind the council; it's not behind the public, but it's behind the council."
Rancor
Atascadero's new City Council has reverted politically after a brief experiment in liberalism. Bob Kelley and Roberta Fonzi won in 2008 and ensured the council would have a 4-1 conservative majority after two years with a 3-2 liberal lean.
City Hall was a rough place to be during those years. Kelley said he chose to avoid attending city meetings when things were at their worst, opting instead for the safety of watching the events on TV. He steered clear of the firefight for a few years, and hopes to move on. After all, he said, "Shit happens."
So what happened during that transition to cause a two-year political slugfest? Enter Mike Brennler. A former San Luis Obispo police officer, he cruised into the City Council with hopes of sweeping out corruption and exposing shady deals behind the walls of City Hall. He said he believes he accomplished that goal, if only partially, but his crusade did nothing for his popularity among veteran city officials.
Brennler and fellow council member Ellen Beraud (both left-leaning candidates elected at the same time) found themselves at the business end of a recall effort just months into their terms. That recall failed to gain enough momentum, but the bad feelings remain.
For Brennler, it was bad enough that after only one term, he cashed out.
"I was not necessarily opposed to running again, but when I experienced some of the behaviors I experienced in Atascadero it was hard on me," he said.
If Brennler had one particular enemy, it was longtime Councilman Tom O'Malley. Both admit they never got along. In fact, they almost exchanged blows—twice.
The first time was at a Chamber of Commerce mixer, Brennler said. Council members and other city officials were sitting together at one of the tables chatting and drinking. Somehow the conversation between Brennler and O'Malley heated to the point when O'Malley said, "You and I are gonna meet in the parking lot." That's how Brennler remembered it.
O'Malley denied that there was ever an incident at a Chamber mixer, but other people who were at the table at the time gave the same account.
Then there was the trust-building session. Brennler and O'Malley were seated next to each other. Accounts differ, but overall the picture is the same. O'Malley said Brennler was waving a finger in front of his face; Brennler said he waved his hand at O'Malley to calm him.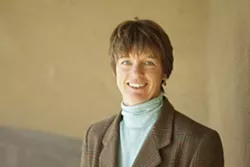 PHOTO BY STEVE E. MILLER
MAYOR ELLEN BERAUD : "I'm just trying to be there to make decisions; I'm not trying to play all the little political games."
Brennler said O'Malley told him, "If you point your finger at me one more time we're gonna meet in the parking lot."
O'Malley had a slightly different account: "That's when I said something the equivalent of 'Please take your finger out of my face or take it outside.'"
In fact, Brennler and O'Malley never meshed. O'Malley told New Times Brennler regularly interrupted him at meetings, including the trust-building session. Brennler said O'Malley would often belittle people with opposing ideas.
The pro-Brennler and pro-O'Malley sides were effectively solidified by the exchange that took place. Seemingly everyone in town has their own rehashing of the incident; inflamed by the fact that there were no cameras or recording equipment of any kind present.
On the day of the trust-building effort, the mood didn't get any better after O'Malley's and Brennler's tussle. Later that day, former council member George Luna, frustrated by public criticism of himself and his wife, stormed out.
Luna's departure would not be the last time an Atascadero public official abandoned a public meeting in frustration. At another more recent, and also unrecorded meeting, Mayor Ellen Beraud also left the room mid-meeting.
Here's the story behind that event: Beraud, who is serving as mayor as part of the council's rotation of the position (Atascadero is the only city in SLO County to rotate rather than elect its mayors), was criticized by her fellow council members for letters she sent to Walmart representatives and constituents. She signed the letters as mayor, which didn't fly with her colleagues.
"They seem to be threatened by me … I'm puzzled," Beraud said recently of the incident.
O'Malley, in particular, launched into a lengthy critique of Beraud's actions during the meeting. O'Malley later gave a detailed public apology, but only after the event triggered waves of public scolding at a future City Council meeting.
After about 15 minutes of being criticized, Beraud said she understood, then O'Malley kept going. "I said, 'I've had enough. I'm going to leave,'" she recalled.
PHOTO BY STEVE E. MILLER
COUNCILMAN TOM O'MALLEY : "When you use inflammatory language that is hurtful to your fellow members, then that creates divisiveness."
Atascadero City Council meetings don't have a reputation for cordiality, but meetings without cameras seem particularly chaotic. Asked if there is a difference between recorded and unrecorded meetings, Brennler chuckled.
"Whoa," he said. "Both the ones I attended that weren't taped, bad things happened."
Very bad things
City Council members don't always get along. So what? The problem in Atascadero is political debates sometimes reach beyond the City Council chambers and beyond simple words. Here are some examples:
•Ellen Beraud asked for a police escort to her car after controversial meetings, especially when Walmart was on the agenda. "People just get so, they almost get rabid," she said of Walmart. "They get crazy about it."
•Al Fonzi, a founder of the conservative-leaning group A Better Atascadero, said he goes to council meetings to guard his wife, Roberta Fonzi, from radical residents.
"You just wonder sometimes," he said. "They're really becoming emotionally charged and heated—at least, in their own mind."
•Beraud's husband, Francois, had his van vandalized while parked in front of their home twice in one month. At the time Ellen had taken a controversial position about private dirt-bike tracks. No other homes in the neighborhood were vandalized, Francois said. He couldn't say for certain the vandalism was directed at his wife and her politics, but as he put it, "What are the chances?" The first time the van was covered in a cement-like mixture of flour and water. Within the month the same van was slathered in tomato sauce.
•At the height of the Walmart controversy, the Beraud household received a constant stream of phone calls from people pressuring her to vote in favor of the project. Ellen and Francois said they stopped answering their phone when they were receiving up to 100 calls in a day.
•About two months ago, the Berauds received a phone call from a blocked number. "The guy told us he knew some people who could kill us," Francois said. Francois voiced his outrage at the strategic planning meeting (before his wife was driven out of the room). Later, outside, he was approached by an Atascadero conservative who apologized, said it would never happen again, and added: "Some people here are new to politics and they don't know that families are off limits."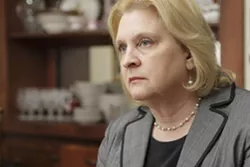 PHOTO BY STEVE E. MILLER
COUNCILWOMAN ROBERTA FONZI : "The difference is just dramatic because [with] the last council everything was taken very personally."
The break-up
When David Broadwater speaks at council meetings—he usually does—there is almost a squishing sound when a roomful of eyes simultaneously roll. Broadwater entered the political arena when he heard rumblings that Walmart was coming to town in early 2006; he's been a regular and vocal City Hall figure ever since. He's a meticulous researcher and never shy with his opinions, which often earns him indignation from city officials, developers, and residents.
Broadwater, incidentally, lives next door to O'Malley. The two had never been great friends, but they used to talk over the fence while trimming the apricot trees in their respective backyards.
Then Broadwater began going to council meetings. Specifically, he started raising concerns that there were backroom deals between Walmart representatives and city officials, including O'Malley.
"So that was the end of the cordiality across the fence," Broadwater said.
O'Malley said he was exonerated of Broadwater's accusations. But asked if the personal relationship changed because of politics, he said, "Absolutely." He added that Broadwater, and others who regularly speak, focus only on negatives and really don't help to ease tensions.
"I think there are some folks who truly don't want anything [good] to happen," he said.
If there's any agreement between the clashing groups in Atascadero, it's only that the other side is trying to suppress them.
"This is scorched earth," Broadwater said. "They're trying to wipe out the possibility of any mushrooms from the liberal side."
Ron Walters is president of A Better Atascadero. He said much the same thing as Broadwater, but with a different perspective. Asked about some of the talk of death threats and such, he said: "That shows you how extreme and disruptive they're becoming."
Conservative Councilman Jerry Clay, for his part, spoke to New Times while wearing a tattered, bright orange hat with the words "Just a good ol' boy." He believed the minority voice was trying to drown out any opposition by labeling critical statements "attacks."
"I think it's just a ploy to suppress people from expressing their opinions to others," he said. "Jeepers creepers, I don't know of anyone I've ever attacked."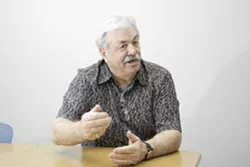 PHOTO BY STEVE E. MILLER
COUNCILMAN BOB KELLEY: "There's been a lot of negative for Atascadero in the past. And you can't say it wasn't there; it was there, but I'm working on moving forward."
Letting go
Can Atascadero really move forward? Many people seem to hope so. They say the new council is decidedly calmer, and for the most part observations bear that out. Meetings seem less tense, but the old battles aren't over.
"I think some people have a hard time letting go of the war," Ellen Beraud said.
Many people talk about the past few years, the Brennler years, in hushed tones as if they were Atascadero's dark ages. Others feel the majority simply has control and can better squelch the minority opinion.
"Yeah, if we would just go away like Jerry Clay says, things would be better for them," resident and former planning commissioner Joan O'Keefe said. "If they would just behave themselves I would go away."
Maybe the previous two years were just growing pains, or a blip of temporary, passing nastiness. Whatever the reason for the bad times, all the council members said they want to move on.
"I don't remember the real divisiveness until the Walmart issue," O'Malley said. "And that was real unfortunate, I think, but we're past that now."
Clay gives a glowing account of the new council. He said the faces at the first meeting were "exuberant." His synopsis for the new council so far: Everyone is getting along great.
Others share Clay's belief, but it's hard to overlook the rough start that began with the first council meeting late last year. When it came time to nominate Beraud as mayor, a routine procedure, the room was silent for about 10 seconds. Eventually Beraud had to nominate herself.
Clay cast the first vote, but said he did so because he had to under city code. He voted "begrudgingly," as he explained at the meeting, because he claimed Beraud had declined to meet with him the day before.
Following the strategic planning meeting where Ellen left the room, Brennler, Broadwater, and others from the public reproached council members for their behavior toward the mayor.
Clay responded that people were getting "thin-skinned." Later that night, he said it was unfortunate "that we still have the nay-sayers out there at the first of the meeting, spreading their poison."
Also at the meeting's end, Kelley said he thought the strategic planning meeting incident was behind them and O'Malley had apologized.
"Well, actually, I didn't apologize," O'Malley said.
"So you're saying you're not apologizing?" Beraud asked.
Later Clay jumped in. "I never got an apology from you, Ellen, about requesting someone be in the room when you meet with me." He added he wasn't demanding an apology.
One week later, O'Malley did apologize. He admitted that he may have spoken for too long, as he is prone to do, but he didn't mean to come down so severely on Beraud. Maybe, he said, he let "discouragement and frustration" of the last two years carry over. Maybe that's where it will end, the last apology as the shadows of the past fade away. Maybe.
Staff writer Colin Rigley can be reached at crigley@newtimesslo.com.