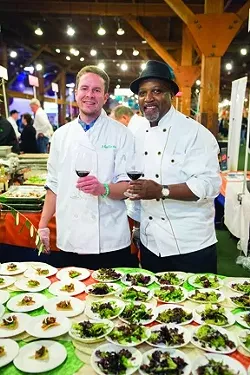 PHOTO BY WAYDE CARROLL; COURTESY OF ZAP
ZIN FOR YOU: Tony Lawrence of A Wine Chef for You (right) and his assistant participated in last year's Zinfandel festival.
I have been a zealot for zinfandel ever since I took my first wine classes at the California Culinary Academy in San Francisco in 1986. And I don't mind, every so often, bragging that I was at the very first Zinfandel Advocates and Producers (ZAP) tasting in San Francisco in 1991. It started in a banquet room at the Mandarin Hotel in the Financial District, and I remember it seemed there were more producers than advocates during that first evening. That, however, changed the very next year, and this outstanding tasting event has grown more popular every year since it was founded 23 years ago. This year it has blossomed into what I believe will be the greatest improvement to ZAP since that first small and very exclusive tasting event.
There was only one problem with grand tasting over the past few years: The crowd continually grew and last year over 10,000 zinfandel zealots attended this popular event. Which serves to tell you how great it is, and I don't know of another one that draws a crowd as huge as ZAP's annual tasting!
That was the main reason I wasn't quite as excited about ZAP over the past few years, and many others who felt the same way complained. The media has always been provided early access with industry people, and it was still plenty crowded with those limitations. But once they opened the doors to the public, it was akin to a tsunami wave rushing into Fort Mason, its previous venue alongside the bay. I described it as playing Twister with thousands of strangers. I always left soon afterward even though I didn't get a chance to visit many brands I had hoped to taste.
ZAP's board of directors understood that people were frustrated, and they decided to ameliorate the problem by dividing the grand tasting into three venues within the Presidio now called the Zinfandel Experience. I called on Paso Robles Zin producer and fanatic Kevin Riley of Proulx (pronounced Pru), who farms old-vine zinfandel alongside Vineyard Drive. Riley has poured wine at ZAP events since he started in the business while working at Dark Star Cellars in 1997. Now Riley is on ZAP's board or directors, and he helped reorganize and improve the grand tasting.
"This year the ZAP Experience is going to be off the charts," Riley said enthusiastically. "People will get to the meet the megastars of zinfandel and the up and comers!" Riley believes the tasting should be about accessibility to the people behind the wines, and that requires a smaller, more intimate environment. With three venues at the Presidio, you can definitely count on smaller crowds and shorter lines. "By keeping it small and organized, going back and forth between sessions will be fun. We'll have some free food, and several gourmet food trucks for people to buy from." Riley encourages new zin fanatics to join ZAP, and membership in the Heritage Club Experience starts at only $45 for beginners, and up to $5,000 to become an Imperial VIP. The more you pay, the better your rewards.
PHOTO BY WAYDE CARROLL; COURTESY OF ZAP
GLASS NOSE: ZAP attendees (l-r) Earl Bless and Amy Scarborough participated in last year's festival.
Each tasting session is repeated three times from 10 a.m. until 6 p.m. Now an all-day pass will allow you the freedom of a break between sessions, and you can ride a free shuttle or simply take the short walk to another tasting session. Breaks are a good thing when you have so many great wines to sample. In San Francisco's historic Presidio, guests will be privy to spectacular views of the Golden Gate Bridge and Alcatraz while they roam along the park to four tasting venues. Another new addition is the ZAP General Store where you can purchase your favorite zin discoveries to take home."
On Wikipedia I discovered the park was originally named El Presidio Real de San Francisco or The Royal Fortress of Saint Francis. After seeing photos of the beautiful Presidio on Zinfandel.org, I can't wait to attend the upcoming tasting on Saturday, Jan. 25, and you can still get in, too. The website provides ticket purchases, which I strongly recommend you buy in advance. If you hustle to the webpage you can still purchase tickets for Epicuria Food and Zin tastings on Thursday, Jan. 23rd (events on Friday, Jan. 24, sold out).
"We were unhappy with the crowded situation," Riley admitted candidly. "We wanted to make it something light and nimble as opposed to the big party. Advocates can choose à la carte events like the reserve tasting or an all-day pass. Some sessions will be busier than others, but there will be some sessions where you can spend some special time with the vintners or winemakers. You'll meet these people from every appellation in the state, and that's a powerful thing."
Should you be unable to attend ZAP this year, fear not, "Vintage Paso: Zinfandel and other wild wines event" is coming soon. It takes place March 14 through 16, with more than 120 Paso Robles wineries providing a great schedule of events throughout the weekend. Interestingly, there's no Zinfandel Festival with one grand tasting this year. But with their enticing calendar of winemakers' dinners, tastings, tours, and live music, Paso's outstanding and enthused vintners are sure to offer something for every taste or desire.
Go to pasowine.com where you can read through the brochure and plan a day that's exactly what you want to experience. You could focus strictly on visiting zin producers, wineries that offer an array of classic varietals, or those that specialize in Rhone varieties. The vintners also recommend that you follow them on Facebook, Twitter, Instagram, and other social websites to stay informed about Vintage Paso activities. No doubt about it, the sky's the limit when it comes to outstanding wine experiences in Paso Robles.
Contact Cuisine columnist Kathy Marcks Hardesty at khardesty@newtimesslo.com.