I could talk about countdowns, about how many precious days we have before Christmas, about lists and the time and cost of shipping, but the odds are you're already aware of all that. Odds are, whether you love the holidays or not, that you're probably just a little bit stressed by now. And our annual Last Minute Gift Guide is not meant to increase your guilt or stress. It's quite simple, actually. We compiled our own list of local products we happen to think are pretty cool. We tried to accommodate different budgets by hitting five different price points, and we included the cost of each item as well as a guide to where you can find it.
—Ashley Schwellenbach, managing editor
Teenagers
$25
Music stuff! Sure, you could go to one of our incredible locally owned record stores and pick out some wholesome music for your teen … that is if you enjoy receiving eye rolls as a thank you. Instead, why not get a $25 gift certificate and let your teen pick out what he or she wants?

$50
Custom Minimate! Everyone who knows a teen knows 
they know everything and are total narcissists, so get them the gift that says, "You're not such a big deal, hotshot!" Yes, I'm talking about a 4-inch version of your teen! thatsmyface.com; ($49).


PHOTO COURTESY OF THATSMYFACE.COM
CUSTOM MINIMATE AT THATSMYFACE.COM:
$100
A private skate party! Whether your teens ride skateboards, scooters, or BMX bikes, the A-Town Skate Park is the perfect place for them and their besties to have some fun. You can reserve the venue for a two-hour private party for $100. 5493 Traffic Way, Atascadero; 461-7606.

$250
The cool new gaming system! Sure, you want your teens to go out and play, use their imaginations, but sometimes it's easier to stick a screen in their faces—especially on a road trip—and the hottest newest handheld is the Nintendo 3DS XL ($199.99).

Wild Card
Just buy their damn love! Face it. You're broken. You've given up. All your teens want to do is sequester themselves in their rooms and kill zombies. Let them do it in style with the new Sony PlayStation 4 ($399) and a Toshiba 40" flatscreen ($329). Yes, you're a terrible parent, and you bought your teen's love, but at least they've stopped bugging you.
—Glen Starkey
The Geek
$25
Seconds, 2014 graphic novel by Bryan Lee O'Malley (Scott Pilgrim), $25, Dr. Cain's Comics and Games, 778 Marsh St., SLO; drcainscomics.com.


PHOTO BY RHYS HEYDEN
ADVENTURE TIME CARD WARS AT DR. CAIN'S COMICS AND GAMES:
$50
Glowing Chemistry Set, $35, Whiz Kids!, 3979 S. Higuera St., SLO; whizkidsslo.com.

$100
Geeky Canvas Prints by Irene Flores (SLO-based artist), $85, online at society6.com/beanclam/canvas.

$250
SLO MakerSpace 24-hour membership for one month, $250, 3988 Short St. Suite 100, SLO; slomakerspace.com.

Wild Card
Adventure Time Card Wars, $19.99, Dr. Cain's Comics and Games, 778 Marsh St., SLO; drcainscomics.com.
—Rhys Heyden
Husband
$25
An Arturo Fuente Hemingway cigar and an E.P. Carrillo 5th Anniversary cigar, $23.50, The Sanctuary Tobacco Shop, 1111 Chorro St., SLO; sanctuarytobacco.com.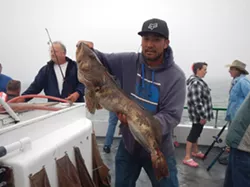 PHOTO COURTESY OF VIRG'S LANDING
OCEAN FISHING AT VIRG'S LANDING:
$50
"Old Vine" Grapevine Pen, $45, From Wine Country Craftsman, winecountrycraftsman.com or etsy.com/shop/winecountrycraftsman.

$100
Half day ocean fishing trip, $94, Virg's Landing, 1169 Market Ave., Morro Bay; virgslanding.com. Cost includes rod and tackle, rental, and one-day fishing license. Season closed in January, reopens around May.

$250
J.A. Henckels Chef's knife and carving knife, $210, Forden's, 857 Monterey St., SLO; fordens.com.

Wild Card
Gift card to Arroyo Grande Meat Company, $150, 118 E Branch St., Arroyo Grande; agmeatcompany.com.
—Jono Kinkade
Wife
$25
Colorful unicorn knee high socks, $10. Sock Drawer 852 Higuera St., SLO; sockdrawer.com.

$50
Twilight Topaz Earrings, $32.95, Turn To Nature 786 Higuera St., SLO; turntonature.com.


PHOTO COURTESY OF AHSHE
ROYAL TREATMENT PACKAGE AT AHSHE DAY SPA & SALON:
$100
Royal Treatment Package, $175. Ahshe Day Spa & Salon 1112 Garden St., SLO; ahshesalonspa.com. Give the gift of relaxation to your wife this holiday season! This package includes a Serenity Spa Facial, a one-hour aromatherapy massage, as well as a shampoo, blow dry, and style.

$250
Pendleton wool coat, $199. Hep Kat Clothing & Beauty Parlor 785 Higuera St, SLO; hepkatclothing.com.

Wild Card
Zipline tours, $99 per person. Margarita Adventures 22179 El Camino Real, Santa Margarita; 
margarita-adventures.com. Go on an adventure this Christmas. Enjoy a 2 1/2 hour zipline canopy tour through Santa Margarita Ranch. The tour also includes a visit to the Ancient Peaks Winery tasting room, with 20 percent savings on wine purchases.
— Adriana Catanzarite
Grandparents
$25
Porcelain teapot and infuser, $15; Dream Time tea, $7/ oz (each ounce makes 8 to 10 cups), The Secret Garden, 740 Higuera St., SLO; organicherbshop.com.
$50
Hop On Beer Tours, Social Tour, $30; hoponbeertours.com, comes with a driver for people who aren't comfortable driving; it's an opportunity to socialize, and since booze isn't included in the cost, slip Grandma or Grandpa an extra $20.
PHOTO COURTESY URBAN OPTICS
GLASSES AT URBAN OPTICS:
$100
Embroidery wall art from Peg Grady, "Travel dreams of adventure on your hippie bus" and "Vintage typewriter," $95; etsy.com/shop/peggyos.
$250
Glasses, Urban Optics (black Paul Frank, Utterly Unfounded, $215), (red Dutz 2015, $250), (blue TOMS Isa, $175); urbanoptics.com; 1001 Higuera St., SLO.
Wild Card
Talley Farms Fresh Harvest, bimonthly vegetable delivery, $26 every other week; talleyfarmsfreshharvest.com.
— Ashley Schwellenbach
Kids
$25
Video games. Fruit rots; video games don't. So get some used games 'cuz your kid won't be able to tell the difference anyway. $14.98-$19.98. Cheap Thrills, 563 Higuera St., SLO; cheapthrills.biz.
$50
Lego(s). Make your own toys, damn it! $39.99-$49.99, Tom's Toys, 682 Higuera St., SLO.
PHOTO BY COLIN RIGLEY
LEGO AT TOM'S TOYS:
$100
Experiment Kit. Because science. $89.95, Turn to Nature, 786 Higuera St., SLO; turntonature.com.
$250
Jasmine JC27. Rock out with your inspirational gift. $199, Music Motive, 3440 S. Higuera St., SLO No. 130, SLO; 130 Easy St. No. 5, Paso Robles; 338 A W. Tefft St., Nipomo; 1115 E. Grand Ave., Arroyo Grande; musicmotive.com.
Wild Card
Aerial Silks class. Gyms are boring, but I dare you to be bored by kids spinning around in giant strips of silk. $75 for four classes, Performance Athletics, 4484 Broad St., SLO; performanceathleticsslo.com.
—Colin Rigley
Fido
$25
Chuckit! Ball Launcher, $9.99-$11.99, Farm Supply Company, 224 Tank Farm Rd., SLO; farmsupplycompany.com.
$50
DOVELA "Macka" Wine Barrel Cat Food Dish, $50, Wine Country Craftsman, winecountrycraftsman.com or etsy.com/shop/winecountrycraftsman.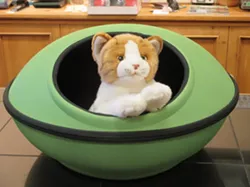 PHOTO BY TREVER DIAS
K&H MOD DREAM POD AT TAILS PET BOUTIQUE:
$100
K&H Mod Dream Pod, $72, Tails Pet Boutique, 745 Higuera St., SLO. This unique, futuristic bed is large enough for any-sized cat, and the top half unzips from the bottom half for a more open floor plan.
$250
Woods Humane Alliance, $250, Woods Humane Society, 875 Oklahoma Ave., SLO, woodshumanesociety.org. Let's be honest: If you're able to spend $250 on a gift for your pets, they're probably already doing pretty well for themselves. But the dogs and cats at Woods Humane Society can always use your help. Consider giving them a gift by becoming a member of the Woods Humane Alliance, which will help to provide food, shelter, and medical attention.
Wild Card
Off-leash beaches and dog parks, free, various locations. The one thing your dog probably wants most, aside from getting its balls back, is freedom. Consider taking your canine companion to Olde Port Beach or Fisherman's Beach in Avila, both of which are off-leash beaches, or one of the many dog parks in SLO County including Elm Street Off-Leash Dog Park in Arroyo Grande; Heilman Dog Park in Atascadero; Cambria Dog Park; Jody Giannini Family Dog Park in Morro Bay; Nipomo Dog Park; El Chorro Dog Park and Laguna Lake Dog Park in San Luis Obispo; Vineyard Dog Park in Templeton; and Sherwood Dog Park in Paso Robles.
—Trever Dias
Mom
$25
Cotton Ball Gift Certificate, $25, 1199 Main St., Morro Bay; thecottonball.com. "Buttons, thimbles, ribbon, and thread. The Cotton Ball has the best sewing spread."—John Pleats
$50
Poppy Soap Co. Mama Love Box, $35, Bambu Batu 1023 Broad St., SLO; Bladerunner Salon 894 Monterey St., SLO; or poppysoap.com. This gift box special from SLO's own Poppy Soap Co. has everything: organic oatmeal soap; a handmade wooden soap deck; a blended oil of jojoba, lavender, and Roman chamomile; ginger cardamom lip balm; a sea salt soak; a copy of the unreleased eighth Harry Potter book. OK, maybe not the last one. But this is a solid, one-of-a-kind gift perfect to pamper your mother with.
PHOTO COURTESY OF BACK BAY POTTERY
BACK BAY POTTERY THREE-PIECE DINNERWARE SET:
$100
Back Bay Pottery three-piece dinnerware set, $98, various Central Coast shops or backbaypottery.com. Food is pretty excellent on its own, but it's so much better when served on these gorgeous, handmade dishes from Back Bay Potter in Baywood-Los Osos.
$250
Vienna Hoops gold earrings by Len Designs, $148, 570 Higuera St., No. 152, SLO (call 704-8182 for appointment), various Central Coast shops; lendesignsjewelry.com. These handcrafted earrings from SLO-based designer Shannon Len will transform your mom from shabby to chic.
Wild Card
Let's Go Ballooning hot air balloon ride, $189, call 458-1530 for questions or to make an appointment. What do you get the mom who needs to get away from it all? The sky's the limit! Literally. Get her a sweet, hot air balloon ride from Paso Robles' Let's Go Ballooning Inc.
—Jessica Peña
Foodie
$25
TheraBee Infused Culinary Honey, $8 to $16, various Central Coast shops; therabeehoney.com. You know what's sweeter than honey? Getting someone the gift of honey—locally handcrafted honey that is. Based in Atascadero, Therabee Honey offers 100 percent raw, unfiltered honey infused with a wide range of flavors from chipotle to cinnamon vanilla. It's the perfect thing to sweeten up the holidays.
$50
Mama Ganache 15-piece Truffle Box, $34.50, 1445 Monterey St., SLO; or mama-ganache.com. It's chocolate. It's delicious. You eat it, and you feel good.
PHOTO COURTESY OF ALLE-PIA
ALLE-PIA SALAMI GIFT BOX:
$100
Alle-Pia Salami Gift Box, $70, 943 Spring St. Paso Robles; allepiasalumi.com. Meat your destiny—an entire box of finely crafted salami that would make even the Great Meat God Ron Swanson dribble in anticipatory delight. Comes with three salami (no hormones, antibiotics, or nitrates) and Alle-Pia's own, specially made 'Nduja spread.
$250
Fromagerie Sophie Cheese Club, $120, 1129 Garden St., SLO; fromageriesophie.com. As a real lady, I know there are things that come around every month that aren't so great. Cheese from the Fromagerie Sophie Cheese Club is not one of them. With this three-month membership, you get a special cheese once a month with wine and beer suggestions and a recipe. More cheese, please!
Wild Card
The New Wine Country Cookbook: Recipes from California's Central Coast by Brigit Binns, $35, Paso Robles General Store 941 12th St., Paso Robles; amazon.com. There's a reason wine and dine rhyme. Food and fermented grape fluids belong together, and the Central Coast has no shortage of either. Luckily, local cookbook author Brigit Binns has provided us with 125 succulent dishes that include both local wines and indigenous foods such as "Raw Oysters with Saffron and Sauvignon Blanc Granita." Yum!
—Jessica Peña
The granola/hippie friend
$25
About 5 ounces of organic loose-leaf tea from the Secret Garden, $3 to $5 per ounce, 740 Higuera St., SLO.
$50
A raw, organic cheesecake from Bliss Cafe, $45, 778 Higuera St., SLO; blisscafeslo.com.
PHOTO COURTESY OF SLO-OP
SLO-OP CLIMBING:
$100
Two months of membership at SLO-Op, $110, 289 Prado Road, SLO; slo-opclimbing.org.
$250
A massive citrine geode from Unique Selections, $225, 790 Higuera St., SLO.
Wild Card
New Age guides from Phoenix Books, $35, 986 Monterey St., SLO.
— Cliff Mathieson