God bless America! God bless its corrupt wars, its high gas prices, its attempts at legitimizing torture, its pathetic health-care system, its racism, its incarceration rate, its corporate welfare, its greed, its destructive environmental policies, its ineffective test-focused education system, its inhuman immigration policies, its distrust of diversity, its fear of same-sex marriage, its wholly useless drug-war policies, its … well, I could go on, but let's just say we've got a lot of stuff that needs blessing!


PHOTO COURTESY OF THE REVEREND HORTON HEAT
GOD BLESS THE AMERICAN WAY! : The Reverend Horton Heat brings its revved up rockabilly madness to Pozo Saloon on July 4.
None of that will stop us from celebrating Independence Day next Friday, July 4, where the hottest ticket in town (both metaphorically and probably literally) will be the four-band show at Pozo Saloon, when Sexy Times Explosion kicks off the 5 p.m. concert with their covers of Turbo Negro songs that celebrate dangerous Negros and promiscuous gay sex. The local band delivers its awesome punk rock with tongue firmly planted in (butt) cheek!
Next up comes The Supersuckers, who modestly bill themselves as "The Greatest Rock'n'Roll Band in the World." Formed in 1988 and fronted by the irascible bassist Eddie Spaghetti, the band's forays into countrified rock have won them legions of fans, all of whom are well versed in the band's "fake encore," in which they pretend to end their set but burst back onto stage after about 15 seconds.
Third on the bill is Nashville Pussy, which hails from Atlanta and whose favorite word is "motherfucker!" Go to nashvillepussy.com and it says, "Welcome to the Official Nashville Pussy Webpage, Motherfucker!" Lots of their songs have the word "motherfucker" in 'em, and they play both kinds of music: rock and roll … motherfucker!
The headliner is really going to bring the heat, The Reverend Horton Heat, that is! Rev. Heat (n»e Jim Heath) is the "biggest, baddest, grittiest, greasiest, greatest rocker that ever piled his hair up and pounded the drinks down," according to his publicist. How'd he get to be known as 'Reverend'?
"Well, there used to be this guy who ran this place in Deep Ellum, Texas who used to call me Horton—my last name is Heath," explained The Rev. "Anyway, this guy hired me and right before the show he goes, 'Your stage name should be Reverend Horton Heat! Your music is like gospel' ... and I thought it was pretty ridiculous. So I'm up there playing and after the first few songs, people are saying, 'Yeah, Reverend!' What's really funny is that this guy gave up the bar business, and actually became a preacher! Now he comes to our shows and says, 'Jim, you really should drop this whole Reverend thing'."
Only in America, people. God bless her!
Gates open at 4 p.m., the show's at 5 p.m., and tickets are available at local Vallitix outlets, including Boo Boo Records, the Mustang Ticket Office at Cal Poly, the Mid-State Fairgrounds, or online at
www.vallitix.com
.


What passes for beautiful Downunder?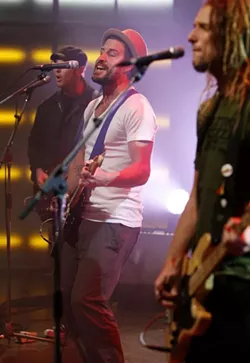 PHOTO COURTESY OF THE BEAUTIFUL GIRLS
SING IT, SISTERS : The Beautiful Girls, who are technically not girls at all, play June 27 at Downtown Brew.
The Beautiful Girls are from Australia, but they look more like Cold War-era Eastern Block female Olympians than what I would call beautiful girls … okay, that's because they're not girls at all. They're surfers with a sense of humor, and they're coming to Downtown Brew on Friday, June 27 at 8 p.m. (presale tickets cost $12 at Boo Boo's or the venue; 21 and older).
The Beautiful Girls are back on the West Coast playing predominantly breezy, beachy roots music; touring in support of their new EP Morning Sun, and reminding audiences that they also have three full length albums under their belts: Learn Yourself, We're Already Gone, and Ziggurats.
Mixing such genres as rock, reggae, pop, and folk have led to comparisons with Ben Harper, Jack Johnson, Mason Jennings, and even The Police.
Opening acts include Timmy Curren, a pro surfer; and Jim Bianco, who has long been associated with the famed Hotel Caf», touring with the Caf», since its inception in 2005, throughout the U.S. and into Europe. He joined up after stumbling into the Hollywood venue accidentally on one "Songwriter Sunday," where he played a few songs and was asked to return next week as a marquee performer.


True Freedom!

PHOTO COURTESY OF RANCHO DELUXE
GOOD COUNTRY BOYS : Templeton resident Mark Adams (left) and Bay Area resident Jesse Harris are Rancho Deluxe; the duo plays June 27 at Paso's City Park Gazebo to celebrate a killer new CD True Freedom.
Rancho Deluxe's new alt.country CD, True Freedom, was just released a couple of days ago, and I can happily inform you that it's awesome, which is why it's already been added to more than 20 stations (including Sirius). Now the formerly L.A.-based band, whose frontman Mark Adams was born in SLO, returns to his old stomping grounds this Friday, June 27, when they give a free show at Paso Robles' next "Concerts in the Park," from 5:30 p.m. until 7:30 p.m. at the Paso Robles City Park Gazebo. In case you're unfamiliar, Adams gave me the Cliffs Notes version of the rise of Rancho Deluxe:
"I'm the only local and met the guitarist, Los Angeleno Jesse Harris, at Chico State where we had a roots rock band in the '90s called Northern Lights that mostly played San Francisco, Sacramento, Tahoe, and Humboldt," explained Adams. "After college we got serious about playing roots Americana—country rock, alt.country, whatever the fuck ya wanna call it—and moved to L.A., forming Rancho Deluxe in 2004. We released the self-titled debut in 2005 to raves from No Depression (RIP), Dirty Linen, and other 'zines, and we're just about to officially put out True Freedom. [It was released on June 23.] I moved back home to Templeton three years ago (hence the local themes on True Freedom) to farm grapes and make wine with an old high-school friend who owns a winery here. Now Rancho Deluxe plays most every weekend, either in the north county of SLO, L.A. or S.F., where the guitarist now lives."
As for True Freedom, Adams has clearly been inspired by returning to his hometown roots. In "Valley of the Bears," Adams sings about escaping the North County heat by heading to Los Osos. In "Pine Street Saloon," Adams anoints the popular Paso watering hole a "grand old house" where you can "swing your sweetheart by the arm and mister, she can swing you, too." There's also a song called "Templeton Gap," and the whole collection demonstrates a level of musicianship and production values that rival anything coming out of Nashville.


More music…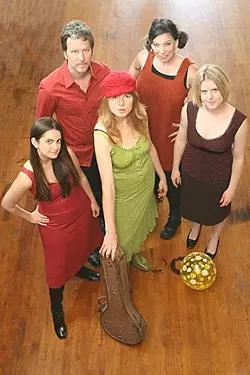 PHOTO COURTESY OF MOIRA SMILEY & VOCO
APPALACHIA SWEETHEARTS : On June 26 at Painted Sky Studios, fans of acoustic music are in for a treat when Moira Smiley and VOCO will perform Appalachia and Eastern European music
This Thursday, June 26, at Painted Sky Studios, fans of acoustic music are in for a treat when Moira Smiley and VOCO will perform a concert sure to send tingles down your collective spines. Billed as "Stompin' rebel-harmony with cello and banjo: Original songs steeped in Appalachia and Eastern Europe," the show features powerful, emotional music with lush harmonies and the delicious vaudevillian combo of cello, accordion, and banjo. The group was voted number one a cappella band in the U.S., and the four members of VOCO create "post-folk, improvisation-built songs while digging into old Americana and Eastern European sounds," according to press materials. Tickets cost $15 at Boo Boo's, the Cambria Business Center, or by calling 927-8330. If not sold out, tickets will be available at the door.
The San Luis Obispo County Band is set to deliver live music all summer long, beginning with a Thursday, June 26, 7 p.m. twilight concert at SLO's Mitchell Park, where they'll be most Thursday evenings through Aug. 14. Viewers are encouraged to bring a blanket or lawn chair and enjoy music in the park. The San Luis Obispo County Band, directed by Leonard Lutz, is celebrating its 134th birthday this year. It traces its origins back to the SLO Military Band, which was founded in 1874.
Fighting Chance will headline a show at Monteleone's Rock in Paso on Thursday, June 26. It's 21 and older, costs $3 at the door, starts at 9 p.m., and includes New Mexico band La Junta opening the show.
Klockwyze will play at Mongo's in Grover Beach on Friday, June 27, during a 9 p.m., 21-and-older, $5 show, with La Junta opening, followed by Fighting Chance.
PHOTO COURTESY OF PAUL KREIBICH
RAY CHARLES' DRUMMER! : On June 29, former Ray Charles drummer Paul Kreibich will head up a trio of pianist Marshall Otwell (Carmen McRae, Dizzy Gillespie) and bassist Luther Hughes (Louie Bellson, Nancy Wilson) in the next installment of the Famous Jazz Artist Series at the Ham
If you're looking for a little R&B, hip-hop, and old school, check out Back2da Hotel, starring Jay Tee (of N2Deep) and Young Dru on the microphones this Saturday, June 28 at The Graduate. Opening acts include Public Defendaz, Da Swagga Bois, Dejavoo, D Serna, Elegal Biz, LMS, 40oz Freaks, Jay Noble, Young Chitty, and T Dre (from CLS). Doors open at 8 p.m. and the show starts at 9. Advanced tickets cost $20 at Boo Boo's.
On Sunday, June 29, former Ray Charles drummer Paul Kreibich will head up a trio of pianist Marshall Otwell (who's played with Carmen McRae and Dizzy Gillespie) and bassist Luther Hughes (who's backed Louie Bellson and Nancy Wilson) in the next installment of the Famous Jazz Artist Series at the Hamlet in Cambria. Concert co-producers Charlie and Sandi Shoemake (vibraphone and vocals) will join in for two performances: 4 p.m. for $15 and 7:15 p.m. for $12. See both shows for $20. Call for reservations: 927-0567.
Cafe Musique plays Gypsy, tango, classical, swing, and ethnic folk at 2 p.m. on Sunday, June 29, at Temple Beth David. Cost is $15. If you've never heard this amazing quartet, do so. There'll be a special finale, with dancers, singers, storytellers, and other musicians, for this family friendly event. Those 17 and younger can come for $5!
New York City singer-songwriter Kierstin Gray's music feels like a fresh East Coast breeze on a hot summer day, and an immediate touchstone for listeners may be Tracy Chapman. Gray mixes pop, jazz, soul, and blues into a sweet bopping acoustic stew. See her at The Clubhouse on Tuesday, July 1 at 6:30 p.m.
Don't forget that your friends at Downtown Brew and GALA are bringing SLO's only drag show and pride dance to town next Thursday, July 3 from 9 p.m. to close. This is the first event of GALA's Pride Week, and it begins with four fantastic female impersonators hailed as the Glamour Boyz. Presale tickets cost $20, available online at slopride.com.


CD Reviews



Dread At The Controls—Dub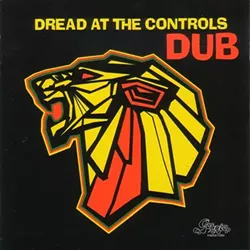 When the temperature escalates into the triple digits, it's sound advice to look at tropical areas of the world and how they survive. Musically, the two top options are the gentle and cool tones of Brazilian Bossa Nova, or when the pavement is really turning into a magma soup, the languid pulsing beat of Dub. Recorded in 1978, Dread At The Controls features the vintage production of Gussie Clarke (whose innovation is also captured on the Big Youth classic album Screaming Target), with the original tracks featuring musicianship of the Revolutionaries' Sly Dunbar and Robbie Shakespeare. With a crisp driving snare, often augmented by a cavernous echo, and a bass line that shifts between being bouncy and active or lethargic and lumbering, this is exceptional instrumental reggae. While the album name suggests the involvement of legendary Jamaican DJ Mikey Dread whose influential show went by the same name, the talented hands behind the mixing board have been lost to history. Nonetheless, this is still a treasure recording and a great re-release from new reggae re-issue label Auralux.
Various Artists—Eccentric Soul: The Tragar & Note Labels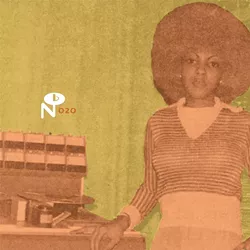 Record label Numero returns with another jewel in its fantastic soul archeology series Eccentric Soul. Consistently, they've uncovered vaults of under-appreciated R&B that hit regionally, but never registered a blip on the national scene due to issues as complicated as blacklisting, racism, and cronyism within the record industry. In the late '60s, Jesse Jones started up Tragar and Note records in Atlanta after falling flat on the West Coast. Gaining valuable experience in Los Angeles at Specialty (even witnessing Sam Cooke's "You Send Me" session) and starting several smaller labels that were snubbed by the insular music companies, he returned to Georgia bankrupted but still cherished as a talented native son. He soon cobbled together several acts, opened offices blocks away from the talent pool of Morehouse and Spelman colleges, and established a hearty label in Atlanta of amazing southern soul. Erudite soul lovers will be hard pressed to recognize many of the names here, but this two-disc collection swelters with hot tracks of rhythm & blues, funk, and Motown Northern soul treasures. Old school soul fans rejoice!
—Malik Miko Thorne, of Boo Boo Records and KCBX's "Night Train."
---
Glen Starkey is a vomitous mass of boogers taking up space in the universe (as submitted by Gayle Hudgens). Come up with a better insult and send it to gstarkey@newtimesslo.com.